Search for Tasmanian Veneer
Tasmania, Australia
March, 2012
Click on any image for a bigger view
Contact me (garya at this domain) if you want the really good image
After an enjoyable waking up to a serenade of birds in the Lake St. Clair campground, we headed down the road to Derwent Bridge and "The Wall". We had been told by several people we should stop to see "the wall," particularly when they learned Dona likes to make things with wood. Unfortunately, we only have photos of the outside of the building, as they don't allow photos inside.
The wall is a 100 meter long, 3 meter high set of panels carved out of Huon Pine depicting aspects of Tasmanian history. The artist, Greg Duncan, has done an incredible job. While the images are of necessity relatively flat, they are very realistic. In some of the panels people are wearing leather garmets, gloves, etc., and the leather looks absolutely real. The panels focus on logging, homesteading, mining, and hydro projects. However, there are numerous carvings around the studio of other interesting subjects.
Building Housing the Wall
After relaxing and enjoying ourselves at The Wall, we headed back north. The weather had turned cloudy and gray, but we had gotten our three days of perfect weather and we weren't complaining. We had saved this next task for a rainy day.
One of Dona's hopes was to bring some veneers of native Tasmanian woods home to use for marquetry work. When we were down in the Huon Valley, we had inquired at several mills and shops about where we might buy some veneers. One fairly knowledgeable man told us there was only one person in all of Tasmania who had veneer. His name is Chris Searle; his business was Cockatoo Timbers, but he has closed it and is now retired; he lives in Stanley, and may have a little veneer still left from the business; and we got his phone number.
So Dona had called Chris when we got done at the Pieman River. She had learned that he did still have some veneer left, and he would be around to talk to us. So we were now on a mission to go to Stanley and find some veneer.
It was a long day, but as evening approached, we were approaching Stanley. We arrived at the north coast with black clouds and stormy weather approaching.
| | |
| --- | --- |
| | |
A half hour or so later, we were heading into Stanley. Stanley is located in a spectacular setting. It sits at the base of a volcanic plug; the plug is at the end of a narrow peninsula jutting into the sea. Dona called Chris Searle to get directions, and then we wandered around Stanley for a half hour trying to find him and not succeeding. After asking a couple of people, we finally found someone who knew where he lived and we found it. Chris was great, and showed us the veneer he had left and talked to us about the veneer making process, the machine he had used, and the effort which went into getting the old wood used to make the veneer. He clearly loved doing it, for it was one heck of a lot of wood. He would go off wandering around cutover forests looking for old stumps. Sometimes they would be pretty inaccessable. On one occasion he and his helper had to float a raft down a river, then roll the log / stump about half a kilometer to the river, figure out how to get it in the raft, and somehow row / paddle the raft out with the huge log in it.
Chris' veneer machine was a flat slicer, sort of like an overgrown cheese slider. He no longer had it, but had sold it with the business to someone else who went belly up. He told us the only people who still made veneer was now Brighton Brothers Timber in Smithton, a short ways away.
We bought as much of Chris' leftover veneer as we dared, thanked him profusely, and headed back to Stanley to find a place to spend the night.
It was shaping up to be a pretty wet night, and we wanted a hot shower. Unfortunately, Stanley is now a tourist destination, so everything was pretty expensive. We ended up renting a "cabin" at the "campground" for the night. The cabins were basically tiny modular units, pretty devoid of charm but functional. We were glad to have the space and dry roof and hot water. The sky opened up with quite a show of thunder and lightning and a torrential downpour. We were glad to be in our little tin box instead of the tent. We were also very glad we had decided to take the previous three days to tour Tasmania, and saved the veneer for after the weather turned sour.
| | |
| --- | --- |
| | |
| Stanley and the Nut from the East | Stanley and the Nut from the West |
The next morning we drove over to Smithton and found the Brighton Brothers Timber business. It turns out they have Chris Searle's veneer slicer, and they had quite a stack of veneer. Unfortunately, most of it was not all that interesting. They told us they didn't have any of the more interesting things we were looking for because their man who supplied them with that cool wood had retired. We knew that -- he was Chris Searle. Because those old trees are no longer being cut, veneers of those types will be pretty difficult to come by. We were hoping to see the veneer slicer in action, but the shop guy who runs it said they were out of diesel for the veneer drier, so they were shut down for the day. It only gets delivered to Tasmania twice a week, so if you run out, you're hosed. They were in the process of tracking down some in 55 gal drums which they could then pour into their bulk tank to get them going. They had three located, and were hoping to get three more so they could start up.
So after a nice tour of the veneer production facility at Brighton Brothers Timber, we headed back towards Hobart. Our first stop along the way was at the "Makers' Workshop" in Burnie, also on the north coast. It's an artisans' retail and demonstration facility, and we wanted to learn something about paper making. We got a tour of their hand-made paper process, during which we each made a sheet of paper. Ours were made from old jeans, and looked pretty good. Dona is hoping to make paper herself one of these days so it was instructive.
Then we headed south across the central highlands which we had traversed before. Along the way we found another echidna, so we slammed on the brakes. I got some gloves out of the trunk to try to pick it up the way Frapps had, but I was foiled. As soon as I approached the echidna tucked its nose and dug in with its claws. I was able to hold it by the sides, but I felt if I pried it loose from the ground I might strain its muscles or stress it too much, so I left it alone. It was really dug in.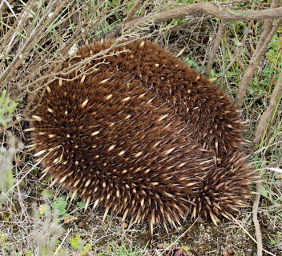 Echidna, dug in
Then we headed for Mt. Field National Park
---