Wow! Gary visits Sabah, Borneo with Ram and Dawn
February, 2012
Click on any image for a bigger view
Contact me (garya at this domain) if you want the really good image
After a great trip birding in Ecuador last year, Dona's nephew Ram and his partner (now wife, congratulations!) Dawn, had decided to spend their precious vacation looking for birds in Borneo. Fortunately for me, they gave us an offer to enjoy the excitement with them. Dona really wanted to go to see some of the things Borneo had to offer -- cool birds, pygmy elephants, orangutans and other primates; but she wasn't real keen on the idea, given Borneo's reputation for heat, humidity, mosquitoes, and leaches. So in the end, she opted out. But I was keen to go, so I raised my hand and yelled "I'm in!" We decided to meet up in Tasmania afterwards, and visit Dona's sister in Hawaii on the way home.
I ordered a copy of the birder's bible to Borneo birds, Birds of Borneo by Susan Myers. After doing a little research and talking to some of Dona's compatriots at the flight lab at the University of Montana, it was obvious one would be an idiot to go to Borneo without a pair of leech socks. I didn't really want to buy a pair of these -- on the web they're pretty pricey for what they are; but I was also reluctant to rely on being able to buy them in Borneo. So a grabbed some left over ripstop nylon and sewed up a pair for myself.
Packing was a bit of a problem -- Borneo is hot and humid, and Tasmania can be a lot cooler. In addition, we were going to be camping our way around Tasmania and Hawaii, so I needed a sleeping bag for that. We decided Dona would bring the tent and I would haul the cook gear. I managed to get everything in just under the weight limit, carrying my camera gear, binoculars, anorak, and bird book. Emptying my pockets for airport security was a pain in the butt.
I had a heck of a time arranging for air travel, as none of the on-line services (HipMunk, Travelocity, AirGorilla, Hotwire, etc.) could figure out how to get me to both Kota Kinabalu, Malaysia (in Sabah, Borneo) and then Hobart, Australia (Tasmania). I finally ended up using a travel service (AirTreks) which I wouldn't really recommend, as it always ended up costing more than it was supposed to.
The big day came and Dona dropped me off at the airport, where the power-hungry mentally challenged TSA people promptly informed me I could not travel with my stove and empty fuel bottle. Yeah, right. The fumes would blow the plane up. As would the stove, disconnected from any fuel source. I definitely feel safer knowing that people cannot travel with stoves disconnected from fuel sources, and empty fuel canisters. Fortunately Dona was waiting until I passed security, so she took the dangerous stove and fuel bottle home with instructions to borrow a screw-on butane stove from son Sid. Apparently butane fumes long since evaporated from the stove can't blow up a plane, but white gas fumes long since evaporated from a stove can.
But hey, I got on the plane, and I was on my way to the jungle. It was a long flight, with a stop in Hong Kong, but at long last I stepped out into the heat and humidity of Kota Kinabalu, the capital of the Malaysian state of Sabah. The last leg was on Dragon Air, a fitting name for a far eastern airline. The view of Hong Kong from the air is always a treat; what a dramatic location! I would have loved to travel there about three hundred years ago, when it was more of a place than the industrial zone it is now.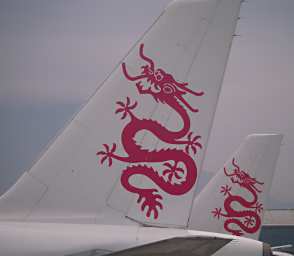 Dragon Air
Notice the lone tree on the ridge,
and imagine what Hong Kong used to be like
Hong Kong
Borneo is the third largest island in the world, and is split up into parts belonging to three countries. The states of Sabah and Sarawak, in the north, are part of Malaysia; Brunei, on the northeast coast, is a sovereign state; and the remainder is part of Indonesia.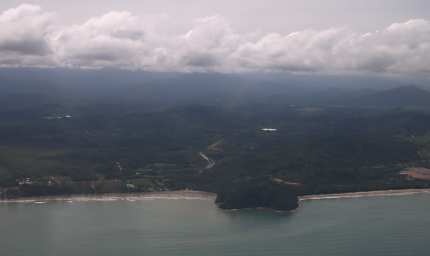 First View of Borneo
Ram had arranged pretty much everything. We would have ten days with one of the best birders in Borneo, C.K. Leong, as our guide. We would start with the area around Kota Kinabalu, visit the Crocker Range to the southeast, and then head northeast to Mt. Kinabalu Park for three days. From there we would drop down to the jungles to the east at Sepilok Forest Reserve. Then three days on the Kinabatangan River with a side trip to the Gomontong Caves, and then finish up at the Tabin Wildlife Reserve. Then we would spend three days in the Danum Valley on our own.
---