Sydney
March, 2012 Click on any image for a bigger view
Contact me (garya at this domain) if you want the really good image
On our flight from Hobart, Tasmania to Honolulu, Dona and I had a seven hour layover in Sydney. Rather than waste that time sitting around the airport, we checked our bags and took the mass transit to the opera house area. Dona had been to Sydney before, but I had not, so this was all new to me. The waterfront has clearly been turned into tourist territory, so we played our part and enjoyed it.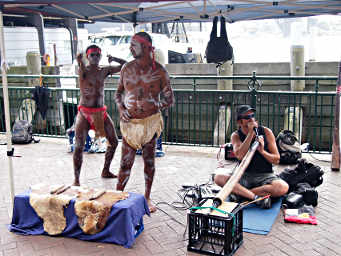 Street Musicians with a Didgeridoo
| | |
| --- | --- |
| | |
| Bridge | Opera House |
Our real goal was the botanical garden, just past the opera house. Once there, the first thing we saw was some huge Moreton Bay Fig trees. They are great trees to "explore" in, as they have big trunks well suited to climbing, and great spreading branches. Perfect for a tree house, swing, or just monkeying around in as a kid.
| | |
| --- | --- |
| | |
| Moreton Bay Fig | Moreton Bay Fig Covering a Whole Class of School Kids |
There were a bunch of Australian White Ibis plodding around cleaning up something off the ground.
| | |
| --- | --- |
| | |
| Australian White Ibis | |
| | |
| --- | --- |
| | |
| Australian White Ibis in Top of Tree | Wind-up Toy? |
Then there was the Noisy Miner, which didn't seem too noisy at the time.
Noisy Miner
The flowers were great... no surprise there!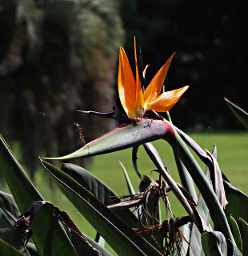 Bird of Paradise
There were Sulphur Crested Cockatoos all over; I think they're fun even if they are a nuisance at some point.
| | |
| --- | --- |
| | |
| Sulphur Crested Cockatoo | |
But one of the main reasons we went was to see the fruit bats. Wow! They were all over the place; boatloads of them. They were hanging in huge "camps" in the tops of the trees. Also known as "flying foxes," they have a wing span of up to one meter, and weigh up to one kilogram! The species in the Botanical Garden is the Grey-headed Fruit Bat. It is an endemic, native species.
These fruit bats don't use echo-location to navigate or find food. Instead, they use normal eyesight just like we do. They see as well as we do during the day, and even better than we do at night.
The bats have this cool little hook on what I guess is the equivalent of their wrist; it's easy to see in some of the photos below. They hang from that hook when sleeping.
They were really cool when flying around. If you look at the large version of the pictures of them flying, you can see that it's not uncommon for them to have holes in their wings! Not sure what causes that; I don't think they smoke... They sure are cool.
| | |
| --- | --- |
| | |
| Fruit Bat with Hole in Wing | Fruit Bat on the Wing |
| | |
| | Fruit Bat with Hole in Wing |
| | | | |
| --- | --- | --- | --- |
| | | | |
| Orchid | Xxx Purple Flower | Xxx Red Leaf | Xxx White and Red Flower |
| | |
| --- | --- |
| | |
| Xxx Orange Flower | |
There were some pretty nice epiphytes with blossoms on some of the trees.
| | |
| --- | --- |
| | |
| Pink Epiphytes | |
Our side trip to the Botanical Garden wasn't cheap... The train from the airport to downtown was $24.50 AUD each round-trip; Luggage storage at the international airport was $10 AUD for 4 hours per piece. The inter-terminal transfer bus to get from the domestic terminal to the international terminal cost $5.50 AUD each.
Then it was time to catch the train back to the airport and head for Hawaii. Tip: Do NOT ever fly Jet Star airlines. It has been bought by Quantas and is their cheap alternative, and cheap it is. They were charging for everything, even soft drinks. No meals on a long overnight flight; we were surprised they weren't charging to use the loo. Makes you wonder if they were cutting corners on maintenance as well.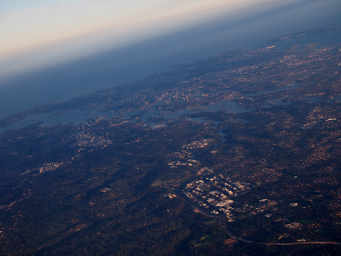 Sydney from Air
---