Whoppie! Gary and Dona visit Tasmania
March, 2012
Click on any image for a bigger view
Contact me (garya at this domain) if you want the really good image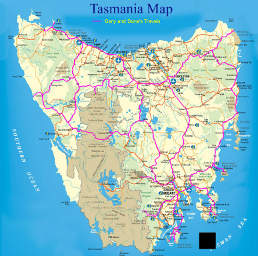 Tasmania Route
My trip from Kota Kinabalu, Borneo, to Hobart, Tasmania, was uneventful and not much fun. I flew from Kota Kinabalu to Kuala Lumpor, from Kuala Lumpor to Melbourne, and from Melbourne to Hobart. I got to the Kota Kinabalu airport too early, and had to waste about three hours. On the other hand, it was a bit of an eye-opener. If you don't believe the Pacific Rim countries are running away from the United States economically, just visit. Kota Kinabalu is a small place compared to American cities; but its airport is more modern than most I've seen in the U.S., and the Kuala Lumpor one is more sophisticated by far. The escalators run automatically, only when someone is one them, saving energy. There are computer stations in the concourses, free for passengers to use. Traffic is routed to maximize shopping opportunities (ugh!) for international travelers just passing through.
I missed the happy music and atmosphere of traveling in Central America. The Pac rim is a busy place, and everyone is in a hurry. Another bad habit the world would do well not to pick up.
Somewhere in my hours of waiting I saw an article on the BBC news that said the Greyhound Bus Company is getting serious competition from Scottish bus companies which have bought its competitors, upgraded the busses and service, at least in the northeast corridor. Ridership is up and expanding. Hopefully it will spin off to the rest of the country.
From Kuala Lumpor I flew to Melbourne, where I lost my leatherman. Damn. It was in the bottom of my day pack, which I carried on the plane and which noone cared about in Malaysia. I had thought about totally emptying my day pack and going over it when I was packing, but I was so sure the only things down at the bottom were a gorilla-pod and a cable release that I didn't do it. grrr. I thought knew better.
We were staying with Dona's long time friends and sometimes research companions, Peter and Deirdre Frappell (Frapps), and their two kids Claire and Huon. Deirdre met me at the Hobart airport, which is a nice small airport like Missoula's. She took me home, where I started a load of wash to clean up from Borneo. Dona arrived a few hours later, and we had a great dinner. Their house has a great yard running over with different species of shrubs, trees, grasses, and stuff in general. Lots of things for birds to eat, along with their two chickens with their chicks. Huon and Claire have grown a bunch since we last saw them at our wedding just a few years ago!
We were planning on camping our way around the island, and had brought our tent, pads, sleeping bags, cups and sporks, and a stove. All we needed now was fuel for the stove and some food.
| | |
| --- | --- |
| | |
| Tasmania from the Air | It looks dry... |
| | |
| --- | --- |
| | |
| Frappell's Backyard | Claire's Chicks |
We slept in, then went to the Royal Tasmanian Botanical Gardens. We had a nice dinner down on the bay just below their place. The next day we drove to Bruny Island, where we did some very short hikes. The following day started out looking like rain, so we went to the Mona Museum. Wow. Weird stuff. Frapps took a day off work and we did a quick car tour around the central part of the island, where we saw our first echidna.
| | | | |
| --- | --- | --- | --- |
| | | | |
| Botanical Garden | Bruny Island | A Big Loop with Frapps | The Mona Museum |
We were relying on Frapps and Deirdre to help us ration our limited time in Tasmania, and Maria Island was high on their list. We had a great time there; saw boatloads of wallabys, some wombats, some kangaroos, and some cool birds. And I got lost and wandered around the Tasmanian jungle for a while. Well, not really. I did lose the trail, though... The day after we returned from Maria Island dawned gray, so we took the day to wander around Hobart and pick up more fuel for our stove and some backpacking food. Then we took a drive down the Huon Valley where we picked up some cool items of endemic Tasmanian wood and went learned more about the Tasmanian forests.
| | |
| --- | --- |
| | |
| Maria Island | The Huon Valley |
Frapps works too hard, and since he's now an administrator it's even harder to tear him away; but we managed to convince him and Deirdre and Claire to go camping with us to Mt. William National Park on the northeast coast for the weekend. Huon had a sailing race of some sort and couldn't come with us, unfortunately. Boy, did we have a good time!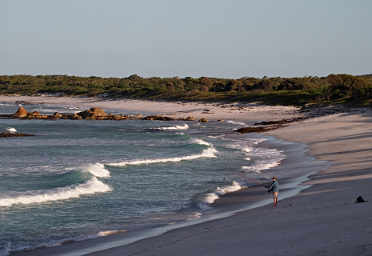 Mt. William Nat. Park
On our trip down the Huon Valley we had tried to find some veneer. Dona wanted Tasmanian woods to use for some marquetry work, as we are going to Port Townsend this summer for a week so she can take a marquetry class from our neighbor Tim Swanberg. We could just go over to his shop and bug him, but this seemed like a good excuse to see some country, visit friends, and try our Hunky Dory, a Vermont Fishing Dory, in the ocean. After some searching, calls, conversations and inquiries of all sorts, it became clear that the only veneer to be had was from a guy in Stanley, in the far northwest corner of the island. Unfortunately, the weather forecast was for three days of good weather and then rain. We could look for veneer in the rain, but the countryside and natural wonders of Tasmania would definitely benefit from nice weather, so we opted to make a circle around some or our most interesting goals and then head back north to look for veneer. It meant more driving, but hopefully we'd have good weather when we wanted to be outdoors.
So from Mt. William Park we headed back west, to Cradle Mountain National Park, where the Beech trees were not in their fall colors the way they were supposed to be. Then we made a crazy, curvey, breakneck not-so-beeline for the Pieman River, where we looked for Huon Pines and stuck our toes in the Ocean. We left the Pieman in the late afternoon, winding our way up and over the Tasmanian hills and through the eucalyptus forests. Along the way we came across a sign that said "Donaghy's Hill" and decided to take a look. By the time we were done looking, it was dark. We found a spot for the night, set up the tent, cooked dinner, and crashed. Our goal the next day was the southern end of Cradle Mountain National Park, where the other part of its name Lake St. Clair, is located. We had a great hike up Mt. Rufus, but it was a long one...
Cradle Mountain
Nat. Park
Pieman River and
the Ocean
Donaghy's Hill
Lake St. Clair Nat. Park
We were still sore from our hike up Mt. Rufus when we headed out the next morning under gray skies. It was a long drive, but we made it to Stanley and actually found some Tasmanian veneer. Then we headed for the barn -- Hobart. On the way we stopped at Mt. Field National Park where we had a short but enjoyable hike to Russell Falls.
| | |
| --- | --- |
| | |
| We Search for Veneer | Mt. Field National Park |
We used our rest days in Hobart to drive up Mt. Wellington and to amble through the Salemanca market, and to rendezvous with some old friends of Dona's and her mother's, June and Sue Molyneaux. The market was somewhat disappointing in that about half of the booths were selling mass-produced items instead of locally hand-made stuff; much of the mass-produced stuff wasn't even from Australia. But the locally made stuff was generally of high quality.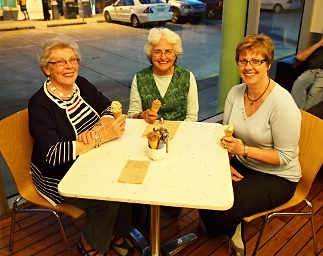 June, Sue Molyneaux; Dona
Then we spent a day exploring the Tasman Peninsula.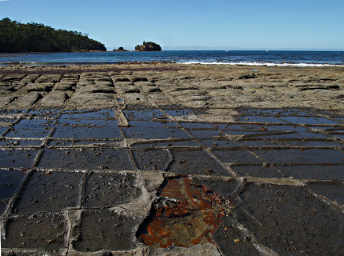 Tasman Peninsula
And then it was time to pack up and head home. We packed up the veneer and some books and sent them home by slow boat; as of the middle of May, 2012, they haven't arrived yet, so it really is a slow boat. We said goodbye to the Frappells, our wonderful hosts, and hope we will see them in the not too distant future here at home or again in Tasmania.
| | |
| --- | --- |
| | |
| Frappells and us | and Pernod |
But it's a long way across the Pacific, and it's a ways from Tasmania to the rest of Australia. So we had scheduled a stop in Hawaii to see Dona's sister Mary and to spend some time exploring the big island, but in order to get there we had to lay over for seven or eight hours in Sydney. Rather than waste our lives sitting on our butts in the Sydney airport, we checked our bags and grabbed the train to downtown, where we got a quick view of the Opera House and the Harbour, and then had a great time wandering around the Botanical Garden where we saw bazillions of cool big fruit bats.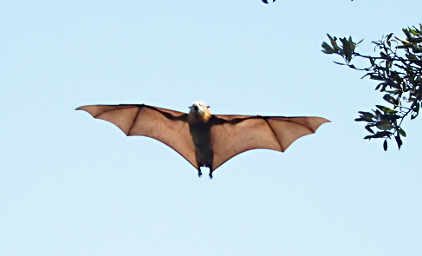 Sydney
---