Cradle Mountain National Park, Tasmania
Tasmania, Australia
March, 2012
Click on any image for a bigger view
Contact me (garya at this domain) if you want the really good image
We left Mt. William National Park under sunny skies, heading for the north end of Cradle Mountain and Lake St. Clair National Park by the most scenic route we could find that was still paved road. (Aside: Since that link is auto-generated, it is highly likely to change and be invalidated. Shame on the Tazzie government folks. Here's an unofficial link more likely to be preserved, but it's not to the official park website: Cradle Mountain Website ) As we passed through one small town we were confronted with a huge carving made out of, or placed on, a huge stump. It was to commemorate the pioneer ancestors of the people of the region who had struggled to settle it. It was a pretty cool carving, although the individuals looked a bit too stern and straight-laced for my liking. I know making a living in centuries past was quite an effort, but a sense of humor and a good fiddle can sure lighten up one's load, make life more pleasant, and make one more fun to be around.
| | |
| --- | --- |
| | |
Carving Memorializing Pioneers
We wound our way up an over a pass of some sort. At the top the local first responder types were serving hot coffee and doughnuts and soliciting donations, which we took them up on. It was cold enough we wanted all of the few layers we had with us on, and it was difficult to imagine we had been at the beach that morning.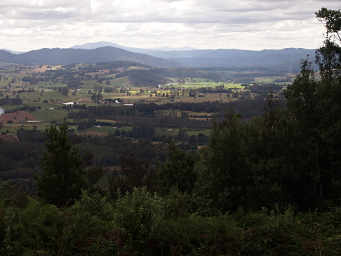 North-Central Tasman Countryside
Unfortunately, all of Tasmania's rivers have been dammed for hydro generation, and it didn't appear that any of the dams we saw were equipped with fish ladders to enable anadromous fish to continue to migrate up the rivers to spawn. The tailwaters downstream of the dams give you a hint of what the places must have been like before the dams went in.
As we got closer to Cradle Mountain, we came around a corner and there was a huge tree stump with a sign indicating it was a "Post Office Tree." Apparently early settlers had their mail dropped off in a hollow of the tree, maybe a rotted or burned-out cavity in the base. I was expecting a cubby-hole chopped out of the trunk part-way up, but I walked around and didn't see anything like that. If I lived there, I think I would continue to use it as a post-office box; it would be kinda cool.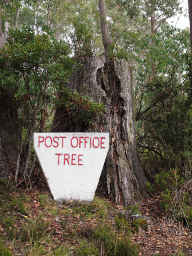 We arrived at Cradle Mountain about seven in the evening. Cradle Mountain rises above Dove Lake, an alpine jewel. Frapps had told us it was about the right time for the spectacular beech tree fall colors, and we were hoping that was the case. It was still light, and what we really wanted to do was hike around the lake. Actually, what we really, really wanted to do was to spend a week backpacking the Overland Track (Try this if that link's broken: Wikipedia-Overland Track), a trail that follows the alpine highlands from the north end of park to the south end at Lake St. Clair and traverses the Tasmanian Wilderness World Heritage Area. But we didn't have a week, and we hadn't brought backpacks suitable for both of us for a long trek, so we were pretty-much limited to day hikes. We were determined to see as much as we could anyway, so we parked the car and headed out. It was about the time most people were returning from their day hikes and leaving.
Cradle Mountain and Dove Lake
Unfortunately, it was too early for the beech tree show, but we did have a great hike around the lake. The trail hugs the shore and in many places goes through jungle-type thickets of eucalyptus trees; to cut down on erosion, much of the trail is on a boardwalk. Here and there among the otherwise normal looking trees we would come upon a big man-fern. It seemed pretty weird to come upon a tropical-looking plant in the midst of an alpine forest. There were also Silver Banksia trees with their showy flowers; and a reminder of May Gibbs' children's stories about the Gum-nut babies, Snuggle Pot and Cuddle Pie (and their arch-enemies, the Banksia Men) which we had been reading.
| | | | |
| --- | --- | --- | --- |
| | | | |
| Man Fern | | Silver Banksia | Seed Pod |
| | |
| --- | --- |
| | |
| Myrtle Tree | Xxx Flower |
Part of Cradle Mountain
from the Boardwalk
Now this is walking
through the woods...
Man-ferns beneath Cradle Mountain
We came across a conifer tree of some kind which had some of its needles turning orange, kind of like our larches do. Except not all of the needles were turning, so maybe it was a disease. It was pretty strange looking. And then there was the custom seat for some forest giant...
| | |
| --- | --- |
| | |
| Diseased Tree? | Forest Giant's Seat |
There was a Eucalyptus tree which looked like a tall stalk, nothing but a central trunk, with new shoots coming out all along the trunk instead of just in the crown. It looked like a drawing by a child who didn't know how trees really grew. Except that it was real...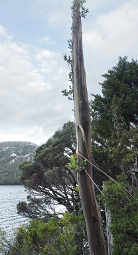 Weird New Eucalyptus Growth
By the time we got back to our starting point, it had started to clear up a bit and we saw a small patch of blue sky. But the top of Cradle Mountain was still buried in a cloud.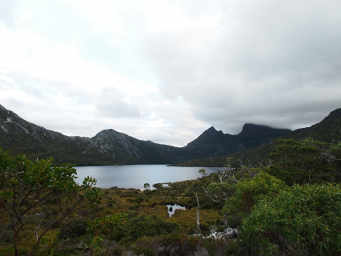 Cradle Mountain and Dove Lake
By the time we were done, it was getting late. The campground at the park had a locked gate, and indicated you needed a reservation, which we didn't have. There was no-one around to talk to, and it seemed pretty pricy just for a place to plop a tent for the night. We only had two days of supposedly good weather left, and we wanted to go to the west coast and take a boat on the Pieman River, plus do some hiking at the southern end of the Cradle Mountain / Lake St. Clair Park. We decided to drive as far as we could towards the Pieman River that evening, with the idea we could then do the last bit in the morning in time to get on the boat, which our handy-dandy Lonely Planet Tasmania Guide said left at 10:00 a.m.. That would leave us the next day for something else. The skies began to clear as we drove on, and soon we were treated to wonderful evening light on large meadows on the central plateau.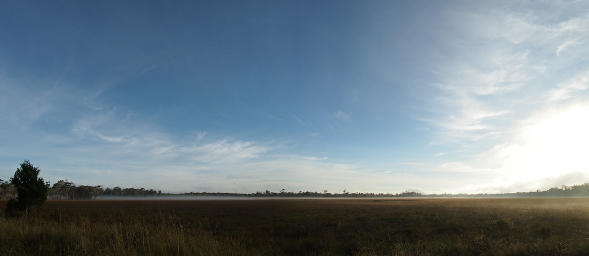 Evening Light somewhere West of Cradle Mountain

I didn't relish driving on the other side of the road at night, although I had gotten pretty much used to it by this point. Judging by the amount of road-kill we saw, it's a good thing Wallabies and Possums are prolific -- or at least I hope they are. We had good road as far as Waratah, but according to our map, which hadn't been wrong yet, it started going downhill from there. There wouldn't be much shoulder from Waratah to Savage River, and it was tortuous from there to Corona, on the Pieman River.

Incidentally, we didn't see it, but Savage River is the site of one of the world's highest suspension bridges, the Savage River Pipeline Bridge, a prime example of the damage which can be wrought when engineers forget that Mother Nature requires man-made things to be perfect, an impossibility, when transporting toxic materials. The "what ifs" always happen, and the profit-minded companies that built the engineering marvels with many assurances to the public that everything is safe are never prepared for them.

In any case, we hurried on through the night until we were almost to Waratah, then pulled over in a National Forest Reserve area and camped. Tomorrow we would explore the Pieman River.
---