Bruny Island
Tasmania, Australia
March, 2012
Click on any image for a bigger view
Contact me (garya at this domain) if you want the really good image
Our first all day excursion in Tasmania was a trip to Bruny Island. We drove south from Hobart, then put the car on the ferry for the short ride to the island. It's a large, wishbone- or barbell-shaped island on the east coast, and like all of the eastern shore of Tasmania, is exposed to the full force of thousands of miles of uninterrupted Pacific Ocean. Well, not quite; if the wind comes from due east, New Zealand gives it a very little (it's 1300 nautical miles to windward) protection.
It's a rugged coast on both sides, but with interesting beaches in all the bays.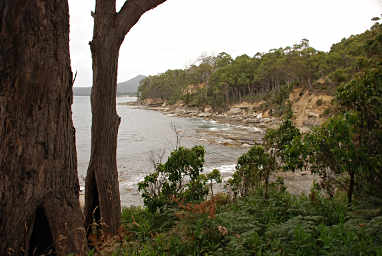 Bruny Island Coast
The tide was out when we drove along the skinny part of the island, and there was an assortment of waterfowl hanging around. These great looking ducks are Australian Wood Ducks, which don't look anything like our Wood Ducks.
Australian Wood Ducks
We drove to the end of the road at a small village, and there were some Green Rosella parrots hanging around. A novelty to us new-world weenies, so we chased them around until we got a picture.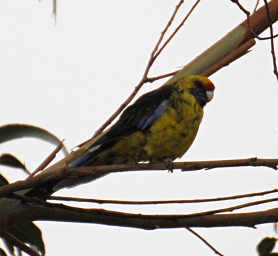 Green Rosella
The Tasmanian countryside was great -- no matter where we looked, it was bright and new and different. The trees were different, the flowers were different, and the animals were different.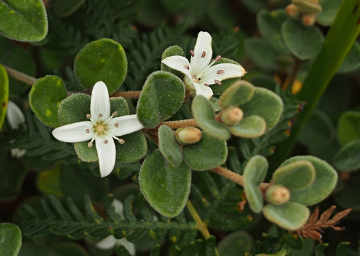 Xxx Flower
We worked our way down to the southern tip of the island, which is almost as far south as the southern tip of the main part of Tasmania. It's a raw and rugged place, and I can't help imagining what it would be like living out there a hundred years ago.
There's a lighthouse, no longer manned (but operational -- it's automatic). I would have liked to go up in it, but that didn't seem to be an option.
There were hardy wildflowers growing low to the ground all over, and there were more rabbits than I have seen anywhere. Wabbits, wabbits everywhere.
| | |
| --- | --- |
| | |
| Bruny Island Lighthouse | Xxx Flower |
While waiting for the ferry on the way back to Hobart, we got our first view of a Kookaburra and a Tasmanian Magpie.
| | |
| --- | --- |
| | |
| Kookaburra | Tasmanian Magpie |
Just off the west coast, the sheltered side of the island, there were large pens where of "farmed" salmon. Frapps had been down to one of them the day before putting recorders in about 50 salmon to study some aspect (I can't remember what it was...) of their physiology -- stress, amount of oxygen needed, at what depth they spent all their time, etc. When the salmon are ready to harvest, they remove the recorders, weigh and measure the fish, take blood samples, check for parasites, etc. They can then look at what works and what doesn't. It was actually pretty interesting when he described it...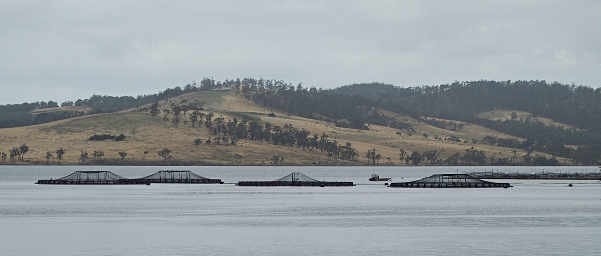 Salmon Farm
Then the ferry showed up and we headed back to Hobart, for a ... salmon dinner.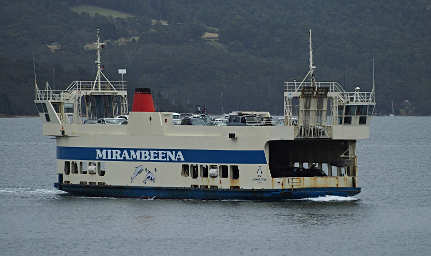 Bruny Island Ferry
---