The Tasmanian Royal Botanical Garden
March, 2012
Click on any image for a bigger view
Contact me (garya at this domain) if you want the really good image
We spent first short trip in Tasmania at the Royal Tasmanian Botanical Gardens. The garden is located on what is known as "The Queen's Domain," land which officially belongs to all citizens of Australia. They have a great collection of trees, shrubs, and flowers from around the world. We enjoyed it a bunch, but I can't visit a botanical garden without worrying about some of those plants becoming exotic invaders.
| | |
| --- | --- |
| | |
| Waratah Flower | Waratah |
| | |
| --- | --- |
| | |
| White Currajong | White Currajong |
| | |
| --- | --- |
| | |
| Oyster Plant | Norfolk Hibiscus |
Deirdre Frappell had given us one of her favorite children's books to read, and I had just started reading it to Dona as our regular go to sleep ritual. It features a couple of gum nuts, and their arch enemy, the banksias. What was great about it was that it features strange creatures based on strange Australian native plants and animals, so as well as being entertaining, it's educational. Sort of like a children's book based on creatures from outer space. Anyway, we got our first up close acquaintance with a banksia at the Botanical Garden.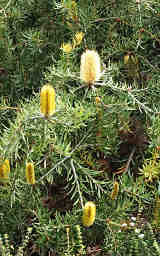 Silver Banksia
Then in another part of the garden we found something pretty bizarre -- a tree growing in a circle. It is a red oak.
Red Oak
And, since it was winter, if not the Solstice, we found a tree with horse chestnuts. I never did think they tasted very good, even when roasted. But they are still cool.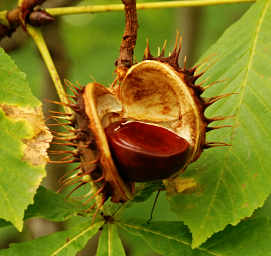 Horse Chestnut

There were some new birds wandering around...
| | |
| --- | --- |
| | |
| Little Wattlebird | Masked Lapwing |
Hobart seemed to be pretty well laid out for walking and bicycling, and the Frappells walk and ride a lot -- the kids often ride to school or to the grocery store or a shop nearby. The Botanical Garden is close enough to ride or walk, so we walked home. We had a nice view of the bridge and the bay.
The bridge is relatively new, as a result of a man-made disaster. A ship ran into one of the supports of the old bridge, at night. The ship sank, and is still on the bottom. The middle section of the bridge was knocked out. Several cars drove off the bridge into the bay before everyone could be warned and the road shut down.
The Bridge
The next day we wandered farther afield, and headed for Bruny Island.
Tasmania Botanical Garden
---