Mt. William National Park
Tasmania, Australia
March, 2012
Click on any image for a bigger view
Contact me (garya at this domain) if you want the really good image
We were delighted that Frapps and Deirdre and Claire decided to take the weekend to accompany us to Mt. William National Park in Northeast Tasmania. The weather had been alternating between nice and crummy, but it promised to be nice for this trip. We piled our camping gear into two vehicles and headed north. The countryside got drier as we headed north, but we found a nice spot by a river for lunch. It was hot and any self-respecting wild animal would be holed up in the shade, but as soon as we broke out the food, ducks started appearing out of the low-hanging brush over the river.
| | |
| --- | --- |
| | |
| Lunch stop | Not-so-wild Animals |
We went up and over a low range of mountains, and stopped for a short walk through Australian temperate rainforest. They have these crazy trees called "Man Ferns," with a straight, branchless trunk and a palm-like crown of fern-like leaves. One of them had a huge fungal growth in a cavity, probably 18" tall.
| | | | |
| --- | --- | --- | --- |
| | | | |
| Man-Ferns | Humongous Fungus | Fungus Up Close | Rainforest Tree |
Eventually we turned onto a gravel road, and wound our way into Mt. William National Park. Despite being named Mt. William, we were here for the sea and shoreline, and headed for Stumpy's Bay. Despite a late start, we were able to find a nice campsite just over the dunes from the Pacific. A Kookaburra welcomed us, from a young not-gum tree.
| | |
| --- | --- |
| | |
| Camp is That-a-way | Kookaburra |
Within minutes, a Bennetts Wallaby showed up; within seconds, Claire was scratching its chin.
| | |
| --- | --- |
| | |
| Bennetts Wallaby | Cute little guys, aren't they? |
Everyone Wanted to Say "Hi" to the Wallaby
The Pacific was picture-postcard beautiful in the evening light. We broke out a bottle of wine, crackers and cheese, and plopped ourselves down on the dunes to enjoy the fading light. One of the other parties at the campground launched their small boat and went fishing.
| | |
| --- | --- |
| | |
| Tasmanian Beach | |
Mt. William National Park was one of my favorite spots in Tasmania, in no small part due to the good company we shared while we were there. The Frappells were a delight to walk the beach with, full of curiosity and information. Everyone should have companions like that to explore the world with. They also do a better job of car camping than we do. They brought coolers, a two-burner stove, a table and stools, and the fixings for real food -- and then took the time to prepare it and enjoy it. I view preparing food as a necessary evil, so I tend to view hauling camp stuff as a bit of a pain, and don't really like to take the time to make a real meal. But relaxing by the fire with good company and a nice meal is one of the real treats in life, so I guess I'd better get an attitude adjustment and some lessons.
| | |
| --- | --- |
| | |
| Dona, Claire, Deirdre and Frapps | Frapps, Claire, Deirdre, Dona |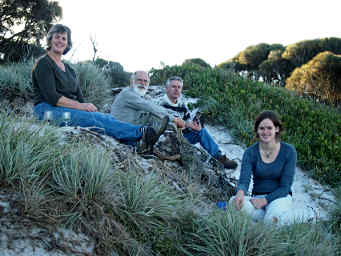 Deirdre, Gary, Frapps, Claire
There was a big piece of kelp hanging on a tree near camp, as if someone had put it there to dry.
We couldn't watch the sun go down, since we were on the east shore; but we did watch the evening light fade gracefully.
As soon as it got dark, a Brushtail Possum showed up, intent on making off with any scrap of food left over.
| | | |
| --- | --- | --- |
| | | |
| Possum | Possum | Wallaby chasing Possum |
While we were enjoying the last of the light, Frapps was busy fixing dinner over the fire. Nothing like steak and potatoes over a campfire on a nice evening at the beach!
Moonrise over the Pacific
Yum! Steak and Potatoes around a Campfire
There's a possum out of the photo on the right...
Saturday dawned clear, or at least with the promise of clearing, and Frapps cooked us up a great breakfast. I don't remember what the whole breakfast was, but I do remember we had a lot of bacon...
Once filled up with bacon, we headed off down the beach to see what we could find. The sandy parts were strewn with kelp. Most of the kelp I have seen, and much of the kelp on this beach, was large and coarse; the kind I remember from growing up in Washington. But we found another kind having whispy blades with small bladders which was quite delicate.
| | |
| --- | --- |
| | |
| Kelp-strewn Beach | Deirdre on Rocky Point |
| | |
| --- | --- |
| | |
| Fine Kelp | Kelp as a Fashion Adornment |
Our lunch stop was on a rocky point, where we searched for life in the tide pools. But it was too rough a location for much to hang out. We found a few crabs, and there were small snails clustered in depressions in some of the larger rocks. To pass the time while digesting his cheese and crackers, Frapps made an ornate holster and carved some pencils from a big hunk of kelp.
| | |
| --- | --- |
| | |
| Lunch Break | Frapps, Gary, Deirdre, Claire |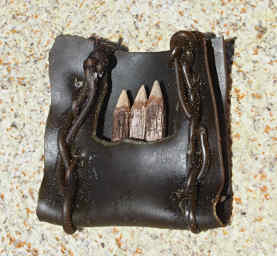 Kelp Arts and Crafts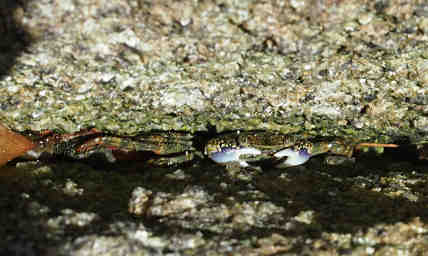 Crab

We found some fine purple and reddish-orange seaweed tangled up in the kelp, and tangled up in the seaweed we found a small crab. There were also a number of shark egg cases, and Dona found some great sponges. Shark egg cases are also known as "Mermaid's Purses," and are sometimes found washed up with a live embryo in them. A fellow over in Britain has managed to bring them to term in an acquarium.

Whoa! Can you imagine how cool that would be as a kid? Walk along the beach, find some washed up weird prehistoric-looking thing, take it home, put it in a tank full of sea water, and watch it hatch a prehistoric-looking shark? That's almost the equivalent of raising your own dragon. Ahhhh, to be a kid again...
| | | |
| --- | --- | --- |
| | | |
| Fine Purple Seaweed | Crab in Fine Seaweed | Sponges |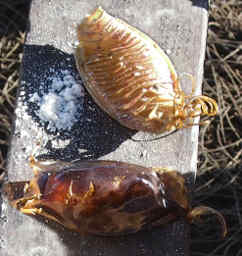 Shark Egg Cases
The shoreline above the beach was littered with aboriginal middens, mostly lots of broken shells.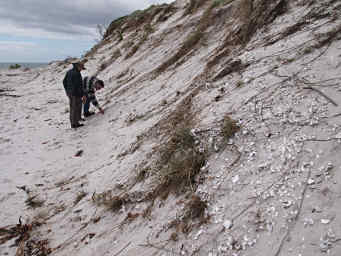 Dona and Frapps examining an Aboriginal Midden
Where large piles of kelp were piled up, the going was tough, like walking through very soft mud. We mostly walked around, although Deirdre seemed to enjoy slogging through it, like a kid intent on finding something in there. She usually did.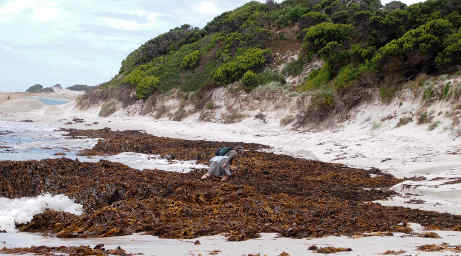 Deirdre Slogging through Kelp
By the time we got back to camp the afternoon had warmed up and the surf was up. The Frappells had brought their body boards and wetsuits, and made the most of it. Being a weenies without wetsuits, we spectated.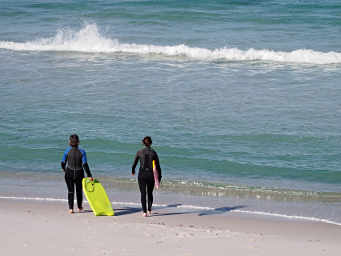 Heading Out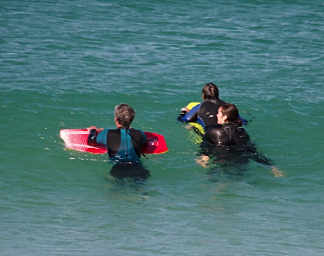 Heading back out after a rest
Is she having fun, or what?
Where'd that other guy, come from, anyway?
The Frappells only had two body boards, so they traded off. When Frapps gave up the board, he got some great body-surfing in.
| | | |
| --- | --- | --- |
| | | |
| | Clair clearly didn't enjoy it | |
Frapps, Deirdre and Claire
Deirdre didn't like it either
Eventually, you have to get out. The water wasn't that warm.
| | |
| --- | --- |
| | |
| Wet but exhilarated | |
Back in camp, we found a Green Rosella which managed to spend all its time behind a tangle of branches.
As evening approached, a surf-caster tried his luck. It didn't seem to be very good on this day. But any day on the beach without a crowd where you can let your thoughts run wild and watch mother nature in all her wonder is a good day.
Claire, meanwhile, decided to collect kelp. Lots of kelp. Somewhere along the way, someone wondered what would happen when you put all those kelp bladders over a hot fire. So Claire collected kelp, lots of kelp, and hung it up to dry.
That evening after dinner, we did our experiment. It turns out that kelp bladders over a hot fire go bonkers. It's a cheap way to enjoy fireworks without the hassle of buying firecrackers. The gas bladders swell up and pop like mini-balloons. If you have a lot of them, all at once, it's impressive.
After a good night's sleep and a hearty breakfast, the Frappells turned back towards Hobart, and we headed off to explore more of Tasmania. The weather forecast was for three days of sunshine, followed by rain. We decided to make the most of the potential sunshine, and continued on a three day loop which would take us to Cradle Mountain National Park, The Pieman River, and Lake St. Clair National Park,
Beachcombing booty
Shark Egg Cases, Kelp Holster and Pencils, Sponge,
Abalone shell, Sponge, carved Kelp Ball,
Kelp "Feather" Duster
Bennetts Wallaby
Mt. William National Park
---