Mt. Field National Park
Tasmania, Australia
March, 2012
Click on any image for a bigger view
Contact me (garya at this domain) if you want the really good image
After leaving our lone echidna curled up in a ball and dug deep into the highlands of central Tasmania, we headed back to Hobart, hoping to have enough daylight left to peek into Mt. Field National Park.
As we were heading out of one small town we saw a great road sign: "Smith & Others Rd." I presume Smiths were there first, and then by and by others moved in to populate the rest of the road. But maybe the others came first, and the Smiths just were bullies and dominated the neighborhood. You never know about those Aussies, sometimes they are weird.
As we approached Mt. Field National Park, we started seeing lots of Sulphur Crested Cockatoos. I tried like crazy to get a photo of one, but they wouldn't sit still or let me get close enough.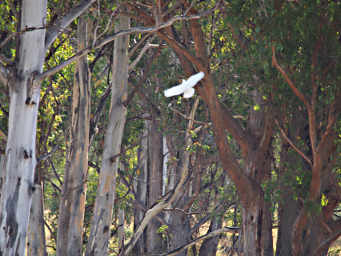 Sulfur Crested Cockatoo
The only thing we had time and light enough to do was go to Russell falls and enjoy the walk through the temperate rainforest along the creek that makes it. There were the remains of some huge old eucalyptus trees; maybe some day some future generation will get to see trees like that alive again.
| | |
| --- | --- |
| | |
| Whoa! That was a Big Tree, huh? | And so was this one! It was wet, too... |
We heard some scurrying in the leaves at one point and discovered a Pademelon trying to sneak away unnoticed. At least we think it was a Pademelon; If you want you could probably claim its paws and nose are black and it has the white streak on its upper lip, which would make it a Bennetts Wallaby, but I don't think any of those markings are prominent enough on this one; so I'm calling it a Pademelon.
On the way up to the falls we wandered through temperate rainforest along the creek, and there were some big man-ferns in there. Like most rainforests, the bark was often covered with moss, lichens, epiphytes and other cool stuff.
A Walk through Man Ferns
Moss
(Or something...)
Growing on Man Fern
Russell Falls is a series of falls, and each one is a treat to the eyes. If you had time and sat quietly, the creek nearby might be just the place to find a Platypus. But we didn't have that kind of time. Pooey.
| | |
| --- | --- |
| | |
| Lower Russell Falls | Upper Russell Falls |
It was interesting to see the small Eucalyptus trees growing up; and compare them with some of the remaining giant ones near the visitors' center.
| | |
| --- | --- |
| | |
| A Eucalyptus Forest Regrowing | Can you find Dona? |
By the time we were done with the falls, it was dusk, so we headed on down the road to Hobart. Our last few days in Tasmania were constrained to day trips. We did the more or less mandatory drive up Mt. Wellington. But we wished we had three or four days left to spend in one place, especially on our last day trip to the Tasman Peninsula
---