A Short Visit to Maria Island
Tasmania, Australia
March, 2012 Click on any image for a bigger view
Contact me (garya at this domain) if you want the really good image
Maria Island was high on the list of things the Frappells said we should visit. You have to take a ferry over, and there aren't any vehicles on the island except for the Parks Department's maintenance vehicles. Few roads, and lots of indigenous wildlife. It sounded like a winner to us, so we loaded up for three days and had Frapps drop us off at the ferry dock.
From the moment you arrive on Maria Island, you get a feeling for what Australia and the Pacific Islands must have been like to the first Europeans to disembark there. There were Cape Barren Geese just walking around, pretty much ignoring people. With almost no predators, the wildlife is incredibly tame.
| | |
| --- | --- |
| | |
| Cape Barren Goose | Whalebones |
Our arrival day was gorgeous, so we hustled over to the campground, unloaded our packs, set up our tent, and set off to explore.
The parts of Maria Island which aren't covered in dense eucalyptus forest are wide open grasslands which make walking easy and provide wonderful wide vistas.
| | |
| --- | --- |
| | |
| Maria Island | Xxx Flower |
The eastern short of Maria Island has a low set of sandstone cliffs streaked with iron oxide stains. Known as the "Painted Cliffs," they are colorful as all get out.
The depressions in the sandstone in the inter-tidal zone were filled with tiny snails. They looked like just a bunch of small pebbles until you got up close.
In places the sandstone of the Painted Cliffs was honeycombed. I have no idea what makes it do that, but it was pretty cool. Where the honeycomb was flat and in the inter-tidal zone, the pockets were filled with all manner of cool things -- pebbles, snails, shells, you name it. If can fit and floats around, it probably ended up in a pocket at one time or another.
Honeycombed Painted Cliffs
Honeycombed Sandstone filled with Pebbles
We alternated our hiking along the beach on the Painted Cliffs with sneaking through the trees on the bluff above the cliffs. We found the Scarlet Robin up there, a really flashy bright spot of red in the otherwise subdued colors of the forest.
| | |
| --- | --- |
| | |
| Chiton in a Rock Pocket | Eucalyptus Tree |
On our way back to camp, we came across a couple of Bennett's Wallabies in a field. These being the first ones we had seen and us not knowing much about them and the environment, we spent a half hour crawling on our bellies and hiding behind bushes to get a closer look. Later on we realized they were all over the place and relatively tame.
The Wallabies and Kangaroos have a funny gait. They use their long tail as a fifth leg, balancing between it and their front feet when moving forward, and using it to steady themselves when using their hind feet. They are a bit difficult to tell apart at times. The Bennet's Wallaby has a black nose and paws, and a white streak on its upper lip. It also can stand up to 1.5 meters tall, which is as large as the smallish Forester Kangaroo.
| | |
| --- | --- |
| | |
| Hopping using Tail and Front Feet | Steadying Hind Feet Stance with Tail |
| | |
| --- | --- |
| | |
| Moving on... | Whoa, is s/he Wide, or what? |
| | |
| --- | --- |
| | |
| Everybody Loves a Little Grooming | "Thanks!" |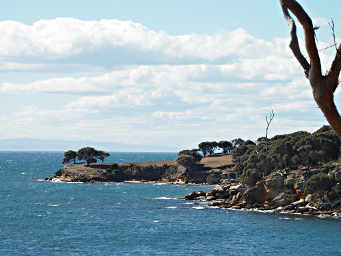 Maria Island Coastline
About half way back to camp we saw a scurrying in the forest and watched a Wombat sneak away. Later we espied one hiding in a shallow ditch. It seemed to think it was hidden from us for a while...
Wombats are kind of cool. Being marsupials, they have a pouch where their young get a free ride around and where the young nurse. However, the wombat is a rodent-like critter, and spends a lot of time digging. They have front teeth like a rodent, and big ugly claws. They dig extensive burrows with those claws and teeth, and in the process they throw a lot of dirt around. As a result, their pouch has evolved to be facing backwards. If they could stand up, their kid would fall out; but they don't do that. Mom watches where she is going and digs. I'm not sure what the kid sees. How long do you suppose they were down there digging and throwing dirt in their kids' faces before they managed to evolve that? Oh, yeah, one more thing. Wombats poop out square turds. Since they eat a lot of grasses and forbes, think of a horse poop-ball, only square. I understand the backward-facing pouch; but why the heck the square poops?
| | |
| --- | --- |
| | |
We had a Kookaburra sounding off near camp; made us feel like we were in ... Australia. It was even in an old gum tree, acting like the king of the woods... laughing.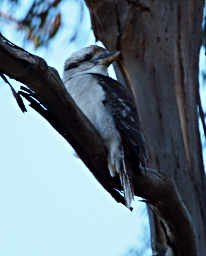 Kookaburra
We took a wider loop on our way back to camp and wandered through a small creek drainage where the vegetation was greener. There we found a group of Forester Kangaroos and Wallabies.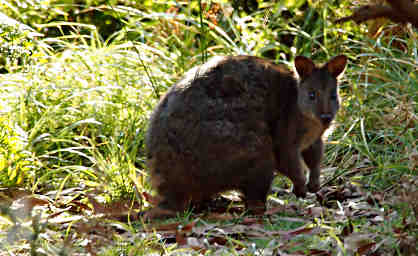 Bennetts Wallaby
Our camp was by a dry watercourse by Darlington Bay, near where the ferry droppd us. The old cement factory was near there, as were barracks from the prison days which now serve as accomodations and Park Service administrative buildings.
Butterfly
Darlington Bay
Our Camp was in the Lowest Line of Trees
We were delighted to have a Green Rosella hanging around in a tree across the creek bed from camp. We also had a Wombat, Native Hens, and the Kookaburra. Camp was a veritable zoo.
| | |
| --- | --- |
| | |
| Green Rosella | |
| | |
| --- | --- |
| | |
| Wombat | |
The next day dawned grey and overcast, but we decided to take a longer hike anyway. We headed for Mt. Maria, the highest point on the island. The trail wound through Eucalyptus forest, and at first it seemed pretty open, much like a native Ponderosa Pine forest would be in Montana if a normal fire regime was active. Here and there we would find the trunk of a pretty old tree, with a hollow interior. The tree would still be alive and growing nicely; the base of the trunk provided a great refuge from the weather.
| | | |
| --- | --- | --- |
| | | |
| Eucalyptus Forest | Burned out trunk | I Could Curl Up and Sleep in there... |
As we continued on, the undergrowth got thicker and thicker, the trail steeper and steeper, and the weather wasn't improving. Dona decided to head back to camp and relax, and I continued on. The trail was well marked, alternating between hemmed-in brushy sections and scrambling over car-sized boulders. In places where there were large trees, some markers were nailed to the trees; and in places where the trail went over boulders, there were a few rock cairns and red painted arrows. I kept turning around and looking back the way I had come, to make sure I could find my way back. Finally, I neared the top. I couldn't tell where the top was, actually, as the forest was so thick. Through an opening I saw a metal tower, obviously erected on the summit, with a black radar-reflector like weather ball hanging from its top. The trail pretty much disappeared at that point, but I found a faint trail I could follow towards it if I stooped over low and semi-crawled through the brush. I emerged on the summit, and even in the crummy weather there was a good view. To the south I could see the skinny piece of land connecting the north and south parts of the island; to the north I could see Darlington Bay and the area from which we had hiked.
| | |
| --- | --- |
| | |
| Looking North from the Summit of Mt. Maria | Looking South from the Summit of Mt. Maria |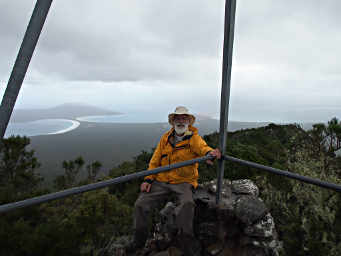 Gary on Top of Mt. Maria
I sat down and ate my lunch to lighten my load, then got up to head back. Unfortunately, that last fifty meters to the summit was the one place I hadn't paid attention. When I emerged in the summit opening, I hadn't bothered to turn around and look where I had come from. Now, as I prepared to head back down, I looked around and had no idea where I had come up. The trail wound around boulders on its way to the summit, and I wasn't really sure which side of the mountain I had been on that last bit. I knew which way was camp, and basically where the trail was after some point, but where it was at the very end, I had absolutely no idea. I could see down into the valley I had come through on my way up, and I knew if I just went that-a-way I'd cross the trail at some point. But one reason the trail had wound around was to avoid some cliffs on that side of the summit.
I wasn't worried about getting lost, but I really, really, really didn't want to fight my way through the woods. I had seen enough on the way up to convince me of that. Despite the first eucalyptus forests being open, these up here were like impenetrable bamboo thickets. I tentatively started off in all four possible exits from the summit, but ended up no-where and returned to the summit. I started down the way I thought I had come three times, but always returned, convinced it wasn't the correct way.
I took a compass bearing on where camp was, just to be sure my notion of north was where I thought it was; it was. Going that direction would also cross the trail at some point. However, there were those cliffs to get around. I scanned the rock slides and cliffs for a rock cairn, and finally found one. It was quite a ways away, and not the direction I thought the trail went. But it was about all I had as a clue at this point, so I headed that direction. I ended up having to climb up over huge boulders and slide down trees to get past some of the cliffs between me and the cairn. When I got there I discovered it wasn't on the trail at all; it was just a marker someone had errected to announce to the world that they had made it to that point. Ugh.
I got my bearings and started on down, trying to stay on a ridge while heading in the general direction of camp, with the idea that I would angle down rockslides when I encountered them, and eventually I would cut the trail. Unfortunately, at one point I had to cross a draw, and I ended up in the high elevation portion of a different drainage, one that headed due west, not northwest. The ground cover was thick, and after a while I heard a trickle of water.
From our excursions the previous day I knew that all of the westward flowing creeks were dry in their lower elevations, and the creek beds were pretty easy walking. There were also two roads / trails between me and the coast. So I decided I'd "just head down the creek" until I cut the first road / trail.
Mt. Maria isn't all that high, but it sure took a long time to work my way down. The creek-bed was full of waterfalls. I'd scramble down into the creek-bed, hike for fifty yards or so, then come to a waterfall cliff. The rocks would be slippery, as there was still water in the creek this high up. So I'd climb up out of the creek-bed and sidehill along through the eucalyptus jungle until I was around the cliff, and then I'd drop back into the creek again. Eventually I emerged from the steep terrain onto a broad, flattish, jungly area where the creek meandered all over the place. I tried to cut across the meanders to save distance, but sometimes the forest was too impenetrable. At last, after about four hours, I emerged onto the road / trail I was heading for. From there it was a quick hour back to camp, and I got a treat as I neared camp -- black cockatoos in the trees by the road.
| | |
| --- | --- |
| | |
My legs were pretty sore the next day, and I was happy to not be too ambitious. The weather was still overcast, and we decided to visit the Fossil Cliffs. The northeast coast has limestone cliffs full of fossils, and these were mined and used to make cement in earlier times. On our way to the cliffs the trail crosses some large meadows, where we found more Forester Kangaroos.
| | | |
| --- | --- | --- |
| | | |
| Forester Kangaroo | with a Crick in his Neck... | an Itch... |
| | |
| --- | --- |
| | |
| and an Attitude | |
| | |
| --- | --- |
| | |
| Forester Kangaroo Youngster | ... Taking it Easy |
The fossil cliffs are on a bench above the ocean; or at least it's a bench now. I suspect it may have all been cliff at one point, and the part of the cliff removed in mining is now a bench.
There was a Flame Robin flitting around on the bench, so I chased it around for a while trying to get a picture. Then we hiked along the coast some more. It's a pretty, rugged coast, with short mini-fjord-like fingers where the ocean comes crashing in in a great display of awesome power.
| | |
| --- | --- |
| | |
| Flame Robin | Mini-fjord Finger |
Some Eucalyptus trees shed their bark, and when we hiked through the forest we would occasionally come to a tree whose exposed bark left a particularly red trunk. They were bright spots in a green landscape.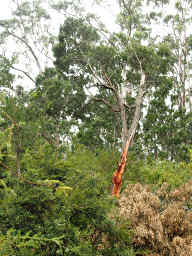 Red Eucalyptus
We hiked on to what is known as the "Convict Reservoir." I don't know whether it's called that because the convicts built it, which they probably did; or because it was used to supply them with water. In any case, there were birds and ducks enjoying it.
Australasian Grebe (M)
| | |
| --- | --- |
| | |
| Grey Teal? | Black Headed Honeyeater |
| | |
| --- | --- |
| | |
| Flame Robin | Green Rosella |
On the way back to camp, we came across a cluster of flies on the branch of a tree. They looked like regular house flies, but I've never seen them do that before, and I expect they weren't house flies. The wallabies eyed us suspiciously as we passed on our way through the woods, but the wombats didn't pay us much attention.
| | |
| --- | --- |
| | |
| Flies on Tree Branch | Wombat |
We came across some pink flowers which I have not been able to identify...
And then it was time to go. We packed up and hiked back the road to the dock by the bay. Along the way we found some Chestnut Teal; and while waiting on the dock we saw what we think was an immature albatross of some sort.
| | |
| --- | --- |
| | |
| Xxx Flower | Dona heading to Dock |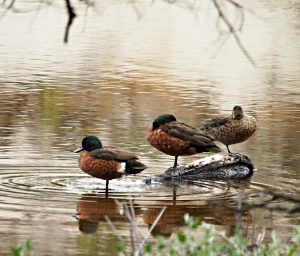 Chestnut Teal
After all that fun on Maria Island, we took a rest day and then went to explore the HuonValley.
---