Sailing, Suffering, and Boat Repairs in Guatemala and Belize
Watch out, Captain Ron, you have Competition
late March to early May, 2013
Click on any image for a larger view;
Contact garya at this domain if you would like the high quality image for printing
When I left Livingston I had a heck of a time getting out and across the bar. The tide was flowing against me, and the wind was on my nose. Once across the bar the sailing was ok, but it was close to dark as I was nearing Punta Gorda, with another ten miles to go to New Haven where I wanted to spend the night. I probably could have gone on in using the GPS, but the GPS wasn't really usable. I turned it on to see how it would work; I could easily identify the waypoints, but not their names or symbols. So whether it was a shoal or an anchorage wasn't obvious. Not optimal... I was pretty familiar with the waypoints, as I had entered them all, but I didn't want to be playing guesswork around shoals. So I headed off east to find some open water, where I could safely sail all night.
Crossing the Bay of Honduras, Heading for Belize
Whoo-Hoo, We've Got Enough Wind!
for now ...
With the new battery I was comfortable running the auto-pilot most of the time, so mostly I just had to concern myself with keeping watch. The seas built up to a rather boisterous level, and about an hour into it there was a loud "bang!" as the port jib sheet snapped. I ducked below and fetched a spare from storage and got it changed out without too much hassle -- "Auto" kept the boat heading reasonably running with just the main.
I was working my way up past the Snake Cays, but I couldn't be sure which one was which in the dark. I got out my hand-held Garmin GPS in which I had previously entered all the waypoints, but it was totally unreadable by flashlight and I couldn't figure out how to activate the backlight of the display itself. So I headed for a clear spot and tried to continue making progress. The seas had built up to where we were taking water over the bow and I was occasionally getting soaked in the cockpit.
Somewhere in there in the middle of the dark night it registered on me that the steering was getting loose. Sure enough, it gave out shortly afterwards. I grabbed the emergency tiller; I couldn't find my headlamnp so grabbed a flashlight. But I only have two hands, and my mouth wasn't big enough to hold the flashlight. I had a heck of a time getting the emergency tiller on the rudder post; fortunately the boat was hove to so we weren't bounching and crashing all over.
| | |
| --- | --- |
| | |
| Autopilot Setup | Emergency Tiller |
By sunrise I was exhausted as I hadn't been able to get any cat-naps. "Auto" only works with the wheel steering, not the emergency tiller. I was cross-eyed from steering by the compass all night. Thank goodness it has fairly large numbers and is well lit.
I made it in to Placencia, dropped the hook, unhitched from my safety harness, and immediately jumped in for a swim. It was hot! My safety harness is basically a self-inflating life jacket ("Personal Flotation Device", a.k.a. "PFD") with a few things added on. I have a pouch which holds a Personal Locator Beacon (PLB) and a dollar store cosmetic kit with two mirrors for signaling; and a carabiner with a home-made webbing ladder attached for climbing back on board. There's also a whistle, which I consider mostly useless.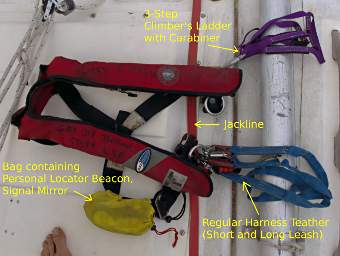 Safety Harness
Then I lowered the dink and motored over to town, took the Hokey Pokey (water-taxi) over to Independence, and a Taxi from there to Big Creek to check in.
With the formalities taken care of, the next order of business was to get the steering fixed. Two years ago, one of my home-made aluminum mounting brackets had given way and we had needed to have it re-welded. I assumed the other one had given way this time. So I headed over to Yoli's Bar to ask her if her "Uncle" Eugene ("Babe") up in Sienne Bight was still available for welding.
Yoli remembered me and assured me Babe was still alive and kicking and would fix me up. I told her not to call him until I had checked out the problem and was sure I needed some welding done. Then I headed back to the boat to get some rest.
After a good night's sleep I was still moving slowly, but I felt a whole lot better. I went over gear and made a list of things to fix. The jib leach was torn and needed to be repaired, and the stern light was hanging down and needed to be refastened. But I got a pleasant surprise when I went to inspect the steering gear. Instead of a broken bracket, I discovered the cable had just come off the bracket. Thinking about it, I could have fixed that while hove to in the middle of the night, although I probably wouldn't have been comfortable doing that as it would have required emptying most of the cockpit locker.
I put the cable back on and began to tighten it up, but I could see the bracket was at the wrong angle, which was why it came off in the first place. I decided to do the right thing, and took the time to unbolt it, redrill the mounding holes, and remount it so the cable ran fair the way it was supposed to.
| | |
| --- | --- |
| | |
| Steering Pulley | Steering Quadrant |
Then I epoxied the stern light to its base, wrapped and frapped it with twine, and stretched rigging tape over the base. After repairing the stitching on the jib we were back in business.
Stern Light,
Wrapped and Frapped
Covered with Rigging Tape
and then Friction Tape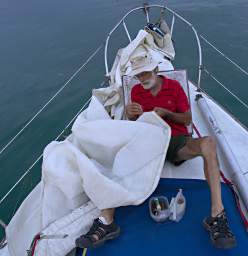 Sail Repair
I headed back to Yoli's to tell her I wouldn't need Babe's help. It was her birthday, and people were celebrating. But they do that every day of the year there... Someone had baked a cake for Yoli. It looked great, but tasted like someone had added a little laundry soap to it. Yuk!
There was a two-man band there doing a good job, with some impromptu help from the audience with aspiring guitar and harminica players. Everyone had a great time.
| | |
| --- | --- |
| | |
| Yoli's | Yoli's |
| | |
| --- | --- |
| | |
| Yoli's | Yoli's |
| | | |
| --- | --- | --- |
| | | |
| Yoli | Reagan | Band with Audience Addition on Guitar |
| | |
| --- | --- |
| | |
| Happy Birthday Yoli! | Yolis |
| | | |
| --- | --- | --- |
| | | |
| Yoli and Reagan | Yoli and Reagan | Band with Harmonica Player from Audience |
The air in my two scuba tanks was old and I wanted to change it out. I went over to the dive shop and they said they would refill them for me, but they didn't have a DIN adapter, which I needed as my tanks have a DIN valve instead of a Y. It was then I realized that before coming down I had cleaned out my emergency dive kit, and had taken out the DIN to Y adapter for filling the tank. I had left in the DIN to Y adapter for the regulator, in case I used someone else's tank. I distinctly remembered wondering what that brass adapter was for. Damn. Not much I could do about it now, so I figured I would just try some short dives to use up the air and see if it affected me. Would it be mouldy?
I'm not much for hanging around town, so the next morning I headed back out. I had a short sail over to Lagoon Cays.
I got there about lunch time. After relaxing and eating a bit I decided to snorkel completely around the island. It turned out to be a lot further than it looked! It was pretty boring at first, but down at the south end it was interesting. I enjoyed re-familiarizing myself with many of the reef fish I hadn't seen for two years -- Four-eyed Butterfly Fish; lots of Grey anglefish; Blue Tang; Porkfish; Barracuda; Bluestriped Grunt; Yellowtail Snapper; Barred Hamlet; Sergeant Major; Stoplight Parrotfish; Striped Parrotfish; Southern Stingray; Houndfish; Cushion Sea Star; Queen Conch.
I could hear an osprey over on the cay, so as evening set in I rowed over to look for it. I didn't find it, and the sand flies drove me back to the boat.
For those concerned about food storage, I had an unopened can of Nestles Quick hot chocolate mix that I bought in 2007. It was just fine! As was the boxed liquid milk I had bought in the early months of 2011.
A Moorings charter catamaran came arrived shortly after I did and anchored a short distance away. For some crazy reason they ran their engine almost the entire time they were here. It was going from 12:00 until 20:00, and going again in the morning when I got up. Why bother chartering a sailboat if you're going to run the engine the whole time?
Ibis at Lagoon Cays
The next day I sailed over to the barrier reef itself and anchored behind Southwater Cay. It was an uneventful, pleasant sail, although it was a tight fit through the pass into Blueground Range, and took me several short tacks with the wind on our nose.
When I got to Southwater there was a boat anchored outside the reef in the pass. I don't have the nerve to try that. It seems like a particularly vulnerable place to anchor, although the snorkeling, diving and fishing is probably excellent from there.
I lowered the dink, headed over to the reef cut, and anchored part way out the pass. My plan was to snorkel out the pas and explore the outside. But the tide / current was running in really fast, and it was a lot of work just to stay even. I moved into shallower water near Southwater Cay. There was great snorkeling, as usual, in really clear water. I noted Banded Butterflyfish; a 4' Barracuda missing its back dorsal fin; White Margate; Mutton Snapper; large Schoolmasters, which I would have liked to shoot for dinner; juvenile Yellowhead Wrasse in schools; Squirrelfish; Longspine Squirrelfish; Sand Diver; and a filefish-like thing which I didn't get a good look at.
The Moorings folks could save a lot by buying boats without masts or sails -- not one of the boats I saw today was sailing, despite perfect weather, perfect wind, perfect visibility, and no real hazards. I guess it's all about looks and impressions.
And talk about a zoo! Four good ole boys in a Sunsail (Moorings) cat spent over an hour dinking around anchoring, and I don't think they ever got it right. They're close to me but fortunately downwind. If the wind shifts too much they will be way too close for comfort. They are on way too short a leash. How they were ever ok'd to charter is beyond me. They had trouble running the outboard on the dink as well. Maybe all it takes is insurance...
| | |
| --- | --- |
| | |
| Tourist Boat at Southwater Cay | IZE Building at Southwater Cay |
By the evening there was a whole flotilla of Moorings cats anchored at Southwater, all apparently together, none of them sailing.
The next day I went for a refamiliarization dive under the boat, a whopping 14 feet for seven minutes. All went well. There was a 2' Barracuda hanging out; I also found a Queen Conch, and a barnacle on the rudder I had missed when cleaning it off. I decided to go on a real dive in the afternoon, which I arranged with the dive shop at the Blue Marlin on shore. We dove south of Carrie Bow Cay, and saw quite a few Spotted Eagle Rays. There were Sharksuckers accompanying some of the larger Spotted Eagle Rays. We also saw a Lionfish, an invasive species in the Caribbean. But the coolest thing was a sanddiver with a mostly swallowed meal in its mouth; only the tail of the fish was sticking out of its mouth, and the meal looked to be about as big as the sanddiver itself.
The next day I headed out at 06:45 for Glover's Atoll. The wind was... surprise ... on our nose. It took two tacks to get out the reef cut, and I couldn't lay a direct course for the entrance at the southeast end of Glovers. As we got further out, the wind and waves were building, so I put in a reef on the main. It was fine sailing, but by 11:00 I was still 5 mi off and fighting 6' seas. The seas were most likely the result of being clear of the protection of the atoll, and were waves traveling from much further east. I started thinking about the anchorage and how I'd spent three days there a few years back in a lot of wind and decided there wasn't much point -- the diving would be restricted if I went up to Off the Wall at Long Cay, and my head just wasn't in the right place.
| | |
| --- | --- |
| | |
| First Mate "Auto" at the Helm | Heading Towards Glover's Atoll |
I came about and headed back; it was a fast trip. Along the way a small group of dolphins came by to say hello. I always get a kick out of watching them make fun of my slow progress as they race back and forth, weaving just out of reach at the bow.
| | |
| --- | --- |
| | |
| Dolphins, Returning to Southwater Cay | Dolphins, Returning to Southwater Cay |
| | |
| --- | --- |
| | |
| Dolphins | Dolphins |
| | |
| --- | --- |
| | |
| Dolphins | Dolphins |
| | |
| --- | --- |
| | |
| Dolphins | Dolphins |
I even tried taking some movies of them, although I'd never used the movie feature of my Olympus OM-D camera before.
The next day I did the short hop north to Tobacco Cay, stopping for a while on the way up just inside the reef. I took the dink in to the reef as far as I could, then snorkeled (it was barely deep enough) through and over the top to the other side. It looked interesting but I didn't see nearly as many fish as I had hoped. I took the Hawaiian Sling with me, hoping to shoot something for dinner, but didn't run across anything appropriate.
Then I sailed on up to Tobacco and went snorkeling in the reef cut. There were Spotted Eagle Rays working the edge between the coral and the sand, and I found a large Southern Stingray digging / feeding in the sand. Also a Peacock Flounder; sand diver; sharpnose puffer; trumperfish; squirrelfish; bluehead; yellowhead wrasse; spanish hogfish; hogfish; yellowtail parrotfish; stoplight parrotfish; sergeant major; yellowtail damselfish; schoolmaster; porkfish; french grunt; bar jack; and rock beauty.
I rowed ashore and arranged for Dinner at the Tobacco Cay Paradise, I think it is called. I met a couple of Canadian motorcyclists, the only people staying there. All the charter boats are down at Southwater because of easier anchoring. A local fishing boat stopped and unloaded some lumber they had brought over from Dangriga. I'm always amazed at the amount of stuff the locals pile onto one of those boats!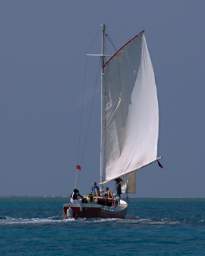 Tourist Sailboat
| | |
| --- | --- |
| | |
| Tobacco Cay | Bar on Tobacco Cay |
| | |
| --- | --- |
| | |
| Tobacco Cay | Tobacco Cay |
| | |
| --- | --- |
| | |
| Tobacco Cay | Fishing Boat |
Then I sailed up to Cross Cay, and again took the dink out to the reef. I couldn't find a place to snorkel through it, so I ended up walking backwards with my fins on. It was a bit awkward but I made it. There were nice "canyons" of coral on the other side, but the surge and surf was a bit rough so I didn't go out too far. I was concerned about not making it back to the same spot and having trouble getting back across the reef without being pounded pretty badly. I suppose a few more years of familiarity with it and I would be more comfortable.
On the way back in the dink I noticed a big cloud in the water, so I stopped and snorkeled over and found another big southern stingray feeding. It was completely unconcerned about my presence, although I was reluctant to get more than about a meter away from it because of that long tail...
There are lots of new mangroves sprouting on the reef top. It's a good living demonstration of how reefs build up and islands form. I went back out towards late afternoon / evening and the tide was six or so inches lower and there were lots of sharpnose puffers in the shallows. Also some other larger stuff that scattered before I could see what it was. I found a bunch of fat mussels of some sort, but I don't know of a good way to fix them so they aren't rubbery.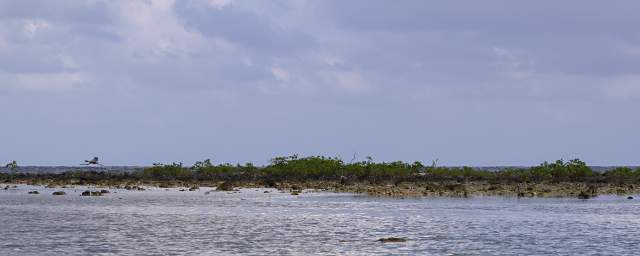 New Island on the Barrier Reef

New Mangroves up Close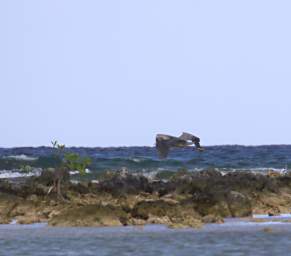 Great Blue Heron
| | |
| --- | --- |
| | |
| Afternoon Shower | Afternoon Shower |
| | |
| --- | --- |
| | |
| Mussel | Mussel |
| | |
| --- | --- |
| | |
| Mussels | Mussels |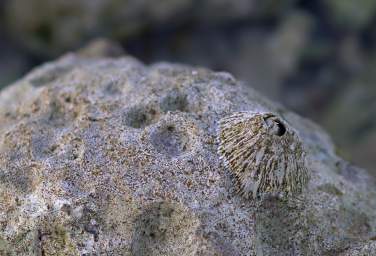 Barnacle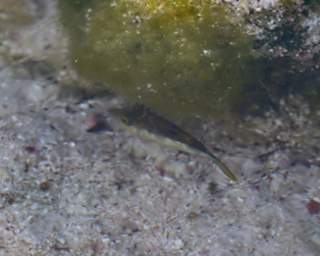 Sharpnose Puffer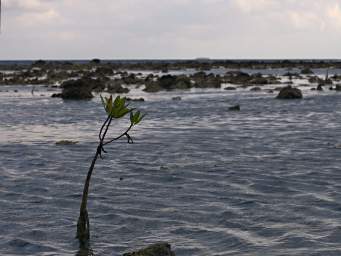 New Mangrove
Tobacco Cay on the Horizon
A Small Tree or Two
in an Expanse of Coral
... and an Expanse of Sky
Coral is Great Protection
from Waves for new Plants
Back on the boat I watched the moon rise orange, probably from a lot of burning going on on the mainland. I tried to take a picture, but even modern image stabilization doesn't work that well in low light on a rocking boat...
Moonrise on a Rocking Boat
... Testing the Limits of Image Stabilization
The next day I headed on north up to Colson Cays. As I was sailing up to Columbus Cay, two fishermen in a dugout canoe appeared to be paddling energetically to intercept me. As they approached they complimented Malakii, then asked if I had an extra diving mask. I happened to have a number of extras I keep on board, and told them I did have an extra. I hove to and they came alongside, and I went below and dug out my extras.
After I passed them the mask and the fellow who needed it verified that it would work for him, they offered me a lobster. I told them I thought lobsters were out of season and they said something along the lines of "Yes, but out here nobody will know." I declined, as I don't want to encourage that, but asked them if they had any hogfish. They said yes and handed me up one just the right size for dinner. A good trade all around.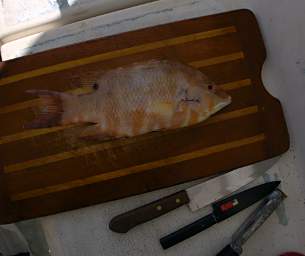 Hogfish
As I was passing the cut in the reef where Glory Cay used to be (a hurricane took it out), I noticed a big rainstorm brewing to the south. By the time I had cleared Southern Long Cay it stretched pretty wide and there was more to the northeast. I decided to head for clear water and the anchorage at Colson rather than mess with it between Colson and the reef. The southern squall passed to the south of me but the one to the northeast came in over Colson just as I was about to head in to anchor. So I slowed down and waited for it to come to me where I was, out in the clear. It didn't amount to much, and then I went on in and anchored.
That evening I took the dinghy and motored through the pass between the two islands of the lower cay and on out to the reef, where I found a tiny new cay being formed. Unlike the other newly forming cays I'd seen earlier, this one was unassociated with mangroves. There was just something about the hydraulics which caused that spot to be prone to deposition. All it needs now is a coconut palm!
| | |
| --- | --- |
| | |
| New Cay | New Cay |
Back at Colson, I found a couple of Pelicans hanging out in the cut between the two lower cays.
| | |
| --- | --- |
| | |
| Bird Pelican | Bird Pelican |
I cooked up the hogfish and ate while watching a great sunset.
| | |
| --- | --- |
| | |
| Sunset from Colson Cay | Sunset from Colson Cay |
The next day was one of those day's you'd like to be able to do over. Every day is a day of choices, and sometimes we make stupid ones. My plan was to sail out the cut between the northern and southern groups of Coulson Cays, then out to the reef where I would spend the day snorkeling. I was really looking forward to it.
As usual, I was up about 06:00 to watch the sun come up. I had a nice leisurely breakfast, deliberately taking lots of time. I had never been through the cut between the cays before, and there was a shoal on the near side, shoals next to both sets of cays on the far side, and another shoal in the middle on the far side after you came through the cut. I told myself to wait until at least 09:00 before going through, so the sun would be high enough to see. I should have waited until 10:00.
I weighed the anchor about 08:30, then sailed in a wide arc around the shoals on the near side. I worked my way carefully through the cut, which was narrower than I had expected. My depth sounder is difficult to read, a Hummingbird HDR 600. It has a liquid crystal display with small numbers, two features which make it difficult to read. I normally don't wear sunglasses much, but they help a lot when sailing. I was wearing new-ish polarized sunglasses, and they make reading the depth sounder particularly difficult. I was bobbing my head every which way trying to see the shoals and the channel I needed to stay in, but the sun was dead ahead and not high enough yet. All of a sudden the depth sounder went shallow and I had to decide whether it was from the shoal by the northern cays, or the shoal in the middle that was in front of me. From my study of the chart I figured I still had a ways to go before the shoal in the middle would be in my way, so I put the helm over hard to starboard, and promptly ran aground. Ugh! The shoal in the middle was much closer than I had thought. If I had had another person on the boat, they would have been serving as lookout in the bow and we would have avoided this mishap. If I had waited another hour to start the sun would have been higher and I probably could have seen the shoal better and we might have avoided this mishap. If I had chosen to motor through the cut instead of sail through it, I could have seen ahead more clearly and we might have avoided this mishap. In any case, we didn't avoid this mishap.
Fortunately the shoal was mostly sand and grass, not hard coral. I pulled the stern anchor out of the cockpit locker, ran the spinnaker halyard out to the side, and attached the anchor rode to it. Then I lowered the dinghy and rowed the anchor out and dropped it to serve as a kedge. I ran a bow anchor out at an angle to pull the boat off and towards the kedge. I readjusted the sails so they would catch what little breeze there was and help heel the boat. Then I started tightening up on the spinnaker halyard, tipping the boat over to reduce the depth she needed to float. At first I just pulled on the spinnaker halyard with my feet on the mast, hoping a pulse of power would heel the boat enough for her to slide off and move up towards the bow anchor, as the bow anchor rode had a lot of spring in it and was pretty tight. But she wouldn't budge. Malakii has a pretty flat bottom, and she tipped fairly easily up to about ten degrees. But once we got to that point tipping her any further takes a lot of effort. I rerouted the halyard back to a sheet winch and slowly started cranking. Everything was drum tight, and we still weren't moving. I kept tightening things up, 5-6 cranks on the winch at a time, but the boat just didn't want to heel any more.
I was getting pretty beat; I think it was about low tide, and I'd been working on it for several hours by now. A few local fishermen passed by but managed to avoid paying much attention to my situation. It was a bright sunny day, and I couldn't help thinking this was a hell of a way to spend a nice day when I should have been out on the reef leisurely snorkeling. I decided high tide would be my salvation, and sat down to cogitate on my situation a bit more. High tide was a ways off.
Then up from the south came a launch with a couple of tourists in the bow, shrouded in white shirts, white pants, white hats, white scarves, white ear flaps. I think the launch said "Barefoot Charters" but in any case her captain, a tall, good-looking Belizian standing in the rear at the helm, yelled over to me, "Hand over your women and your rum!" My heart sank. I had no women on board. Damn. Where were they when you needed them? I did have some rather old rum, however.
He turned out to be a sailor as well and had pulled many a boat out of my situation, so we made quick work of it. We doused the sails and brought up the bow anchor. Then we put a buoy on the kedge and turned it loose to pick up later. We tied the spinnaker halyard to a line on the stern of his launch, and I started Malakii's engine. Then he tightened up on the halyard and gunned his engine, which tipped Malakii over smartly; I gave her full power ahead and we slid off into deeper water. Then he tightened up on the halyard and gunned his engine, which tipped Malakii over smartly; I gave her full power ahead and we slid off into deeper water. He passed me back the spinnaker halyard and asked if I needed help getting the buoyed anchor back but I said no, thanked him profusely, and he was off. I motored back through the cut and anchored west of upper Colson.
I took the dink back through the cut and retrieved the kedge anchor, then spend an hour and a half putting all the anchors and lines back where they belonged.
After a brief rest and a bite to eat and drink, I decided it was still a nice day and going to be a nice evening and the light was good so I decided to stick to my original plan and head on out to the reef. Even with excellent light and motoring instead of sailing so I had a clean view forward, I had a heck of a time going out the cut. It was problematical that I would have made it sailing even in good light. The cut was much narrower than it appeared on the chart, and was tight even motoring. I suppose if I had to get stuck, it wasn't a bad place and time... I was pretty beat and my pride was hammered. I decided Malakii is far more capable than her captain.
From where I was anchored I could see three coconut palms on Rendezvous Cay to the north.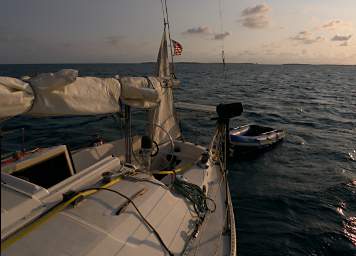 Colson From Reef
I had a pleasant, restful, uneventful night out on the reef. There's something magical about being anchored out on the reef, with only a few low distant hints of land. You feel exposed and vulnerable, even knowing that the reef itself provides a fair amount of protection.
The next day I headed back south, stopping for lunch on the way to snorkel on one of the many patch reefs that dot the inside channel. The patch reefs are fun; they're shallow, 6-10 feet in this case; and you're in pretty calm water as a result of being just to leward of the main barrier reef. There was a great variety of fish on this particular patch reef, but unfortunately no lobsters, and nothing very large. No surprise there. I thought I saw a squadron of squid but they swam off, as squid usually do, when I tried to approach closer.
| | |
| --- | --- |
| | |
| Patch Reef | Patch Reef |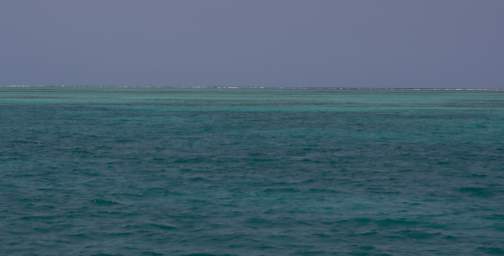 Patch Reef
Barrier Reef with Breakers on the Horizon
I didn't have any definite place I wanted to stop for the night, and it looked like a nice afternoon / evening so I decided to spend another night out on the reef. I spent the afternoon servicing the head, replacing seals and valves; a chore often avoided but not nearly as bad as it sounds. By sunset there were big overcast horizons all around and the wind was up. I didn't see any thunderheads but the general overcast didn't seem good. The barometer had dropped a tenth since yesterday, which was a tenth from the day before, and was now at 30.26.
A local fishing boat came motor-sailing by, headed back to wherever they were from. I always enjoy watching them go by, brightly painted, lateen sail set jauntily, piled high with cayucos, wet clothing and snorkeling gear in the rigging, people perched wherever they can find a place.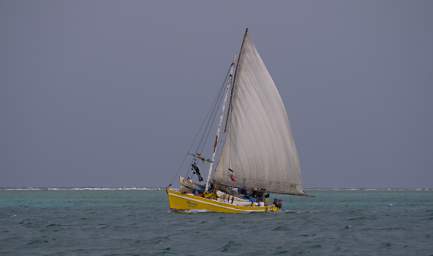 Fishing Boat
The next day I sailed down to Lagoon Cays for a last night in and around the reef. I went snorkling again at the south end, and it was pretty good. I got inside a school of millions of ~2cm minnows of some kind, so thick the water appeared clouded. I was delighted to come across a juvenile Spotted Drum. I've only seen Spotted Drums before out on the main reefs in deeper water. On this shallow interior reef, the Schoolmasters were easier to approach than most other places; I could have had one for dinner but wasn't in the mood for fish.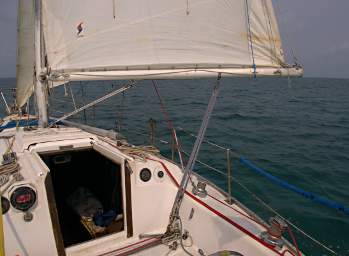 Sailing South, Heading Towards Lagoon Cays
Morning Hot Chocolate
"Auto" at the Helm
Morning Hot Chocolate
heading towards Lagoon Cays
I discovered the sheave on one of the turning blocks at the base of the mast was shattered, so I found a new one among my spares and put it on. Modern plastics may be great, but they don't last forever. I always think they should; this one was probably 35 years old...
Shattered Sheave
Boom Vang
Not sure why I took this
but since I did, you get to see it...
The next morning I went for a short dive under the boat. There was more current than I had expected; I headed out on a straight compass course for the cay, turned around and came back on a reciprical course without any compensation for drift and ended up quite a bit farther north.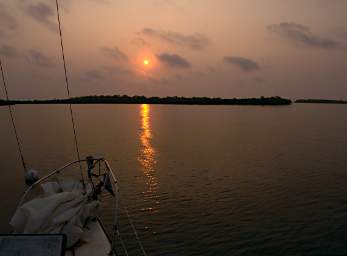 Sunrise Lagoon Cays
Then I had a pleasant three hour sail back to Placencia. I somewhat redeemed my self-esteem by sailing back into the anchorage through the narrow northern cut with the wind on my bow as usual. It was a bit tricky (for me) and I got thumbs up and cheers from a bunch of local fishermen heading out as I was heading in.
I took the Hokey Pokey to Independence to try to check out, but it turns out it was a holiday and no-one was around. So I had a leisurely evening and a good meal at a restaurant in town.
When I woke up and went on deck the next morning I discovered flying ants all over -- clusters of them on the line for the boom vang, having an orgy or something. I killed a boatload of them but had to head off to catch the Hokey Pokey to check out. When I got back all I found was dead ones. So either the rest died, scurried off to other parts of the boat, or flew off to someplace new... I caught the 07:45 boat to Independence, then a Taxi to Immigration, but no one showed up until 08:30. My Taxi driver left to take his wife somewhere and said he would return, but by the time I was done he hadn't. So I hitched a ride back to town and walked down to the dock. The Taxi guy eventually showed up and I asked him what I owed him for the one-way and paid him.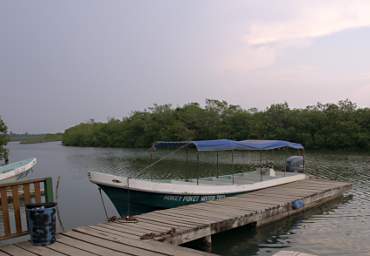 Hokey Pokey
| | |
| --- | --- |
| | |
| Independence Dock | Independence Boats |
Back in Placencia I got an ice cream cone, some flour tortillas, read email, and then headed back to the boat.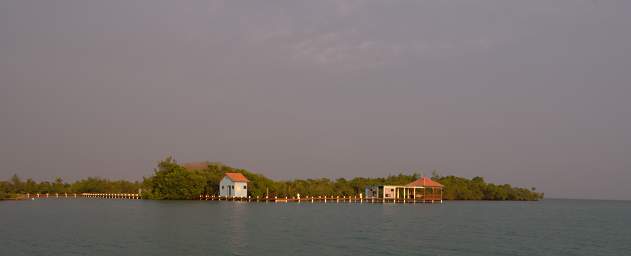 Placencia Cay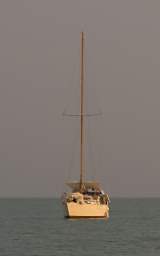 Sailboat
Coming in to Placencia Anchorage
Towns must terrify me. It's hard for me to just "be" in a town. I tidied up the boat, weighed anchor, and headed south towards Guatemala. The plan was to spend the night in New Haven, a nice well-protected anchorage a day's hop from Livingston, Guatemala. It was hazy, but I made good time, for once a nice broad reach with just the right amount of wind.
---