Excursions in Belize and Guatemala
with Dona and Sid
January 2011
Click on any image for a bigger view
Contact me (garya at this domain) if you want the really good image
Dona's youngest son, Sid, was taking a vacation to Belize. He was spending some time at a resort on Ambergris Caye. We planned to sail Malakii from Rio Dulce, Guatemala, up to Ambergris Caye, pick him up, and spend a week touring inland in Belize. So we flew down to Guatemala on December 31. We spent the night at Hotel Spring. It's in a rough part of town, but it's inexpensive and within walking distance of the main square.
Hotel Spring
Photo by Dona
Hotel Spring
Photo by Dona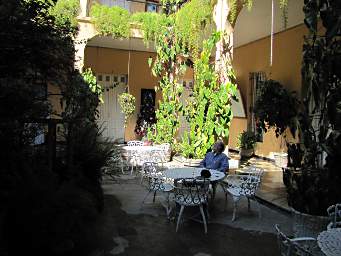 Gary at Hotel Spring
Photo by Dona
The next day we caught a bus to the Rio. That got us as far as Fronteras, and from there we took a collectivo launch down to where we keep the boat.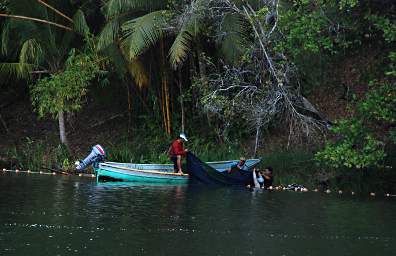 Fisherman in the Golfete
Jennifer's Place at Bahia De Buena Vista
Photo by Dona
Malakii
Photo by Dona
We spent about ten days working on the boat, doing the usual been-away-for-awhile maintenance and installing new cockpit cushion covers, an enlarged harbour awning, a new l.e.d. bow light, and various other stuff we had made since we were last down.
Gary Up the Mast
Photo by Dona
Gary Up the Mast
Photo by Dona
Dona enjoyed the proliferation of flowers on and around the water and in Jennifer's garden.
Flower Lilly
Photo by Dona
Flower Lilly
Photo by Dona
Flower Xxx
Photo by Dona
Flower Xxx
Photo by Dona
Flower Xxx
Photo by Dona
We went over to my friend Casey Brooks' shop to trade some parts I had for an old windlass. The brake on the wildcat on Malakii's windlass is frozen, and the wildcat itself is badly corroded, so I'm hoping to replace it. Casey is a shipwright and house builder located in the next bay down the Golfete from Bahia de Buena Vista.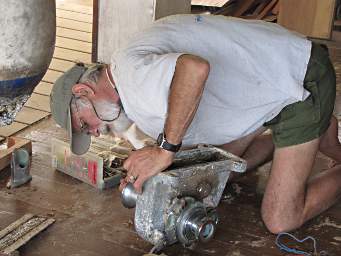 Gary and the "to-be-fixed" Windlass
Photo by Dona
Casey and Gary in Casey's Shop
Photo by Dona
Casey Working on his boat Retriever
Photo by Dona
Flower Xxx
Photo by Dona
Flower Xxx
Photo by Dona
Flower Xxx
Photo by Dona
Flower Xxx
Photo by Dona
One day we went for dinner at some friends' house. Manfred and Andrea have a place next to Jennifer. It is a small farm and they have been pretty industrious fixing it up. We had a great dinner with fresh milk and all locally grown organic food that they have raised. We got a kick out of watching their son, Noah, drive the tractor around. A farmer in the making...
Manfred and Andrea's House
Photo by Dona
Manfred, Andrea, Noah and Jara
Photo by Dona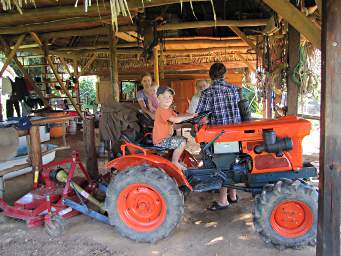 The "Garage"
Manfred, Andrea, Noah, Jara, Gary
Photo by Dona
Noah on the Tractor
Photo by Dona
Noah on the Tractor
Photo by Dona
My friend Bob Polk, on Foole, was back on the river, so for Dona'a birthday we took him and Jennifer out to dinner at Viajeros, a nice restaurant near the hotsprings.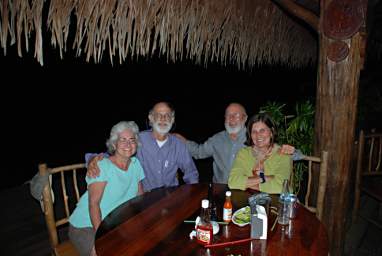 Dinner at Viajeros
Dona, Gary, Bob, Jennifer
We didn't have a lot of time to spend working on the boat if we were going to make it up to Ambergris Caye, so on the morning of the 10th we left Bahia de Buena Vista. It was dead calm, and for the first time in ten years, we had to use the engine to get out of the bay. From the very beginning, things didn't feel right. Malakii has a fin keel and is a pretty responsive boat, but she was moving like she was dragging a whale.
We had hauled and painted her last year, so before we left we just gave her a minimal spongedown. I figured she had some growth on the hull because we hadn't done a complete underwater spongedown like I usually do, and that it would slough off in short order because of the new paint job. After an hour, we had gone less than two miles. and it still felt like we were dragging a whale. It was a bright sunny day, and the Golfete is less than twenty feet deep, so I killed the engine and dropped the hook.
I got out my mask and fins, but my snorkel had been broken by the airline baggage folks on the way down. I borrowed Dona's and went over the side to have a look. Yikes! The propeller and drive shaft were totally encrusted with barnacles; the propeller looked like someone had taken three turkey drumsticks and lashed them together and called it good. It took me about an hour with some putty knives hammering away at them to get things mostly cleaned up. But when we started up again we were moving normally.
We got to Livingston around noon, and had Raul check us out. We bought a few groceries, but not much, as Belize is rather strict about bringing in agricultural products, especially produce, into the country.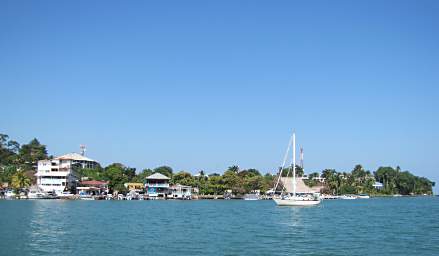 Livingston
Photo by Dona
We headed out about 14:00 and arrived in Punta Gorda at 18:25. As we were turning into the wind to drop the sails and anchor, the steering suddenly was unresponsive. I managed to drop the hook and the sails, and after sorting things out we discovered an aluminum bracket I had made some years before had broken a weld. I am not good at welding aluminum, and should have had someone else do it in the first place. So we put on the emergency tiller, and decided to see about getting it re-welded in the morning.
| | |
| --- | --- |
| | |
| Cockpit with Emergency Tiller | Broken Steering Bracket |
Punta Gorda is an open roadstead, and when the wind is up, you do not want to be spending the night on the hook (anchored) there. There is a huge fetch (big stretch of unobstructed open water) to the east, and some pretty big waves roll steadily in when the wind is up. There is no protection from the waves whatsoever -- nothing to hide behind. Fortunately, the wind was not up, and we had a pleasant night. We were at the port captain's office bright and early at 08:00 to check in. Immigration and Customs were a breeze, but the port captain was young, inexperienced, and slow as molasses. It took us an hour and a half to get checked in. Furthermore, we got ripped off, as they charged us $10 Belize per day of our anticipated stay. The first 30 days is supposed to be free. There are four ports of entry for Belize, and they all charge differently. Obviously, the folks in Belmopan, the capital, don't have a clue what is going on. It's the last time we will check in at Punta Gorda.
We asked around for a welder who could work with aluminum and everyone said to look up an American named Charlie, on the north end of town. We started hiking north, and about the time we got to where his shop was supposed to be another guy rode up on a bicycle and offered to take us to him. The bike guy rented a room from Charlie, and had heard we were looking for him in town. We followed the bike guy through the jungle a half mile or so, and found Charlie tieing together some rebar for a house he was building. After talking it over with Charlie, he decided he would try to fix the bracket for us, but he hadn't gotten any argon since arriving and he needed a bottle of that to exclude air when welding aluminum. So we hopped in his truck and went up to the Texaco station to see if they had any argon. Well, they didn't, but they could order some in from Belize City, but it wouldn't be there until a week later.
We couldn't wait that long, so we headed back to the boat. We left Punta Gorda at 11:00 with the wind out of the NE, right on our nose. We were hand steering with the emergency tiller, so we couldn't use the autopilot. We made it up to New Haven by 18:00, just at dusk. Dona was feeling terrible; she had been seasick on the way up from Livingston, and was sick again on the way to New Haven.
The forecast was for a norther to come in by the weekend, but it arrived early -- by the next morning it was blowing pretty hard, We decided to spend the day recovering and taking it easy. Given the weather and our delay, it would be difficult for us to make it all the way up to Ambergris Caye in time to meet Sid. We decided to consider leaving the boat in Placencia and taking the bus up to Belize City to meet Sid.
We spent a lot of the day napping, but I did get a few projects done. I cut off the broken end of my snorkel and glued in a piece of PVC pipe, and it was good to go.
The next morning we headed out at 07:00 with about 10 knots of wind, the #2 jib up, and one reef in the main. The wind and seas built steadily, so we threw in another reef in the main but kept the #2 up. We really needed a #3 but we don't have one, so it's either that or the storm jib. We kept the #2 up as things built further.
Somewhere into the afternoon, the dinghy forward lifting loop broke, but fortunately I was able to rig a line to the bridle and still hold it up on the davit. Then the left tube deflated. It was difficult to keep it from catching in the water, especially in the 5' seas we had. We switched to the storm jib, which allowed us to sail a little more upright, and that helped a bit with the dink.
I was constantly looking behind me to make sure the dinghy was doing ok, and somewhere in there I happened to glance at the chainplate where the backstay is attached. Yikes! There was no cotter pin in it. How long had we been sailing with it like that??? One of my recommissioning check-offs is to check all of them; but somehow I hadn't caught whatever was wrong with that one. Dona went below and got a replacement while I held it in place, worried that a wave or erratic wind might cause the mast to pump and take the tension off of it and it would slip out.
We arrived in Placencia with a pretty good wind blowing, dropped the hook, and relaxed a bit. Dona did much better than on the previous leg, even in the rough conditions. She didn't throw up, although she did get a little quesy.
I figured I'd better find the leak in the dink so lowered it and tried to fill the low tube with air. I discovered it wasn't leaking -- the valve had just come loose, so that was a pleasant surprise.
| | |
| --- | --- |
| | |
| Backstay Cotter Pin | Dinghy |
The next morning we hauled the dinghy up on deck, deflated it, removed the floorboards, and replaced the lifting eye. After we got everything back together we hopped in and headed into town. We called Sid and told him we wouldn't be able to meet him with the boat, so we planned to pick him up in Belize City in two days; he would get the ferry from Ambergris to Belize City. We learned that there was a good welder, Eugene (Babe) Leslie, in Seine Bight, 4 miles up the road from Placencia. We also got the bus schedule; the buses left at 06:00, 07:30, 12:00, and 14:30. We decided to catch the 6 am bus to Seine Bight the next morning, talk to Babe, then catch the 7:30 bus on north. We would find a place in San Ignacio, pick up the rental car we had arranged for, then drive to Belize City to meet Sid.
Our only problem now was getting from Malakii to shore early enough in the morning to catch the bus, as we wanted to leave the dinghy on the boat. We stopped for ice cream and the shop owner, Tom, said he was just closing up and would take us to meet a friend who could solve our transportation problems. So we went over to Yoli's bar, where we met Yoli and her husband, Regan. We told Yoli our troubles and she said sure, she knew Babe, he was her "uncle", kinda. They offered to have their daughter, Shri, pick us up at 6:30, and Regan would drive us up to Seine Bight to find Babe. Island hospitality at its best. We had a beer and bought a square on the football game of chance they were running, and told them to buy rounds for everyone if we won.
The next morning we were up and ready by 6:00, but 6:30 came and went with no sign of Shri. I had the radio on in case they had a problem and were trying to call us. We decided to wait until 7:00 and then do something else. At 07:00 I heard the fellow on the boat anchored near us talking to someone, so I gave him a call and told him our problem. He offered to ferry us in. A few minutes later he came over and we loaded up. Half way to shore we saw Shri heading out to get us, so we transferred over and gave Dave our thanks. It turns out they had all been up, enjoying the morning out fishing, with some gnawing thing at the back of their heads about something they were supposed to do today...
Regan drove us up to Seine Bight, where we found Babe overseeing a construction job. We arranged for him to weld our steering bracket. Then we drove back to the highway (50 feet away...) and asked a fellow there if the 7:30 bus had been by. He said yes, it had already left, and there wasn't another one until late afternoon. Crap. So much for the best made plans of mice and men. We headed back to Placencia, and on the way Regan called Yoli and informed her of the situation. She called back a minute later, and ordered us to turn around and race to catch the bus. She had called the bus driver and he was dawdling along, waiting for us... Yikes! There are a bazillion speed bumps on the road to Placencia, and we slowed to a crawl for every one, but we were doing 90 mph between them. We caught the bus somewhere up the road, and had an uneventful ride the rest of the way to Dangriga. From there we caught a bus to Belmopan, and then a good deal as passengers 3 and 4 in a taxi to San Ignacio.
We found a place to stay in San Ignacio, Mana Kai Camping and Cabins which was in our price range and backed up to a park. Then we called the rental car guy and arranged to get the car. The car we got wasn't the 4x4 we had reserved, but we weren't in a position to argue. After that, we took a walk around town and checked out the birds and iguanas in the park behind our lodging.
| | |
| --- | --- |
| | |
| House in San Ignacio | Bridge over Belize River |
Xxx Owl
Photo by Dona
Xxx
Photo by Dona
Xxx Woodpecker
Photo by Dona
Xxx
Photo by Dona
The iguanas were all over the place; it appears they must have just had a litter of new ones and they were living in a hollow in a big old tree.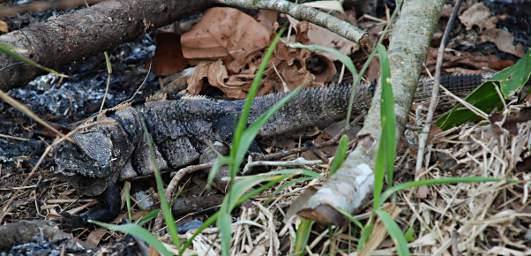 Iguana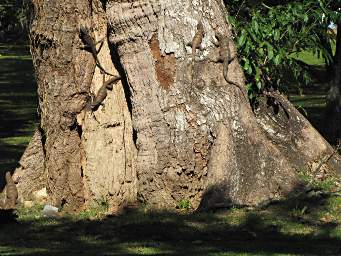 Iguanas
Photo by Dona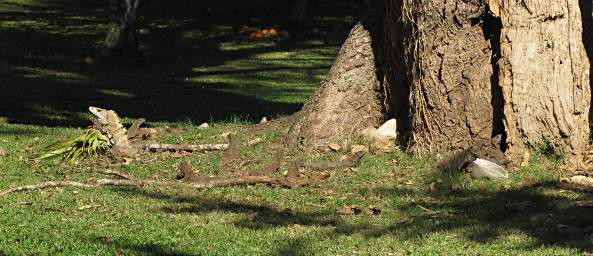 Count the Iguanas ... there are at least 11
Photo by Dona
The next morning we headed off to Belize City to pick up Sid. Along the way, we took a detour to the Community Baboon Sanctuary to arrange a stay and tour for a few days later with Sid. The "baboons" are actually Black Howler Monkeys, but for some reason the Belizians have always called them baboons. The sanctuary is a cooperative conservation project in a small community along the Belize River, which is prime Howler Monkey habitat. The goal of the project is to sustain and improve the howler monkey habitat while also improving the livelihood of the local communities. The participants in the project there have agreed to leave many of the trees and other plants the monkeys need intact instead of cutting them down. The monkeys benefit, and the locals serve as guides for visitors and share in the proceeds.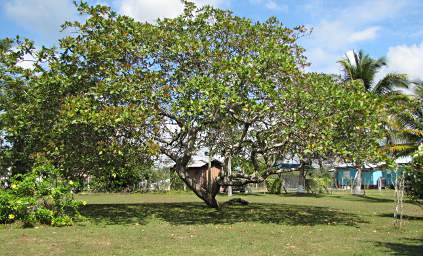 Community Baboon Sanctuary
Photo by Dona
Flower Xxx
Photo by Dona
Flower Xxx
Photo by Dona
Tree Xxx
Photo by Dona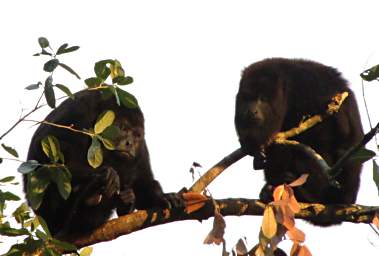 Howler Monkeys
Photo by Dona
After we got to Belize City we had some time to kill before Sid arrived so we checked out some of the handicrafts. Dona bought a couple of nice bracelets and a necklace. We think it was the same guy and his mother she bought something from the last time we were there. Her taste is consistent!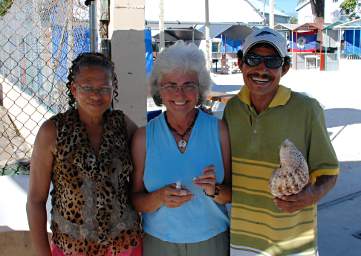 Belize City Artisans
We met Sid on the boat from the cays, then headed for San Ignacio. On the way, we stopped at the Belize Zoo.
---