Return to Rio Dulce
March - April 2010
Click on any image for a bigger view
Contact me (garya at this domain) if you want the really good image
After a long day of traveling from Omoa, Honduras, we arrived in Rio Dulce about 17:00. As soon as we arrived, we went to the local clinic. The doctor took one look at Dona's thigh, ankle, foot, and hand and declared "infection." He gave her a shot in the butt, gave us four more sets of shots plus pills twice a day for seven days. The whole thing cost 750q. We headed out, and as we're walking up the street I said, "That was a quick $100," and then added as an afterthought, "but if it gets you well it's worth it." To which Dona replied, "It's a good thing you said that!" Whew! Communication skills need improvement...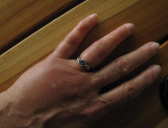 Dona's Swollen and Bitten Hand
Photo by Dona
We were walking down the street contemplating where to stay for the night and a guy convinces us to try the "Hotel Kangaroo," which I'd never heard of. The proprietor is a guy named Gary, from Queensland. It's up towards the Castillo, but on the other side of the river. Nice place, priced ok, generally quiet.
We especially enjoyed dinner and breakfast out on the deck, where we could watch the lizards and birds in the nearby jungle / backwater.
Hotel Kangaroo Boat Shed
Photo by Dona
Hotel Kangaroo Deck
Photo by Dona
Lizard
Photo by Dona
GreenHeron
Photo by Dona
GreenHeron
Photo by Dona
The next day we caught a collectivo launch down to Gringo Bay. After picking us up at Hotel Kangaroo, before heading downriver, they swung by the Castillo at the outlet of Lago Izabal to give everyone a look at it. Every time I float by I'm glad I'm not in a ship trying to sneak by all those Spanish canons.
Castillo
Photo by Dona
Castillo
Photo by Dona
Castillo Grounds
Photo by Dona
We had a relaxing day settling in. Dona got a tour of Jennifer's new neighbor, Martin's house and grounds. She got to see some otters (Nutria) playing in the creek nearby.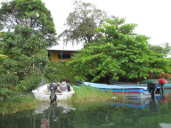 Martin's Place
Photo by Dona
By afternoon, Dona felt pretty bad, and decided it was best to head home early. My friend Casey took us up the river, where we caught a bus to Guatemala City. We went straight to the airport; we wanted to get her ticket exchanged. Unfortunately, there were no Delta Airlines people around. We went upstairs to the airline offices; there were no Delta people up there either. Two very helpful office people (Jose Carrillo and Astri Gudiel) got us a 24 hour number for Delta, 226 63 0600, and the guy on the other end of the line gave us an 800 fax number to send medical info to, but the international connection wouldn't work. We called the guy back, where we got the "All of our agents are currently helping other customers," message. Yeah, right, our one and only agent... Eventually we got a warm body, and no surprise, it was the same guy; he said come back at 04:00 when the airport opened.
We went out, asked a taxi driver about a clean inexpensive hotel nearby, and he tells us of one for $45. I asked for cheaper, but he says none close by. So we decide to splurge. We go there, it's clean but nothing special -- certainly not worth $45. It was so close we shouldn't have used a cab, you could see it from the airport. The only food we can order is from McDonalds and other chains. There's a Quiznos but you can't order from them because the ad has no phone number. We ordered a Mexican dish that looked too big. It was. The guy at the desk barely knew how to order things. We should have gone to one of several other, less expensive places a bit farther away. Chalk it up to experience.
We got up at 03:30, got to the airport at 04:00. No Delta people show up until 05:00. All we have are doctor receipts (prescriptions for shots and pills for septicemia (blood infection). The agent keeps them, but gives Dona a new ticket. Not even a $50 change charge. Thank you, Delta! It was a pain in the butt, but at least they came through.
I saw Dona to the concourse / security after a bite to eat, then caught a cab to the bus, got a direct bus to P. Barrios, got off in Morales and caught a collectivo to the Rio, then got a collectivo ride to Gringo Bay. While waiting for the collectivo I had an hour, so hoofed it across the bridge to Chiqui's to get some dinghy patch cement. Couldn't find what I wanted so got a pvc glue supposedly good for flexible pvc.
Back on the boat, I did laundry, then discovered that the dink was low on air again. I pumped it up, and could hear something fizzing... Traced it to a leak in the starboard tube. So I brought it up on deck, hosed it off, dried it off, and patched it using the new glue. The glue didn't act right but seemed to hold for the moment. I thought, "it won't last long..."
The next morning I masked off the pinstripe and painted it, three coats. While waiting between coats I spotted two red-lorred parrots up in a tree and then watched a pair of black hawks harassing a heron of some kind.
Dona sent an email saying she had arrived home safely, but still didn't know if she had an infection, malaria, both, or something else. It took six months to cure it, and we still aren't sure what all it was.
I stripped the masking tape off the pinstripe; it came out ok, only a little ragged. I was disappointed, as I discovered the molded in groove, which I deliberately followed, is straight, parallel to the waterline, rather than curving to mimick the shearline of the boat. As a consequence it offends the eye a little. Oh, well, she's a working boat, not a museum piece. If we widen the line a little we might be able to correct it.
As I was rowing the dink back to the boat from a trip over to use Jennifer's shop, I saw the new patch drifting down to the bottom... Later on I went back to Jennifer's, pulled the dink out and up onto the deck behind the kitchen. There I deflated it, cleaned up the area around the hole, and opened the special raft repair glue from my raft patch kit. The unopened tube had set up. Chico found some rubber cement in the shop. It smelled like it had toluene in it so I used it. It worked a heck of a lot better, and was still on when I headed home.
After modifying Jennifer's wheel puller a little, I was able to use it to pull the drum off my windlass. It is keyed, I discovered, and had a wooden key in it! Apparently a repair job done someplace, and it lasted a heck of a long time. Unfortunately, I was still unable to pull the wildcat / chain gypsy off.

Malakii's Windlass
I killed another cockroach in the cabin, but busted one of my food baskets in the process... I had some West Systems epoxy (the good stuff!) out fixing something and decided to use it to glue some mason line to the binoc eyepiece caps, but it wouldn't stick to the plastic. So I got out an unopened bottle of Gorilla Glue I had brought down 2 - 3 years earlier, but it was shot -- set up. I guess I just learned that glue is like water rights -- use it or lose it. I finally drilled holes in the caps, threaded the line through and tied stopper knots, then put a dab of liquid electrical tape on the knot and around the hole.
I decided to fix / redo the teak on the hatchcover, so spent much of one day with a chisel removing the teak. I got it off, mostly in ok pieces but a few messed up. Then I chiseled most of the polyurethane bedding compound / glue off. In the process I chipped out some chunks of resin and found a couple of cracks / blisters that were wet underneath. Damn. After grinding out all the blisters, I decided to redo the hatchcover with fiberglass instead of teak.
Over the course of the next week, I reglassed the hatch cover, painted it and added some sand for non-skid. In between coats I revarnished a few things; put a new motor mount block on the dink; and made another bookshelf. I also finally got around to pulling out the old 110v a.c. wiring outlet in the head, the electric flush button, and the 110 outlet on the bulkhead below the bookcase. Then I pulled out the wiring associated with them and removed it. That was a bear but I'm glad it's done. Now the only 110v left is the outlet in the galley and the battery charger, which I'll leave for now. I also removed the cowlings from the old engine vents on the transom, ground them down, reglassed them, and painted them. They look pretty good for a rank amateur.
Refinished Hatch Cover
Cleaned up transom, no vent cowlings
I went over to Jennifer's one morning to paint the 3rd coat on the hatch cover and put on the sand for non-skid. Jennifer and I watched Maribel, Chico's oldest daughter, 18 or so, head out in the cuyuco with her walkman on, standing up, looking backwards, dancing and singing. A great day to be a carefree 18 year old girl with a boat to go anywhere in her world. A boat a lot less stable than a canoe...
Somewhere along the line, I was looking for something and came across the old survey (1995) that came with the boat. There is a photo of the transom, and it clearly says "Malikii". So the people who sold me the boat, or the owner before them, mistakenly changed the name to "Malakii". I hope she doesn't take offense.
And then one morning there was a Keel-billed Toucan in a tree on shore just outside the boat! Cool. Way cool. A croaky call, but still cool. I'm glad I don't have to walk around with that bill hanging off my face.
Marcos and Angela came by one day and said that Julio had shrimp, so I got a pound. Way too much, I should have gotten 1/2 pound. Yumm!
The phosphorescence in the bay was outrageous at night! It was so good you could see swirls as fish swam around. So I ate a piece of watermelon and watched as I spit seeds and threw cut up rind overboard.
We had a dinner party over at Jennifer's. Casey; Martin; Manfred and Andrea, Noah and Jara; Jean Marc (xxx) and Jean Pierre (Taj Majahal, a 32' steel sloop), two single-handers from Quebec. Good company, good time. Manfred said all the Guatemalan beef is full of chemicals, antibiotics and steroids, and he won't eat it.
I took Malakii over to Casey's and tied her up next to Lois Lane, a boat he had bought to fix up and to scavenge the mast to replace the broken one on Retriever.. With another boat on the other side and a halyard from each hooked to the base of the mast, we pulled the mast. It was deck-stepped and only had to go up 2" or so, but even then it was difficult. We needed a couple of strong Guatemalans to help, working on a crossbar lashed to the base and lifting while we winched. I think the main problem was the halyards wer running sideways and not at all fair. But all in all it went pretty smoothly. I'm glad it wasn't keel stepped so we didn't have to lift it six feet...
I went over to visit Jean Pierre on Taj Majahal. His wind generator is not an air-x; something like air-gen. Anyway, the mounting pole was hinged at the boat so it could be lowered to service. He said he has a roach bait that works -- a small packet (!tea bag) of boric acid mixed with concentrated milk. Roll into small balls and leave around the boat. He said they have a 3 month life cycle so if you can keep them dead that long you're good. He had an auto pilot like mine but said it didn't work reliably, so he uses a Simrad ST32 on his tiller. It's only rated for a 5 - 7 ton boat, so if the wind kicks up he hooks it up to his wind vane.
Jean Marc and I were talking at dinner about how salty the river was, and that it seemed odd because of the elevation difference between where we were and Livingston, and it was dry season and the river was low. He said he figured the salt water came in on the bottom -- the river is 60' deep in places. Bingo! I'm a lot happier now, as I've puzzled about that a lot.
I'm still puzzled about batteries and when they are fully charged and when they are half charged / discharged. Mine had a specific gravity still at 1.3 when the voltage had dropped to 12.2. Don Casey says it's half discharged at 12.2v. But my battery tester says the charge is still "good" until the specific gravity drops to 1.255 ("fair"); and 1.205 ("recharge"). How can I tell what "half discharge" is?
Easter Sunday was also my brother Dave's birthday. I wished him Happy Birthday when I got up. Some huge bug, or huge sounding bug, flew into the cabin during the night and landed over by the bookcase. I never did find it...
It was raining hard when I got up on Easter morning, and my hatch cover was still over at Jennifer's being painted. Fortunately the harbour awning kept most of it out of the cabin. Casey and Jennifer and I went over to Manfred and Andrea's for Easter dinner. The little creek, Criki Blanco, was up a good four feet. We had a heck of a time with the wire gate across the creek -- undo, pass it around the boat as we went up, then redo. But it's difficult to reset the bottom of the post, as the wire loop it goes in is under water, and the water is muddy so you can't see it, and I had to tie it one handed while holding the gate against the current. We had a great dinner of chicken, pineapple and rice, shrimp, and applecrisp. After dinner, Noah ran around naked out in the rain, then played in his "Boeing" airplane.
Manfred and Andrea's Place
Boots on Doorstep
| | | | |
| --- | --- | --- | --- |
| Cattle Egret | Fruit | Pond | House |
| | | |
| --- | --- | --- |
| | | |
| Andrea, Jennifer, Casey, Manfred | Jennifer, Andrea, Jara | Noah |
Finally, it was time to leave. Jennifer gave me a ride up the river, then a bus to Guatemala City. I stayed at Las Torres Guest House, 13 Calle 0-43 Zona 10, 502 334 2747, apartamentos_lastorres (yahoo). Bob Polk from Foole was there, and we caught up some. It's a pleasant place, lots of birds outside to wake up to.
My flight home was uneventful, except for the messy L.A. airport. After customs and immigration, you actually have to go out of the airport and then back in to recheck your bags, then check in at the regular check-in line, and go through a whole new airport entry pat down. Long lines in all of them; I asked people if I could go ahead because of my tight connection. All were nice. In the gate pat down, however, I got checked twice, my shoes and backpack rescanned. I don't think my non-matching shoes helped matters. The guy even pulled out the arch supports. Wiped my shoes and did the chemical analysis -- twice. Took probably 10 minutes. The ticket agent told me a gate which didn't exist, but I made it. Barely.
More boat repairs and winding down in Rio Dulce
---