Pico Bonito
March 2010
Click on any image for a bigger view
Contact me (garya at this domain) if you want the really good image
Pico Bonito was a delight from the first time we saw it. But then, anything would have been after our hotel in La Ceiba. For reference, in case anyone is interested, the turnoff to the lodge at Pico Bonito is at the village of El Pino, west of the La Ceiba airport, which is west of La Ceiba. Our bungalow was airy, cool, secluded enough, free of mosquitos, had good hot and cold water, and had birds outside. What more could we ask for?
Our Bungalow,
Pico Bonito
Inside Bungalow
Photo by Dona
Lodge at Pico Bonito
Photo by Dona
Lodge at Pico Bonito
Photo by Dona
We were impressed by the thorns on some of the plants. Yikes! They would make good spear points, needles, whatever.
| | | | |
| --- | --- | --- | --- |
| | | | |
| Shrub Thorns, Yikes! | Flower | Bird of Paradise | Bird of Paradise |
We got settled in, then took off on a hike to Las Pilas, an extra wonderful swimming hole on the La Coloradito river. From above, the river just looked like an everyday rocky streambed at low water. It was hot and humid, and we thought a few milliseconds before deciding to descend the many steps down to the river itself.
| | | |
| --- | --- | --- |
| | | |
| La Coloradito | Dona going down to La Coloradito | Butterfly on the way down |
The river was crystal clear, warm, and plunged from one deep pool to the next. It was a Tarzan movie setting come to life.

La Coloradito River
| | |
| --- | --- |
| | |
| Swimming Hole | Dona |
Photo by Dona
Gary
Photo by Dona
Photo by Dona
In the middle of the river at one point was a basketball sized cavity worn out of the rock like a perfect nest. Deposited in it? A whole bunch of rock eggs. Maybe that's how they grow the boulders that make the canyon so wonderful.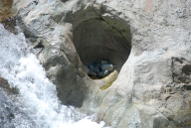 Nest of Rocks
Spotted Daggerwing Butterfly
<Marpesia Merops)
Photo by Dona
Seed Pods
Photo by Dona
Flower
Photo by Dona
Plant Fruit
| | | |
| --- | --- | --- |
| | | |
| Seed | Fungus | Steps in the Trail |
Further into the Park
Pico Bonito
Photo by Dona
Lizard
Lizard
Photo by Dona
Agouti
Photo by Dona
Butterfly
Blossoms
Flower
Photo by Dona
Flower
Photo by Dona
We went on a night walk through the jungle, hoping to find something outrageous. It was a bit of a disappointment on this night, although we did see some interesting stuff. A tailless whip scorpion, a tree climbing rat, and lots of moths and spiders. But no jaguars...
Unfortunately, at the end of the night hike, I was staring up into the trees where my flashlight was pointing while I was walking across the grass back at the lodge and I tripped over a large rock and came crashing down on my elbow. I don't think I broke anything, but I bruised it something horrible. It is still painful eight months later, and may hurt for a long time to come.
| | | | |
| --- | --- | --- | --- |
| | | | |
| Cricket | Frog | Bird | Centipede |
| | | | |
| --- | --- | --- | --- |
| | | | |
| Walking Stick | Spider | Tree Climbing Rat | Spider |
We decided to hire a guide for a bird walk the following morning, and boy, are we glad we did! Wow! Our guide, Jose, was self taught except for one two week course. He knew what he wanted to do was be a bird guide, but he couldn't speak English and he didn't know enough. He begged the lodge owners to give him a job, which they finally did. He started out doing whatever he could, which in this case meant cleaning cabins. But he was teaching himself about birds, and learning English on the side, and he was pretty good at both. He kept moving up from one job to the next one, and one day the owner paid for him to take a two week intensive course with some expert orthinologist from the States. Anyway, Jose is a natural. We would hear a bird, or he would see something move, and literally within one second he always was able to place the Swarovsky spotting scope right on it, even in dense growth. It was truly amazing. Half the time we didn't have a clue where the bird was. He'd hear or see something, say "Blue Crowned Mot-Mot", set the spotting scope down, tweak it, and stand back. We'd look in it and there it would be.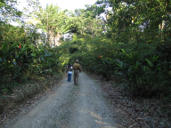 Gary and Jose
in Search of Birds
Photo by Dona
Anyway, we had a great time and saw lots of cool birds. Most of the pictures below were stolen from various places on the web. I've credited those whose source I know.
Black Cowled Oriole
Photo by Reinier Munguia
Keel Billed Toucan
Pale Billed Woodpecker
Photo by Dona
Green Honeycreeper
Photo by Nick Athanas
Golden Fronted Woodpecker
White Crowned Parrot
Photo by Lee Zieger
Blue Crowned Mot-Mot
Lovely Cotinga
White Necked Jacobin
Photo by Dona
White Necked Jacobin
Photo by Dona
Oropendolas have nests which look like stockings hanging from a tree with a rock in the bottom of them. There was one tree full of them we could see from one of the bird towers, but it was a long way off. My friends Manfred and Andrea on the Rio had found one so we could get a closer look at it. They are BIG!
OropendolaNests
Photo by Dona
Jennifer, Andrea and an Oropendola Nest
With all the heat and humidity, it was pretty hard to keep up our energy for very long. But the jungle is an amazing place, and the biodiversity was astounding. So we would amble around and see what we could find. We found chocolate trees, but unfortunately you can't just pick it like apples. Dang it! Dona kept her camera handy and always found amazing flowers to look at.
Chocolate
Photo by Dona
Chocolate
Flower
Photo by Dona
Flower
Photo by Dona
Flower
Photo by Dona
They have a small butterfly museum at the lodge, but it didn't have a whole lot of butterflies in it when we were there. They were in the process of moving it and rebuilding it. The elusive Blue Morpho remained elusive, and all I got a picture of was wings of a departed one.
Owl Butterfly
Christmas Butterfly
Butterfly
Butterfly
Blue Morpho Wings
Butterfly
Butterfly
They also have a snake display at the lodge. I'm not much of a fan of penning up wild animals, but it was fun and informative to be able to see these snakes first hand. Much to my disappointment, the fer de lance was gone. I don't know if it died or went on walk-about... The tarantula was cool too.
A true coral snake is red on the tip of its nose... the false one is black on the tip. A coral snake also has yellow bands either side of the red bands -- "Red next to Yellow, kill a fellow; red next to black, friend of Jack."
Our guide said the green snake with black mesh markings was a Spectacled Racer, but I can't find a reference to a snake with that name and it looks to me like a Green Vine Snake.
| | | | |
| --- | --- | --- | --- |
| | | | |
| Hog nosed Viper? | Boa | Tropical Rattlesnake Sign | Tropical Rattlesnake |
| | | | |
| --- | --- | --- | --- |
| | | | |
| Tarantula | Tropical Eyelash Viper Sign | Tropical Eyelash Viper | Tropical Eyelash Viper |
| | | |
| --- | --- | --- |
| | | |
| Jumping Viper Sign | Jumping Viper, maybe | Green Vine Snake |
False Coral Snake
Photo by Dona
Gary with False Coral Snake
Photo by Dona
Fer DeLance Sign
There were a bunch of iguanas in a pen
| | |
| --- | --- |
| | |
| Basolisk | Basolisk |
Gumbo Limbo,
maybe
Gumbo Limbo,
maybe
Mahogany Sign
Mahogany
In the evening we hiked up to Mermaid Falls. It is a lovely secluded spot, and it was late in the day, and I was hot and sticky... So I went skinny dipping in spite of it being against the law. At least we read somewhere that it was against the law. Sheeeesh! There are numerous rivers emptying the highlands of the coastal range in the north of Honduras, and I suspect most of them have outrageous swimming holes like La Coloradito.
Mermaid Falls
Photo by Dona
Mermaid Falls
Photo by Dona
Gary Cooling Off
Photo by Dona
Gary Cooling Off
Photo by Dona
On our second full day, we took a tour of another park, Cuero y Salado, which is a lowland jungle and marine park by the sea.
On the morning of our last day, I finally managed to get a picture of a bird. Not a very good picture, but at least a picture.
Collared Aracari
Photo by Dona
Photo by Dona
Brown Jay
Photo by Dona
We were sad to be leaving Pico Bonito. It was a wonderfully pleasant place to relax, full of cool birds and outrageous plunge pools. But it was also way over the high end of our budget, and we still wanted to see Cusuco. So we took the shuttle bus down to the police station on the highway, where we waited for a bus back to San Pedro Sula. At first we would flag every bus that came and ask the driver if he were going to San Pedro Sula, and they always said no. The locals soon asked us where we were headed, then told us to sit down and they would tell us when the right bus came. I would see a bus in the distance and stand up, and they would shake their heads "No." After half an hour or so, the right kind of bus finally came, and we were off. The driver identified us as touristas, and charged us more than we paid on the way in when we went all the way to La Ceiba, but it wasn't that much more...
Front Walk
Photo by Dona
Bird of Paradise
Photo by Dona
XXX Flower
Photo by Dona
XXX Flower
Photo by Dona
Flower Arrangement
in Front Entrance
Photo by Dona
---