Sid Completes Basic Training
and we check out Congaree National Park
March 11 - 15, 2013
Click on any image for a larger view; for the really good image for printing, click on .
Contact garya at this domain if you want the really good image and isn't available.
Sid threw us all for a loop and signed up for the army last fall, and he headed off to Fort Jackson, North Carolina, for basic training the beginning of 2013. He signed up to be a linguistic cryptographer, or a cryptographic linguist, or something in between. He was given the impression he would have a chance to express his preference for language, and had spent a lot of time mulling over what language or languages would be most useful to him later on.
Our original plan was to drive to Denver to visit my family, then continue from there to Columbia, South Carolina, where Sid was undergoing basic training at Fort Jackson. We were going to take our Vermont Fishing Dory, and hoped to stop in a few parks along the way to enjoy some water-time and watch for birds. But a few weeks before our scheduled departure the midwest was hit by blizzards, and we decided taking the dory was a bad idea, and driving didn't make sense either. So we ended up driving down to Denver, then flying to Columbia, S.C.
We didn't want to spend a fortune on motel rooms and restaurants in Columbia, so we planned to camp. We camped on the way down to Denver, and planned to take a detour to Kearny, Nebraska, to watch the migrating Sandhill Cranes at the Audubon Rowe Sanctuary on our way back.
We made reservations at the campground in Sesquicentennial State Park and arrived two days before the exercises at Fort Jackson so we would rent a canoe and explore Congaree National Park.
We made it to Columbia, rented a car, and made camp in Sesquicentennial State Park as the sun was going down. There were a lot of geese flying around, starting their spring migration. The next morning we headed into town, rented a canoe, and headed for Congaree National Park.
At the park we inquired about water conditions and decided to paddle up Cedar Creek take a short hike, and then paddle back down to where we put in. We had originally thought we would do a one way trip down more of the creek, but the ranger told us there were a couple of downed logs across the creek in the upper section and we weren't sure how we would get a shuttle arranged. As it turned out, we had a number of downed logs in the lower section as well. We had a great time, although we didn't see as much wildlife as we had hoped. We had hoped spring would be a bit further along. But we had a great time, and we recommend exploring the park if you're in the area.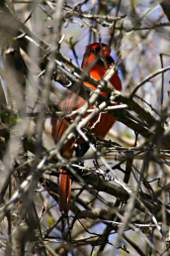 Northern Cardinal
Sid Graduates from Basic Training

---