Sailing in Belize, Guatemala, and the Yucatan
Winter 2002-3 and Early Spring 2003
Click on any image for a full sized view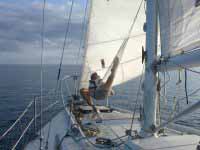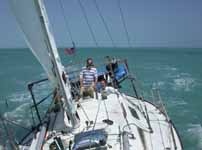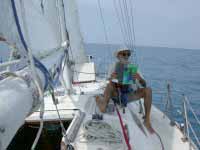 The winter of 2002-2003 and early spring of 2003 was, for me, a big adventure. I purchased a small sailboat, sight-unseen, down in Guatemala on the Rio Dulce. The plan was to spend the winter down there exploring Guatemala, Belize, and the Yucatan, with most of the time spent sailing, snorkling, diving, and general gunkholing around the cayes.
The reality, as expected, was somewhat different. A fair amount of the exploring time got chewed up by boat fixing. The boat, Malakii, is a 30 foot 1973 Morgan 302. She's sloop rigged, 5'3" draft, and a bit beamy at 11'3". Like most used boat purchases, this one was a compromise. When I purchased her, I hadn't actually seen her, and was trusting the sellers quite a bit on the transaction. I felt comfortable with the arrangement and like to believe there are still good people in the world. I had one reasonable picture of the boat (below), and answers to a boatload of questions. As with most financial transactions, I probably should have been a bit more skeptical. Everyone has their own perspective, and this turned out to be no different.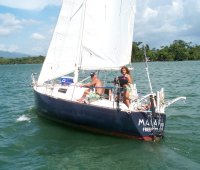 But hey! I had a sailboat, big enough to live on. Tucked away someplace where it was warm in the winter and with lots of fun places to explore nearby. The first thing I needed to do was get there. The whole idea of buying a boat in Guatemala or Belize originated with two friends of mine from Ovando, Bill Cone and Carol Kulish. I was interested in sailing down there some more, and they were also. We started talking about buying a boat down there, big enough for all of us. In the end, we decided to look for two boats, one for them and one for me. As luck would have it, I found a boat, but they didn't. However, they had recently purchased a 22 foot older RV. It was supposed to be parked on their place in Ovando and used as a sort of guest cabin. But heck, if you have an RV, and you want to go to Belize relatively cheaply... They decided to drive down, and invited me to ride down with them.
I looked forward to the upcoming adventure with a little bit of nervousness and a great deal of anticipation.
---
This page last updated 2013-10-23.