Camden's and Lathum's Excellent Adventure
Hot, Wet Times in Desolation and Gray Canyons of the Green River
August 2016
Click on any image for a larger view;
Contact garya at this domain if you would like the high quality image for printing
After a stretch of too many years, I got back on the river in canyon country. I haven't run a southwestern river since leaving the ranch in Collbran, CO, in 1988. When I saw my old friend Steve Reese last fall we decided we should do a trip again; I drew the permit, and we started planning.
Our original plan was for his family plus me and Dona and our new neighbors, my climbing partner and his wife. In the end, Dona opted not to go because of the projected heat and bugs, and Tom and Ann couldn't go because of work schedules. So I drove down to the take out at Swasey's Rapid near Green River, Utah, where I met Steve and his wife, Diana, their daughter Joni Johnson and her two kids Lathum and Camdem, and their son Randy. They came in dragging a trailer with two rafts and an inflatable kayak all stacked up, and Randy's truck full of more gear.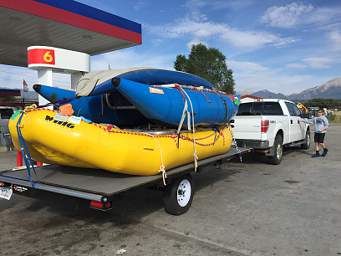 A Trailer full of Boats
Photo by Steve or Diana
We drove north to the Sand Wash turn-off near Myton, drove through the ugly sprawling oilfields on the plateau, then dropped down into Sand Wash. Because of Sand Wash's reputation for bazillions of mosquitos, we had rented a screened in cabin for the night. As it turned out, we didn't need it; we were late enough in the season that the mosquito hordes were pretty much gone. We enjoyed our chicken dinner outside as dusk fell.
The river was running about 2200 cfs; this wasn't going to be a big white-water trip. We were hoping to have time to poke around and explore farther afield. Steve and I had thought about taking nine days, but we couldn't all go under those conditions so we ended up with seven.
When we hit the sack I took off my watch and stashed it at the bottom of my dry bag; I wasn't going to be needing it or any other electronic device. From here on we were officially on river time.
Old Cabin at Sand Wash
Our Screened Cabin at Sand Wash
It turned out not to be needed.
We all stood around outside staring up at the stars and the Milky Way for a bit. We noted how sad it is that many people never even get to see the Milky Way because of the way we have messed up our planet. We counted our blessings and went to sleep looking forward to an open-ended day in the morning — no set schedule, no set camp, no set miles we had to make. Our job was to have a good day.
Next: Exploring a Skinny Side Canyon
Getting Ready and Getting There
---