Gary and Dona's Trip to Port Townsend, Washington
July, 2012
Part 1 -- Drive Out and the Olympic Peninsula
Dona has been wanting to learn how to do marqueutry for some time, and we have a neighbor and friend, Tim Swanberg Tim Swanberg, who is pretty good at it. He occasionally teaches classes in marquetry at the Port Townsend School of Woodworking .
Now, we could have just gone over and talked to Tim and watched him do some marquetry, but in this case Dona wanted a little more time in so she enrolled in a class at Port Townsend that Tim was teaching. That meant a drive out to Washington. I contacted my sailing friend Bob Polk who lives nearby and he graciously agreed to let us to crash for a week. As long as she was doing that, she decided to also get some mentoring in with a wood turner and wood burner in Edmonds, WA. I contacted my friends Chris Peterson and Dana Lindquist who live in Bellingham to see if we could see them for a quick visit while we were at it. We could.
So we loaded Hunky Dory, our Vermont Fishing Dory, onto the VW and headed west. We took a scenic route across the Washington scablands scoured out by the floods from Glacial Lake Missoula, stopping at Dry Falls along the way. More information and pictures of the aftermath of this monster flood can be found here. Unfortunately, I didn't take any pictures of the scablands, or much else along the way either. I kept wishing I could have seen the landscape before western European settlement. Wow! What a vista that must have been.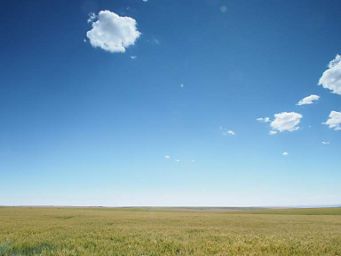 Endless Washington Wheatfields
We spent the night in a campground on the west side of Stevens Pass, then drove down to Edmonds the next day for Dona's mentoring. While she did that, Max and I explored a park on the sound. Then we drove up to Bellingham to see Chris and Dana and their two girls, Zoe and Cora. Chris and Dana were smart enough to advise us to get a reservation on the ferry over to Port Townsend, which we did. After a great dinner and catching up after fifteen years or so, we had a good night's rest and headed out relatively early in the morning. Good thing we had a reservation on the ferry -- they were booked up, it was a gorgeous weekend, and everyone, including us, was heading for someplace out of "town," where I loosely define "town" as any metropolitan area west of the Cascades.
We wanted to do some sight-seeing on the Olympic Peninsula before crashing in Port Townsend. So we stopped at a local store and fruit stand and loaded up on fresh Washington cherries and other goodies. We stopped at Deception Pass for lunch, where I wanted to be in a boat instead of on land. Then we continued down Whidbey Island to catch the ferry to Port Townsend just south of Coupeville. We decided to save scenic Port Townsend for evenings during the week, and continued on over to the Elwha River in Olympic National Park to camp for the night.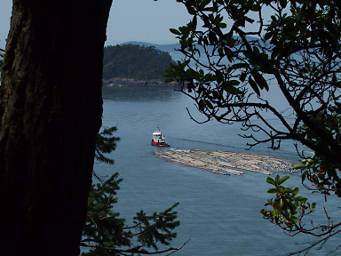 Tug pulling log boom out of Deception Pass
The next day we had a leisurely drive across the north part of Olympic National Park, through the slaughtered forests outside of the park, and over to the coast and the rainforest by the Hoh River.
Snag Loaded with Mushrooms
Moss Everywhere!
Dona on Big Log
Fungus covered with Dewdrops
Hoh River
Moss Carpet
Dona between Huge Parallel Logs
From the rainforest we headed back out to the coast, where we stopped to see a humongous cedar tree. It was hard to get a grasp on just how big it was until you saw a person hiding in it. Even the smaller trees were giants. According to the sign, the big tree is 500 years old; not particularly old as trees go, but certainly big. I guess that's what a lot of moisture and reasonable soil will do for you (if you happen to be a tree).
| | |
| --- | --- |
| | |
| Big Cedar Tree | |
| | |
| Dona Hiding in the Big Cedar Tree | |
| | |
| Inside the Big Cedar Tree | Smaller Cedar Tree |
We had to turn around, unfortunately; we could have spent several weeks exploring the coast and the rainforest. But Dona started class the next day, so we headed back up the coast, stopping at Ruby Beach along the way.
Pacific Coast
Pacific Coast
Ruby Beach
Ruby Beach
Pigeon Guillemots at Ruby Beach
Bob had given us good directions, and we had a map. We followed our nose but were coming from a different direction than he anticipated, so me missed the obnoxious "Jesus Saves" sign but found him anyway. Why do so many religious people feel it's their duty to try to foist their religion on the rest of humanity? It's caused as much death and destruction as anything else and we would all be better off if they would keep it to themselves.
As we drove in, Bob hopped out to meet us with his cheary smile. (Next)
---