A Hike Part Way Up Ovando Mountain
June, 2012
Click on an image for a larger view;
Contact garya at this domain if you need the high quality image
Dona and I were about to go on a multi-day ride and hike trip into the Bob, and she wanted to get in better shape. Sid just wanted to get some exercise. So we decided to climb Ovando Mt., or at least start up.
It was a day or two before motorized permits for the BCCA area open up, and besides, I would prefer not to drive back there, so we parked at the gate and rode our bikes to the base of the mountain.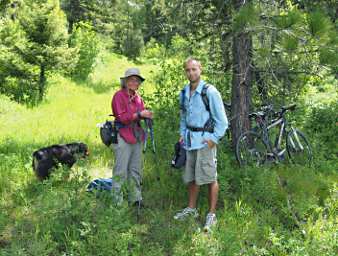 Dona, Sid and Max Getting Ready to Start Up
Then we started up. The "trail" was pretty well overgrown, and once you get up a little ways it is pretty much non-existant. That makes hiking a bit more difficult if you're not used to it, and probably a little more unsettling, although if you're used to that sort of thing it's pretty straight-forward.
There were tent caterpillars everywhere, not a good sign if you're a plant.
Tent Caterpillars
It was hot and steep, or steep and hot. Good thing we had plenty of water along. Dona had her new springy hiking poles and said they helped a lot.
| | | |
| --- | --- | --- |
| | | |
| A Tired Dona | Dona and Sid on the Way Up | Arrowleaf Balsamroot (Mule's Ears) |
About half way up, you come to a rock outcropping. We stopped there for lunch, and decided that was as far as we were going to go that day. The view was outstanding, although somewhat hazy.
View from Half Way up Ovando Mt.
On the way down we came across this really cool looking moth! After a lot of investigation and interrogation of Dona's friends who are experts, we finally determined that this is a Hummingbird Clearwing, a member of the Hawkmoth family. The hawkmoths are nectar feeders; one family member has a proboscus 10mm (4") long! Around here they feed on things like beebalm, vetch, thistle, flox, snowberry, and lilac.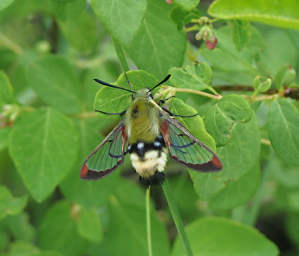 Hummingbird Clearwing (a Hawkmoth)
---