Gary and Dona and Bill and Carol's Excellent Missouri River Breaks Canoe Trip
September 2009
Click on any image for a bigger view
Contact me (garya at this domain) if you want the really good image
Dona and I got back from our Scapegoat Pack Trip, rested a few days, and then were off again, this time for a canoe trip down a portion of the Missouri River we had never seen before. We were going down through the Missouri River Breaks, a badlands type piece of country downstream of the White Cliffs section, which I had done a few times before.
Canoeing on the Missouri is always a chance to try some canoe-sailing, and our friends Bill and Carol have always had more success than I have. They have a windscoop from a sailboat which makes a perfect spinnaker for a canoe. My makeshift rigs have sometimes worked in a mediocre manner, and sometimes failed miserably. So this time I tried yet again, and spent a few hours before we left making a proper mast and support structure, and rigging a poncho as a sail. I ended up with a gaff-rigged sail with an integral gaff topsail, and was a bit dubious about how well it would work. In any case, we packed it in Bill and Carol's truck when we loaded the canoe, and off we went.
We left home early, and arrived at the put in about noon. Four hours of driving and some last-minute shopping in Great Falls.
This trip involved a lot of gravel roads. It was about 37 miles from the highway in to Judith Landing, and my old Honda is pretty low to the ground. We got a little more clearance after we scraped the muffler off. I was going to just leave it, as I thought it was rusted out, but Dona asked, "Are you going to just leave it there?" So I went back and picked it up and discovered it was just fine, and had just come loose at the bracket. We strapped it on the boat rack and continued.
Once at the put-in, we unloaded and Bill and I took off to set the shuttle. That was another 70 or 80 or some big number of more gravel roads. The advice from the put-in campground host, Bill, was originally to drive the long way around on pavement, but when he learned we were "locals" from Montana and used to conditions here he guardedly said the gravel / dirt road shortcut would probably be ok. It's totally impassable after a rain, but it was dry. At the end, we saw out why -- it goes down this ridge just wide enough for the road, on gumbo that will turn really slick when it gets wet, at about a 30+ degree slope. It would be a terrifying slide down, assuming you stayed on the road, and you'd never get up it even with chains. But we made it there and back without mishap.
Meanwhile, Dona and Carol relaxed and read. When we got back we packed the canoes pretty quickly and were on the river about 5:00 p.m..
Muffler on Gary's car
Waiting for Shuttle
Loading the Canoes
Photo by Carol
| | |
| --- | --- |
| | |
| Photo by Dona | Photo by Carol |
The terrain of the Missouri River Breaks is best described as badlands. Dry, broken country, mesas and buttes and arroyos. This was a particularly wet year, and it was much greener than usual for this time of year. The one negative aspect of this portion of the river is there are a lot of grazing permits, so there are cows down by the river in many places. We paddled a few miles down the river and pulled up on an island to camp. We tried to camp on islands as they are less likely to have cows.
We shared meals, and Dona and I had the first dinner. We ate better on this trip than we do at home sometimes, and we had too much food. We were stuffed. There are no water sources on the trip unless you want to filter the river, so we carried about 15 gallons of water and drinks for the four of us.
Cooking Dinner
Photo by Dona
Cooking Dinner
Photo by Carol
Bill and Carol have a fancy new canoe they got a few years ago to replace their old aluminum grumman. The new one is light and sleek, and they zipped down the river when they weren't lazily drifting and watching the scenery. On the second day we still had a headwind, so we paddled quite a bit.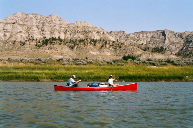 Bill and Carol
Photo by Dona
| | | |
| --- | --- | --- |
| | | |
| Photo by Carol | Photo by Carol | Photo by Carol |
There is one place in this stretch where a gravel / dirt road comes down to the river, and there is a ferry there. It's basically a flat raft attached to a cable, with another cable used to pull it back and forth across the river. It would be fun to cross on something like that instead of a bridge.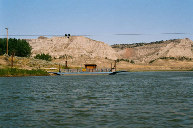 Ferry
Photo by Dona
We ended the day at McGarry Bar. Dona and Carol and I went for a hike while Bill relaxed. We climbed up quite a ways. Somewhere around here Lewis and Clark climbed to the top and claimed they could see the Rocky Mountains. We all concluded they were deluded, as you can't come close to seeing the Rockies from here. What you can see are some of the island ranges in the area -- the Highwoods, the Bears Paws and the Sweet Grass Hills.
McGarry Bar
Above McGarry Bar
Yucca
Photo by Carol
McGarry Bar
Gary trying to fly
Photo by Carol
Carol being more realistic
Game trail over a hump
Photo by Carol
This was an established camp, so it had a fire grate, although we didn't bother making a fire. Dona and I put up our tent to keep the bugs at bay; Bill and Carol slept out on a tarp. It rained that night, but not too hard, and we had sun the next day to dry out.
McGarry Bar Camp
Photo by Carol
Bill resting
Photo by Carol
| | | | |
| --- | --- | --- | --- |
| | | | |
| Photo by Carol | Photo by Carol | Photo by Dona | Photo by Dona |
On day three the wind gods smiled on us, and we had a downstream breeze. In about 10 seconds Bill and Carol had their rig up and were effortlessly moving down the river.
Bill and Carol Sailing
Photo by Dona
Dona and I did a scramble and had a bit of a circus getting our mast up and everything rigged, but in the end, we had a pretty good sailing rig. We had a bit more sail area than Bill and Carol, and could sail on more of a reach than they could. But our sail was a lot more effort to manage.
Gary and Dona hoisting sail
Photo by Carol
Stuck halyard
Photo by Carol
Looking better...
Photo by Carol
Finally!
Photo by Carol
Not well shaped but functional
Photo by Carol
Ahhhh...
Photo by Carol
Nanner, nanner, we're still sailing!
Photo by Carol
| | |
| --- | --- |
| | |
| Photo by Carol | Photo by Carol |
We came to an old homestead, so we stopped for lunch and to explore it. This is a hard place to make a living now, and it must have been even more so when this place was used. There was a big prickly pear cactus growing on the roof of one building.
Old Homestead Barn
Photo by Carol
Inside Old Homestead Cabin
Photo by Carol
Living quarters
Photo by Carol
Photo by Carol
We came to a place where a huge amount of material had slid down to the river. It must have been quite a rain storm to loosen all that up, or a particularly wet winter and spring.
Sailing on
Photo by Carol
Landslide
Photo by Carol
Photo by Carol
We planned to camp on a particular island, but when we got there it looked like all the cottonwood trees were on the other side. So when we got to the end of it we paddled and pulled the canoes up the other side looking for them. After a while Dona climbed the bank and checked out. All the trees were in the middle, fairly far from both banks, so we continued on down and found another camp.
Pulling Canoes upstream
Photo by Carol
Photo by Carol
As we came ashore, Carol found a toad. While setting up camp I was looking for a place for the tent and came across a rattlesnake. Carol and I went swimming.
Camp Rattlesnake
Fixing Dinner
Photo by Carol
Toad
Photo by Carol
Rattlesnake
Photo by Carol
The next day we still had good wind, and continued sailing. With the wind, our miles on the water went quickly.
Photo by Dona
We camped at Grand Island the last night. Carol and I went swimming again. Dona decided all the small willows would make a great basket, so she collected up a bunch, stripped them, soaked them, and went to work.
This was a fun wildlife camp. We had a bull elk come into camp in the middle of the night, bugling and snorting. He came through between where our tent was and where Bill and Carol were sleeping on their tarp. Then we heard what sounded like a beaver tail slapping on the water, followed by several loud "ker-plunk" sounds like a soccer ball sized rock being dropped into the water. Dona thinks they were paddlefish, filter-feeding near the surface and falling back in the water. Who knows?
Gary and Dona
Grand Island Camp
Photo by Carol
Gary helping Dona make a Basket
Photo by Carol
Gary and Dona, Basket
Photo by Carol
Bill reading a trash novel
Photo by Carol
Cooking breakfast
Photo by Carol
The last day the wind turned against us, so we were paddling again. Fortunately is wasn't too bad. We came across a recent slide, where a big chunk of the upper bluff came down.
Paddling the home stretch
Photo by Carol
Landslide
Photo by Carol
Gary and Dona Paddling
Photo by Carol
Near the very end we came across a small bunch of bighorn sheep. This place has one of the biggest concentrations of bighorns in Montana.
Bighorn Sheep
Photo by Carol
Photo by Dona
We got out at Robinson Bridge, at the upstream end of the reservoir in the Charles M. Russel National Wildlife Reserve. We unloaded the canoes, loaded up the truck, and drove back over the steep Knox Ridge Road to the put-in, then home.
Unloading
Photo by Carol
Campground host Bill
Photo by Carol
River rats
Photo by host Bill
All in all, it was a fun, relaxing trip. We didn't see any other people. We didn't have much of a head wind except for the first day, and we had two days of smooth sailing. The bugs weren't too bad for three of us, but Dona really got munched on. I guess she's just too sweet; the rest of us owe her a debt of gratitude for serving as bait. I now wish we had stopped a bit more often for side-hikes; it was difficult to pick out things that might be interesting, and we were hot and lethargic during the middle of the day when we were on the river.
---