Gary and Dona's Scapegoat Pack Trip
August 2009
Click on any image for a bigger view
Contact me (garya at this domain) if you want the really good image
Dona and I spent all spring busily working on getting things ready for our wedding, then most of the summer picking up after the party. We finally got caught up enough to take a little time off, and decided to take a pack trip and try to get to the top of Scapegoat Mountain.
We had a new horse for Dona, a small-ish appaloosa named "Sky", and a Halflinger named Scheba to replace my trusty pack horse Daiquiri, who I retired last year. She's earned her retirement and I hope Scheba works out as well as Daiquiri. So this would be our first trip with each of them.
We packed our gear the night before, then drove over the Continental Divide and wandered around some back roads on the Rocky Mountain Front looking at the scenery until we found the Smith Creek trailhead. We lost about an hour trying to take some gravel road short-cuts, and it was 2:00 p.m. by the time we hit the trail. The last mile or so of the road to the trailhead leaves a lot to be desired -- it's dirt that turns to gumbo when wet, rutted about a foot deep. As we started up the trail we talked about what a mess it would be if we got a lot of rain and had to come out if it was wet. I made a mental note to ride the extra mile or so out, and try to take the truck and trailer out empty.
The weather was gorgeous, and the front had gotten half a foot of rain in the previous few weeks. It looked like spring as far as you could see. Lots of tall green grass, with water in the creeks.
Smith Creek is a pretty little creek, complete with a pretty little falls. We stopped to have a late lunch there, then continued winding our way up. We were heading for Welcome Pass, and from there up Welcome Creek to Half Moon Park on the east side of Scapegoat Mountain.
We turned off Smith Creek and headed up Jakie Creek. The horses were doing well, considering they weren't in particularly good shape. We came over the top at the headwaters of Jackie Creek, expecting to be at Welcome Pass, but discovered we still had a few miles to go -- we were on a divide between Jakie Creek and another tributary of Smith Creek, and had to drop down into it and then up to its source by Welcome Pass.
Smith Cr. Falls
Photo by Dona
Jakie Cr. Pass View
Photo by Dona
Gary with horses
Photo by Dona
Heading out again
Photo by Dona
We went over Welcome Pass about 5:00 p.m., dropped down to the headwaters of the Dearborn and followed it down to Welcome Creek. On our way up Welcome Creek we were going through a young lodgepole pine thicket and ran into a badger in the middle of the trail. Max, Dona's dog, went into attack / protector mode, but that quickly evaporated when the badger got upset. Fortunately the badger wandered off into the trees, but the horses were spooky for the next quarter mile. We went about half way up Welcome Creek and made camp in a small clearing where we could see Scapegoat.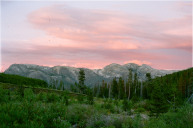 Sunset from Welcome Creek
Photo by Dona
The next morning we had a short ride up to Half Moon Park, where we camped for the next two days in the shadow of Scapegoat.
| | |
| --- | --- |
| | |
| Half Moon Park camp | Photo by Dona |
We let the horses graze a bit, then put them on the picket line and hiked up to the top of the small hill that sits at the bottom of the Scapegoat cliffs.
Scapegoat spur
Photo by Dona
Dona and Max
Gary on snag, Crown Mt.
Photo by Dona
Looking north
Photo by Dona
Scapegoat Mt.
Photo by Dona
Gary napping
Photo by Dona
Photo by Dona
The next day we rode the horses over to Green Fork, the next drainage to the north. I was leery of leaving Scheba on the picket line alone, so we ponied her over there with us. At the head of the valley we tied the horses and continued on foot. We worked our way up to a terrace that led to the upper Green Fork basin, effectively on top of the Scapegoat Massif. It was a gorgeous clear day but there was a stiff breeze blowing from the west. We hiked on up to the summit of Scapegoat, where we had a gorgeous view. On the way we passed the rock we sat on two years ago when we hiked up from the other side.
Green Fork Trail
Dona,
Triple Divide,
Green Fork Basin
Dona
near summit
Dona and Max
on top!
Gary and Max on summit
Photo by Dona

Scapegoat summit panorama
On our way up we found a locust a short ways below the summit. The insects are taking over the world... We spent an hour or so on top enjoying the view, then headed back down. The trip down was a bit more of a challenge, with complaining knees and sore ankles. The horses were glad to see us; I had loosened Poppie's saddle a bit, and it had caught on a branch and been pushed over. Apparently she just said "Hmmmm, that dumb saddle is now underneath," as there were no signs of a ruckus. For once calm prevailed. But the horses were anxious to get back to camp.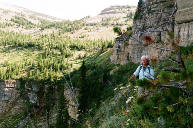 Dona, Green Fork terrace
The next morning we packed up and headed back out. We went down Half Moon Creek, up over Straight Creek Pass, then back over Welcome Pass.
Lunch stop
Photo by Dona
below
Welcome Pass
Dona and Sky,
Crown Mt.
Crown Mt.,
Jakie Cr Pass
The horses knew they were heading home, and we made good time down the trail. We gave the horses a good curry at the trailer, loaded up, and headed for Augusta and a smoothie!
Looking West from trailhead
Photo by Dona
Photo by Dona
Smith Cr. trailhead
Photo by Dona
Looking SW from Smith Cr. road
Photo by Dona
As I write this, it's a week later, and I'm looking at the map trying to figure out how to get another trip in before winter...
---