Ovando School May Day
A Cultural Tour Around the World
May, 2013
Click on any image for a larger view;
Contact garya at this domain if you would like the high quality image for printing
The Ovando School is a small rural school, teaching grades K - 8. It's a bit more than a one-room schoolhouse -- there are two classrooms, one for the "little kids" and one for the "big kids." Plus a nice gym, library, and computer lab.
Despite tight budgets and a small number of students, they've been fortunate and have two teachers, one for each set of kids. The big kids are taught by Leigh Ann Valiton, who's been a steady force at the school for a long time. This year we had a new teacher for the younger kids, Brandon Styles. He's outstanding, and is loved by all.
The kids studied countries and cultures from around the world, and as part of their year-end activities hosted a "May Day Tea," where they served goodies and demonstrated activities from some of the cultures they studied. Unfortunately, they didn't have time to cover Africa, so they didn't have anything from there.
They served us Baklava they had made, something they learned about when studying Europe; Fortune Cookies (I'm supposed to meet someone who will change my life this week!); and Empanadas from Latin America. It was all yummy!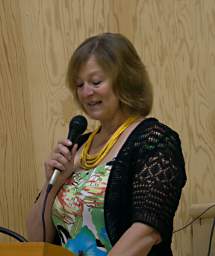 Leigh Ann Valiton
Big Kids' Teacher
The school also has a "Cultural Enrichment Program" which is possible because of generous support from community members. That program brings artisans, musicians, writers, poets, and other creative people to the school to mentor the kids for anywhere from a day to a week. The music program is overseen by Jen Slayden; and this year the Missoula Writing Collaborative writer in residence was Robert Lee. Two of the kids, Iris and John, had pieces of poetry published.
Iris read us her poem, "Silence."
Silence
by Iris Swanberg
Silence tastes like snow.
Silence looks like water.
Silence sounds like wind.
Silence smells like bread.

Silence is gray or white.
When I think of silence
I think of a little salamander
walking on moss.
Wow, I wish I could come up with lines like that last one. "... a salamander walking on moss." You rock, Iris!
John has since moved away, so his poem "Where You Might Find Me" was read by Will.
Where You Might Find Me
by John Howard
A cabin -- I might be roasting
my socks over the fire,
watching the fire dance.
Crazy moves, it wiggles, it zigs
and zags. It makes me dance.

My dance turns into a hike
up to Glacier National Park.
I feel free.
I just want to climb.

I see eagles fighting
over a rabbit. One eagle
is happy. I am happy.
Nature and the clouds
are fun.

Fun turns into fishing fun.
I go down to the lake,
pet a brown otter,
catch a Bull Trout, and share it
with the brown otter.

Next -- north to Buffalo country!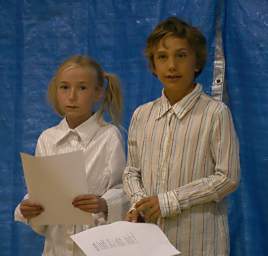 Iris and Will
Will Reading "Where You Might Find Me"
Iris Checking for Mistakes
Brandon Styles, Little Kids' Teacher
Iris Reading "Silence"
This year we had a new student in kindergarten, Kyle. Come to think of it, whenever we have a student in kindergarten they are a new student. At least I've never known anyone who had to repeat it... Anyway, he was happy to graduate.
| | | |
| --- | --- | --- |
| | | |
| | Kyle | ... With Diploma in Hand |
The students presented pieces for the following countries / regions:
| | | |
| --- | --- | --- |
| | | |
| Russia | Ireland | Korea |
| | | |
| Japan | Indonesia | New Zealand |
| | | |
| Native North Americans | Mexico | Caribbean |
---