John Howard Aitken
Feb 6, 1922 - Feb 10, 2009
Click on any image for a bigger view
Contact me (garya at this domain) if you want the really good image
My father, John Howard Aitken, died this past winter, just after his 87 birthday. He was about the best dad a kid could hope for while we were growing up -- a good role model, and a pal who had time to take me fishing and teach me how to use an axe and build just about anything. Dad could fix just about anything, and I'm sure it was from him that I learned that everything came apart, somehow. It was the getting it back together that was a trick. The photos below are a few that mom resurrected.
Dad grew up in Wisconsin on a farm. I suppose those are some of the genes that I inherited, since I've been tied to the land one way or another since I graduated from college.
Dad as a baby
Cute little beggar, huh?
Antigo house
Aunt Lynn 2nd from left;
Dad next to far right;
George far right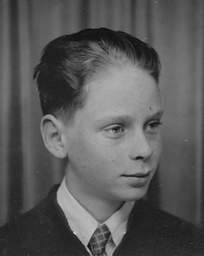 Dad
Dad graduated from high school during World War II, and enlisted in the army. He went to photography school in the army, and did aerial photography of the north atlantic so it could be mapped. He was returning from a photography mission when the Lost Squadron landed their planes on a glacier in Greenland. He took photos of the planes right after they belly landed on the ice, then they kicked out all of their emergency supplies for the crews and headed back to base to get the rescue started. He got a kick out of following the resurrection of some of those planes.
In one of his books about WW-II, there was a photo of a B24, "Ol' Nick." Dad says this was the plane they outfitted for his aerial photography.
Mom and dad met on a blind date, while he was stationed at Peterson Field in Colorado and she was going to college at Colorado College in Colorado Springs. He had a cocker spaniel named "Gupi," which was mom's nickname. How he was able to keep that dog while he was in the army is beyond me. He says everybody liked her and the guys fed her beer.
You don't see too many color photos around the WW-II period. Film was expensive. I don't even remember when I first saw a color picture. But I remember dad bringing out some 8" x 10" kodachrome transparencies many years later, and I about fell off my chair. At that time I was at least in my thirties, and the biggest thing I had personally shot was 35mm kodachrome. I knew 2-1/4" x 2-1/4" film was available and I'd shot it in black and white, but that was about it. I'd used dad's speed graphic, which shot 4" x 5", but all I'd ever seen was black and white film. I guess the armed forces then, as now, generally had all the best toys. Those images were something else. Mom still has them, and they look as good as they did when they were first developed. When I asked her about it, she reminded me "We were on a trip somewhere and Daddy was talking about photography with some other guys and they couldn't believe there was such a thing as 8x10 kodachromes. ...there is even an 8 x 10 kodachrome of me and I think there is one of Little Gupi all by herself! (Film was free!!!!!!!)" What guy wouldn't use some of that free government film to 'practice' and take a picture of his sweetie? I'm not even going to try to figure out what those pictures cost in today's dollars! I'm sure it was training money well spent, as he did get the north atlantic photos for the maps. When Joe sent me the digitized image of dad and Gupi below, he said, "He and Gupi posed on the front of his great Pontiac." I guess dad had that much needed item back then too -- the transportation. Those two images are digital photos of 35mm slides projected on Joe's livingroom wall.
The last photo is one I just discovered over Thanksgiving in 2013; my mom had it tucked up in a corner of her dressing table mirror. I'd never seen it before, and wish dad were around to answer questions about that behemoth camera! I think it's a Fairchild F-8 camera used for aerial reconnaissance. As I remember, dad said they took out the belly guns, or at least one of them, in a B-24 and that's where they used it. It must have been a cold job, as for a long time I had his sheepskin flight jacket and sheepskin hat; I still have and use the sheepskin mittens he had. I use them when it is 40 below outside and I have to go plow snow.
Dad, 1943
Dad with army buddies
Joe Mengel and Bob Lieferman
1943
Dad with his
Speed Graphic
Dad in his
flight suit
Wish I had inherited
his good looks!
Dad with
Fairchild F-8
Aerial Reconn Camera
Dad with Gupi, 1943
Photo by Joe Mengel
Dad's Pontiac -- nice car!
Check out the chrome...
Bob Lieferman trying out
a fly rod
in Oklahoma City
Photo by Joe Mengel
Mom, Dad, and
Gupi, 1944
Dad's B24
Mom and dad were married right after the war, May 5, 1945.
My grandfather Aitken had a resort up in Ontario, and we went up there a few times when I was a little kid. I don't remember much, as I was pretty young, but the pictures tell enough -- the fishing for Norther Pike and Walleye was outstanding!
The church where
mom and dad
were married
Dad and
Northern Pike
Mom and Dad, 1950s
My sister Peggy got married, and a few years later there were grandkids to run mom and dad ragged. But like most grandparents, they enjoyed every minute of it.
Family portrait,
Peg's wedding, 1974
Dad and Melissa
Dad and Melissa,
1981
Dad and Melissa
Dad and Brian,
age two
Mom and Dad,
Mel and Brian, 1983
Dad and Melissa,
age 3
Dad and Brian
Dad and Brian with Daisy
Mom and Dad, 1990s
Dad had good memories of his time in the military and the friendships he developed there. When his two best buddies came for a visit, another good friend's son got them a tour of Cheyenne Mountain, which was something he had always wanted to do.
Mom and Dad, 1997
Family portrait at
Mom and Dad's 60th Anniversary
Dad, Mom, and WWII buddies
outside Cheyenne Mtn.
Mom and dad drove down to Colorado Springs to drop me off with my friends Bill and Carol for our first long drive down to Belize and Guatemala, when I bought my boat. A year or two later they came up to Montana again to visit, where dad and David helped get some much needed work done. Dad and David both enjoyed doing real work with the tractor. One of those "size of the toys" things.
Mom, Dad, Gary before
leaving for Guatemala
Dad, Dave, Gary in Montana
Dad with Dave, Montana
There's a nice patio in back of mom and dad's house, and they spent a lot of time back there. Mom barbequed a lot, and dad enjoyed feeding the birds, squirrels and deer. He had a friendly feud going with the squirrels, trying to keep them out of the bird feeders. He had more gadgets and contraptions, most of which the squirrels got around in a day or so, than anyone I know.
Dad also really enjoyed his birthday. Mom would always make a cake, usually an angelfood cake, and for that she would cover the hole in the middle with a piece of waxed cardboard, such as a cut-out from a milk carton, and then frost over the whole thing. The birthday boy got the middle piece with all the extra frosting.
Mom and Dad,
2004
On back Patio,
2008
Feeding his pets
A favorite pasttime
With Peggy,
2008
86th birthday
Mom and dad always liked to travel, and they continued to travel as much as they could up until dad died. Dad's last trip was out to see Melissa get married. They had a special dance at the wedding, where the DJ kept saying "Everyone who's been married less than XX years, off the floor." The time kept getting bigger, and when it was all over, only mom and dad were left. Dad was pretty proud of that, as were all of us. They had some wonderful years together.
Dancing at Melissa's
Wedding, 2008
Dancing at Melissa's
Wedding, 2008
Dancing at Melissa's
Wedding, 2008
With Melissa, 2008
Dad was fortunate, and got to spend all of his years at home. He died without too much pain, and it didn't drag on. But we didn't really get a chance to say good-bye, and that was, and still is, pretty difficult. But we all have a lot of wonderful memories of him. We had a small family funeral service at the cemetery at St. Phillip in the Field, not far from home.
| | | |
| --- | --- | --- |
| | | |
| Father Theron, Dad's Family | Presenting the flag to mom | Dona and Gary |
| | More... | |
After the service, we had a memorial brunch at the club in Perry Park, where mom and dad had many friends and where they like to take us when we come for visits. Mom said she was surprised that so many people showed up, but none of the rest of us were. Dad was always ready to lend a helping hand, and he had many friends.
| | | |
| --- | --- | --- |
| | | |
| Some of Dad's friends | Friends reminiscing | Dad's speed graphic and other memories |
| | More... | |
At some point we went through most of dad's things to see who if anyone in the family could use them. It was a little light-hearted, since things didn't fit in all cases, and, well, your parents' tastes are never the same as your own. But every time I put on dad's socks or a shirt it makes me think of him, and I count that a blessing.
Mom auctioning a shirt
Mel, Santa Tie
Ian, being rad
Mel and Eric
Mel and Eric
Mel and Gary playing
"Heart and Soul"
Mom had a nice tombstone made for the two of them. Not fancy, which is the way dad would want it; but tasteful, with the mountains in the background. Bob built a small box for mom by the headstone, where she sometimes leaves notes for him.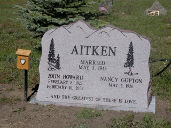 Dad's and Mom's tombstone
---