Day Ski Trip Looking for Signs of Wolves along Monture Creek
January, 2008
Click on any image for a bigger view
Contact me if you want the really good image
As part of an effort to understand the growing wolf population in Montana, a wolf survey was conducted throughout the Blackfoot Valley in January of 2008. People on skis, snowshoes, snowmobiles, and normal vehicles traveled to appropriate places looking for signs of wolves.
My neighbor, Andrea Morgan, and I volunteered to ski up Monture Creek. It's an area where motorized travel is not allowed, which was just fine with us. Her husband, Steve Kloetzel, surveyed a different area with another neighbor, Bob Rowland, via snowmachine.
We were hoping to get up to Burnt cabin before we needed to turn around. That's about eight miles from the trailhead. It was pretty cold when we got started, and we decided not to worry about whether or not the car would start when we got back.
The first few miles were interesting. The creek bottom is pretty diverse habitat, and we saw signs of deer, coyotes, moose, squirrels, rabbits...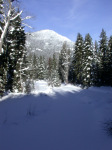 Monture Creek
At one point we found a place where something had dug out around the base of a tree. We couldn't figure out what it was, though.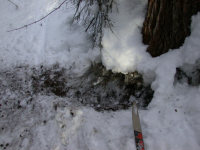 Digging around base of tree
As we continued on up the trail, the creek bottom changed character and we saw fewer and fewer signs of wildlife. But it was still pretty, especially when we got to the section where the valley narrows and the creek is confined between cliffs.
| | |
| --- | --- |
| | |
| Andrea on the Trail | Creekside Cliffs |
A little after 1:00 we decided we needed to turn around. We weren't sure how long it would take us to get back, and we needed to pick up Andrea's kids at school. So we stompped out a place in the snow and finished off our lunches and snacks. We were a few miles short of the cabin, which was a disappointment. If we had gotten an earlier start or had a bit more time we could have made it. But we probably wouldn't have seen much more in the way of wildlife, at least judging by what we'd been seeing the past few miles (nothing except squirrels).
Andrea crossing a creek
Gary
So... we didn't see any signs of wolves, but we had a good ski anyway. And the car started, so we weren't late picking up the kids.
---