Jack and Sam's Excellent Adventure in Montana
Only a Few Days, So Much to Do
July, 2016
Click on any image for a larger view;
Contact garya at this domain if you would like the high quality image for printing
Jack and Sam and their parents came for a visit. They were ready to go and had lots of things to do on their list. After all, when you're 5 and 2 lift has lots of untried temptations. They are pretty dedicated sandbox reshapers at home, so we started by doing tractor work. I had a number of real jobs they could help with; we started by moving a big treestump down to an eroded place and dumping it there.
Jack getting to know the Tractor
| | |
| --- | --- |
| | |
| Sam Reshaping the Sandbox | Sam Learning About the Tractor |
It was hot the whole time they were here, so we went down to the lower swimming hole to cool off during the middle of the day. Jack tried out my one-person fishing raft, but found it a bit frustrating and decided he preferred to just wade around in the water. We also saw a cool snake that the boys got to touch. They were a little reluctant to do that but did ok.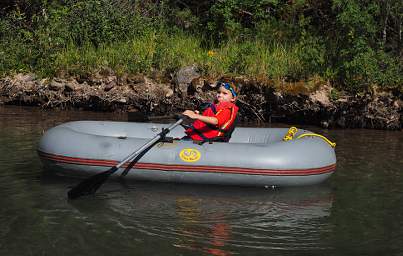 Jack Trying Out Rowing
They are both big fireman fans, and have gotten numerous tours of fire-houses at home. Jack even had a birthday party at a firehouse. So we hooked up the firehose to the tractor and they got a little training there.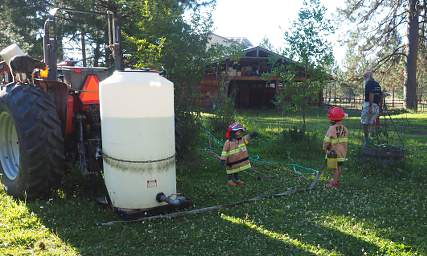 Sam and Jack the Firemen
Jack Manning the Firehose
We took the dory down to Lake Upsatta and rowed around. We saw Painted Turtles, a beaver, some loons, Western Grebes, deer, and water lilies.
We did so much stuff Uncle Gary had to take a nap. Jack's monkeys kept him company.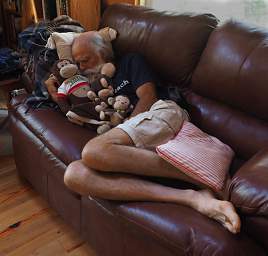 Gary Napping with Jack's Monkeys
We went to Missoula one day and checked out the Missoula Butterfly Museum and Insectarium, where they got to see some really cool bugs. We rode on the Missoula Carousel and the boys went crazy exploring Dragon Hollow.
One of the things we just had to do was have a picnic and make s'mores. Since it's been so dry, and since we wanted to promote responsible behavior in the forest, we made sure the fire was safe by wetting the area with the fire-hose before starting the campfire. Then we had a great picnic and made s'mores. When we were all done, we put the campfire out!
Getting Ready to Put the Fire Out
We needed a way to get across an irrigation ditch so Jack did some backhoe work. Then he dumped a bunch on dirt on the culvert so we could drive over it. After that we had to clean a few things out of the ditch.
Jack doing Backhoe Work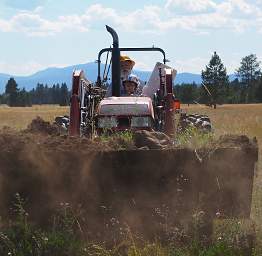 Working on the Loader
After all that work we were pretty dirty, so we cleaned up and relaxed in the hot tub.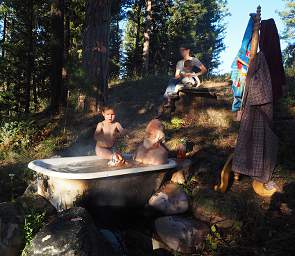 Relaxing in the Hot Tub
And then it was time to go home. You guys were the bestest! Hope your parents recovered ok.
---