My First Day Climbing at Smith Rock
So many Routes, so little Time
June, 2016
Click on any image for a larger view;
Contact garya at this domain if you would like the high quality image for printing
Smith Rock, located at Smith Rock State Park, is a rock-climbing mecca known throughout the world. I'd heard of it back in the early 1970s when I was climbing a lot but had never been there. Back then it was a pretty sleepy place, not nearly as well known as it is now. We were driving out to Oregon to visit family in nearby Redmond, and I decided to see if I could find someone to spend a day climbing with. I posted a note on mountainproject.com and hooked up with a guy named Brian. We agreed on a day and a time to meet. He had spent a couple of days in the parking lot with a sign looking for partners to climb with and had come up empty.
We met up and it seemed like we would get along ok so we grabbed our gear and headed down the trail. It promised to be a scorching day, up in the 90°F temperatures. He knew the back (northwest) side of the rocks were shaded until early afternoon, so we hiked up and over Asterisk Pass.

Smith Rocks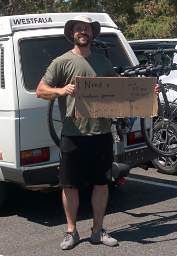 Brian with his Sign
| | |
| --- | --- |
| | |
| Looking NW from Asterisk Pass | Brian Descending Asterisk Pass |
We picked a one-pitch bolted climb called "Squashed Spider" on Spiderman Buttress to warm up on and get acquainted. It ascends the face of the triangular shaped rock in the center of the photo below at the base of the buttress.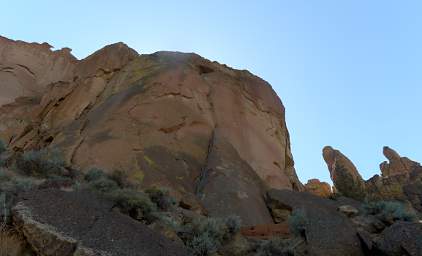 Spiderman Buttress
We had a great view to the north of us of the iconic Monkey Face pillar. For the imagination impaired, the monkey is facing to the right, and its mouth is the big cavern on the right side. Brian had hooked up with another climber replying to my note and had climbed the "Pioneer Route" on Monkey Face two days earlier. It's a spectacular classic. I'd like to do it some day. The bolt ladder up to the mouth now goes free at 5.13a or something like that. I can't climb that, so I'd have to aid it; it seems unlikely I'll be able to free climb it in this lifetime...
Monkey Face
A Party on Bohn Street
on the Pioneer Route
below the Bolt Ladder
Now they're in the
Mouth of the Monkey
Finishing the Pioneer Route
Brian is a better climber than I; he led Squashed Spider, then we pulled the rope and I led it. It was a great way to get acquainted with the knobs on Smith's tuff.
Brian Leading Squashed Spider
Gary after Leading Squashed Spider
Photo by Brian
Rappelling off Squashed Spider
Photo by Brian
I cleaned the quick-draws on the way down, we pulled the rope, then walked around buttress under the big rock leaning against the Squashed Spider slab to the base of the "Spiderman" climb. We swapped leads up Spiderman. It was a fun climb in pleasant temperatures as it was still in the shade.
I was carrying my camera slung around my neck and it gets in the way when jamming in a crack. At one point I was moving it around behind me and inadvertantly brushed the lens cap and released it. I watched it bounce off the rock and explode into its component parts which landed scattered about the ground. A good reason to have it on a tether...
Spiderman
Brian near the top of Spiderman
Spiderman was a fun climb, but I wish it were longer. It takes protection well and has great views.
There were the remains of a Marmot on top, apparently the leftovers from one of the eagles or falcons that nest on Smith's cliffs. Many of the traditional longer climbs on the front (southeast) side of the rocks were closed at the time to give the nesting raptors some peace.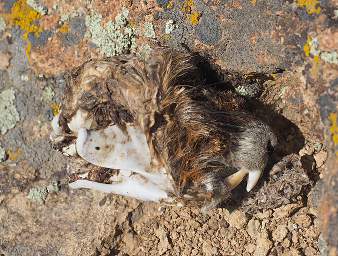 Marmot Skull on top of Spiderman Buttress
A Party on Xxx Route from top of Spiderman Buttress
The descent from Spiderman Buttress involves a fourth class scramble and squeezing through a passage between a flake and some boulders; there was a crude rope ladder attached to the flake which I'm not sure really made it any easier.
When we got back to the base of the climb we collected most of the parts of my lens cap. I thought we had everything except one small spring, which I figured we'd never find. I had one of them and figure I can get another somewhere.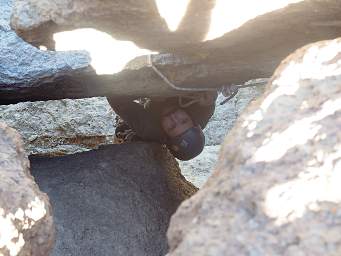 Brian Descending Spiderman
Since the rock was still shaded, we climbed two more routes nearby, the first pitch of "In Harm's Way" and "Out of Harm's Way". We didn't do the second pitch of "In Harm's Way" because the guidebook said it had "few redeeming qualities," but looking back on it I wish we had continued on up.
I led "In Harm's Way" and placed a cam that I was pretty sure was going to be difficult to remove. I tried to remove it but couldn't. Brian had a stiff nut-removal tool with a hook on the end; he worked on it on his way up "Out of Harm's Way". He managed to dislodge and move it by grabbing the sticking lobe of the cam and yanking on it, something I couldn't do using my crude old-fashioned remover. So now I have an incentive to get one of those; cams are expensive...
Brian on Out Of Harms Way
It was warming up pretty well, so we hiked around the south end of the rocks and headed back. We were considering climbing some harder sport routes on the now shaded southeast side, but they had people on them and we decided to call it a day.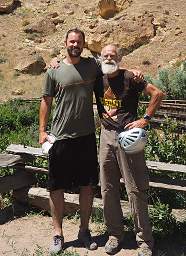 Brian and Gary
Brian was a great partner, and if I'd had more days to climb it would have been fun to do some more routes with him.
Back at our son Alex's house in Redmond, I started piecing my lens cap back together and discovered I was missing another crucial part, the face plate. I didn't care about the "Olympus" name on it, but it is a functioning part of the whole thing and I needed it. So two days later I returned and hiked back to the start of the climb and there it was. Yea! I would have liked to climb some more but this day we were taking the grand-kids down to Tumalo State Park and the Tumalo River to swim. So all I could do was take a quick look at various other people climbing.
| | |
| --- | --- |
| | |
| Working on a Problem | Rope De Dope Rock |
| | |
| --- | --- |
| | |
| | Xxx Rock |
On my way back I came across this cool flower, but I can't figure out what it is. I think it is some kind of lily.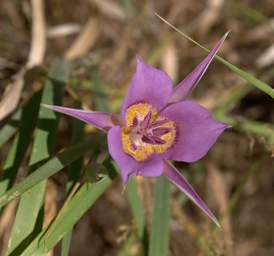 Flower Xxx Violet
All in all a great time for me at Smith Rock. Since we now have family only a few miles away, I'm hoping to do more climbing when we visit them in the future.
---