Pack Trip around Birch and Bruce Creeks
Bob Marshall Wilderness Area
September, 2010
Click on any image for a bigger view
Contact me (garya at this domain) if you want the really good image
I have been chomping at the bit all summer to get back in the hills for a longer pack trip. There's a lot of country yet to explore, and life is getting shorter every day. We've been too busy to make it happen. Back country hunting season opens on September 15, and I didn't want to have to compete with all the traffic from that zoo. So we didn't have much time left. Some friends had just taken a trip up to the N. Fork of the Teton in the Bob Marshall Wilderness, north of our usual stomping grounds in the Scapegoat Wilderness, but part of the same greater contiguous area.
The weather forecasts had been problematic; we put the trip off once and waited through four days of gorgeous weather. We were running out of options in terms of dates, so finally we just decided to go.
The drive up to Choteau takes us quite a while in our wimpy truck towing the trailer loaded with three horses, and we didn't get there until after 1 p.m. We had a sandwich, then headed down the long gravel road to the trailhead. As we approached, the Rocky Mountain Front loomed ever larger, its reefs, buttes, cliffs and canyons beckoning us to explore.
Rocky Mountain Front
Rocky Mountain Front
Rocky Mountain Front
Photos by Dona
Rocky Mountain Front
Rocky Mountain Front
When we start a trip we usually have the bear-proof panniers packed already, so it didn't take us too long to get loaded. We arrived at the trailhead about 2:15 and were on the trail by 3:00. The trail follows the river due north; the first part was burned in 2007, and there's not much still green around there in the way of trees. But that makes it easier to see the surrounding country, and it's slowly coming back.
We came across some pretty strange looking burned trees, with cris-crossed swollen bars on the trunk. They looked like someone had taken a huge frosting squeezer and decorated them in. Other fallout from the fire included a burned trail sign.
| | | |
| --- | --- | --- |
| | | |
| Dona and the N. Fork Teton Country | Hot Cross Bun Tree | Burned Trail Sign |
It had frosted some time recently, and the fireweed was all turning red.
| | | |
| --- | --- | --- |
| | | |
| Looking East from N. Fork Teton | Fireweed | N. Fork Teton Country |
Three miles up the trail where Bruce Creek comes in from the west, the fire stopped. We entered a thick spruce forest and the view pretty much ended. Since we were getting a late start, we only planned to go five or six miles. There was a good campsite on Bruce Creek, but the map showed what looked like a big open area two or three miles further on along the river, and that would put a few more miles behind us. Unfortunately, when we got there it turned out to be nothing but boulders and gravel in the creek bottom. We still had plenty of light, so we continued on. The trail left the river and began to climb more steeply, and we began to catch glimpses of Mt. Patrick Gass to the west.
We had provisions for a week for ourselves and our dog, Max; plus supplemental feed for the horses. Our Halflinger pack horse, Scheba, had about 60 pounds on each side, plus another twenty on top under the mantey tarp.
| | | |
| --- | --- | --- |
| | | |
| Mt. Patrick Gass | Dona on Sky | Scheba, our Pack Horse |
We kept our eyes peeled for a good campsite, but there weren't any, so we continued up over the divide and started down into the Phone Creek drainage, a tributary of Birch Creek. The country began to open up a little, and I could see some big grassy hillsides in the creek bottom a ways ahead. It was getting late when we reached the creek and crossed over, then found a campsite higher up on a hillside covered with good grass. The horses were delighted to be done for the day and chow down on the abundant native rough fescue; we were pleased to have a nice camp spot with a great view.
Dona's ankles and knees complain when she stays in the same position too long, so she likes to alternate between riding and hiking on these trips. On this day she rode up over the pass, then hiked down the other side. It had started to cloud up so we got busy setting up the tent, a picket line for the horses, and cooking dinner.
| | | | | |
| --- | --- | --- | --- | --- |
| | | | | |
| Horses at Phone Creek Camp | Looking E from Camp | Looking N from Camp | Dona Arriving | Dona and Max cooking Dinner |
We woke the next morning to clear skies and sunshine on the mountains around us. We packed up and headed down Phone Creek, ecstatic at the view all around us.
Sunrise, Phone Creek
Gary and Max heading out
Photo by Dona
Phone Creek Country
Dona limbering up her joints
Most of the mountains in this area are what are known as "reefs," a geologic form where one side (the east) is uplifted, forming a steep wall; the back side (west) is typically a gentle slope. You can climb most of them relatively easily hiking up the west slope, but the east faces are sheer cliffs in most cases. The mountains to our west were Corrugate Ridge, and as we continued on they started coming into view.
Dona on Sky,
Scheba,
Phone Cr. Country
Phone Cr. Country
Looking S up Phone Cr.
Looking W from Phone Cr.
Looking W to Corrugate Ridge
Dona and Sky
Rest stop,
Stream Crossing
Phone Cr. Country
Gary, Phone Cr. Country
Photo by Dona
A little ways above where Phone Creek dumps into it, we crossed the South Fork of Birch Creek at a pretty waterfall and stopped for lunch. Looking more carefully at the map I discovered that the trail, instead of following the creek, climbed 1500 feet or so up over the top of one of the peaks that hemmed it in. Ugh! The horses would not be pleased. But we would have a good view from up there.
S Fork Birch Creek
S Fork Birch Creek
Dona above the falls
Dona above the falls
Falls, S. Fork Birch Cr.
Photo by Dona
Looking down S. Fork Birch Cr.
Photo by Dona
Looking up S. Fork Birch Creek
Photo by Dona
Gary on Lunch Rock
Photo by Dona
Scheba and Sky, Lunch Stop
We continued on down the South Fork of Birch Creek, and discovered that the map was wrong. There apparently is a trail that goes up and over the nearby peak, but the main trail continues along the creek, carved into the hillside. As we came down to cross the creek at one point we could see an outfitter up ahead taking two strings out. They were probably doing daily trips stocking up their hunting camps.
We were heading for the confluence of the South and Middle Forks of Birch Creek. On the map it was a broad flat spot, and I was hoping to find abundant grass and a good camp spot.
Birch Cr. Country
Photo by Dona
Birch Cr. Country
Birch Cr. Country
Outfitter heading out
Middle Fork Birch Cr. Country
We arrived in good time. There was adequate grass, but it wasn't abundant as I had hoped. The confluence is fairly close to another well-used access trailhead, and is obviously heavily used. We could have headed a bit further up the Middle Fork, our planned route, but with the problems we had encountered finding camps on this trip we decided we should probably make this home. Our plans were to take a layover day and explore.
Horses, Confluence Camp

Photo by Dona
Camp,
Crooked Mtn behind
Photo by Dona
South Fork Birch Cr.
Photo by Dona
Looking up S Fork Birch Cr.
Photo by Dona
View across from Camp
We took a short hike up the Middle Fork of Birch Creek. It is another crystal clear mountain stream and looked like a good place to explore. Because we've had a lot of rain this summer, the wildflowers were still abundant.
| | | | |
| --- | --- | --- | --- |
| | | | |
| Looking Up South Fork Birch Creek | Middle Fork Birch Creek | Middle Fork Birch Creek | Bee Balm |
Birch Creek isn't very large at this point, and given how used up the grass was it has probably been pounded by people fishing. But since I had my rod along I decided to try it out anyway. Sure enough, I hooked a number of fish, but they were all pretty small. Scrappy, though.
As it started to cool off I decided to get a fire going. What with all the recent rain, everything around was pretty wet, even the usually dry lower dead branches on the conifers. I finally cut up a larger log with the trail saw and split out some dry kindling from inside. I set up our 9 x 12 tarp to give us a dry place to be and store things. By dinner time it had started to sprinkle, We kept the fire going, drying out wood and piling it under the silver lining to keep it dry.
The clouds kept building and we hit the sack to the pitter-patter of raindrops on the tent fly. Max crawled into the vestibule and curled up in a ball. We kept hoping for the best, but by morning we were totally socked in and it had been raining all night. Our layover day was a bust, spent feeding the horses and trying to keep things dry. The fishing wasn't worth pursuing, and we didn't feel like hiking up to the headwaters of the Middle Fork of Birch Creek when there wouldn't be much to see. We spent some time thinking about a better silver lining for the future, one with better protection from the sides and a little bigger.
| | |
| --- | --- |
| | |
| Dona under Silver Lining | Low hanging clouds |
The next morning dawned to blue skies, but by the time we were packed it had started to cloud up again and dark clouds were boiling over the continental divide to the west. We had to decide whether to continue on our planned route, which would take us four more days and to the west where the weather was likely to be wetter if it was rainy; or head back via a shorter route. The weather forecast when we left had called for more than one day of rain. We had hoped for the pattern of some rain and broken clouds, but what we had looked like a prolonged north-west type rain. We opted to head back early.
We packed up and started backtracking. After two miles, where we had stopped for lunch two days earlier, we had another choice to make. We could continue backtracking; or head up the South Fork of Birch Creek, up Crazy Creek, along the east side immediately under Corrugate Ridge, over a pass, and then down Bruce Creek. It was high and open country; our friends had done part of it a few weeks earlier and recommended it. I asked Dona what she wanted to do, and she opted for the Corrugate Ridge route. "It would be something different to see."
| | |
| --- | --- |
| | |
| Sunrise, Crooked Mt. | Rest stop, South Fork Birch Cr. |
Wow! Was it ever. We turned right and the sun came out, at least here and there.
Birch Creek was down in a canyon, waterfalls dropping into deep pools. On a more settled day with more time it might have been fun to stop and do some fishing. Something for next time.
| | | |
| --- | --- | --- |
| | | |
| S Fork Birch Cr. | S Fork Birch Cr. Country | S Fork Birch Cr. Country |
We turned up Crazy Creek and the trail started climbing. We emerged from the timber into another burned area and a broad glacier carved valley. Corrugate Ridge was on our right, and in spite of some sunshine off and on, it was chilly. I put on my duster over my fleece vest, then pulled on some wool finger mitts.
Dona, lower Crazy Cr.
Looking up Crazy Cr.
Gary heading up Crazy Cr.
Photo by Dona
Looking S up Crazy Cr.
Pass is notch on left
As we rode higher up the creek we kept scanning the slopes of Corrugate Ridge, hoping to see mountain goats, bears, or some other animated life form. We were disappointed. There was snow on the higher reaches of the mountains, left over from the day before and the previous night. Large patches of trees in the upper basin of Crazy Creek were dead, killed by some disease or bugs. We could see the pass, but couldn't make out the trail over it. I figured it wound its way up through the timber on the right side.
| | | | |
| --- | --- | --- | --- |
| | | | |
| Looking N down Crazy Cr. | Looking N toward S Fork Birch Cr. | Corrugate Ridge on Upper Crazy Cr. | |
I was wrong. As we steadily worked our way upward, the wind increased and the clouds started closing in. I ended up riding with my head down much of the time, glancing up from underneath the brim of my hat every so often to check out the route. Poppie turned her head to the side so she wasn't facing it head on and worked her way upward, with Scheba trailing along behind. Dona had her helmet on, which unfortunately with no brim and slots in the top for cooling didn't provide much protection from the wind.
The trail didn't hunker down in the timber on the west slope of the pass. Instead, it switch-backed up the scree slope to the east. It started spitting snow on us. My feet were damp and cold, but I kept telling myself "It would be a lot worse." And it was awesome country.
We stopped at the top for a look back and a look around, but didn't linger because of the wind. I was hoping it wasn't blowing up both sides of the pass, as it sometimes does. Fortunately, it wasn't, and when we dropped over the top it was much calmer. We came to a lingering snowfield, an indicator that the wind must howl over the pass all winter long, dumping a huge pile in its lee. It was deep enough it would have been a big effort for the horses to post-hole through, but it was small enough and the terrain forgiving enough we could go around.
| | | | |
| --- | --- | --- | --- |
| | | | |
| Pass, Crazy Cr - Bruce Cr Divide | Approaching the top | Snowfield, Crazy Cr. - Bruce Cr. Divide | |
We were in a small basin, but the terrain was confusing. The trail split, and each branch appeared equally well used. The obvious route was to the left, down into the basin, which clearly dropped on down to Bruce Creek. But it went through a narrow slot at its bottom, and I couldn't see the trail down there. The other fork of the trail continued across the side-hill to another pass. I got out the map. Sure enough, the trail we wanted was the one over the second pass. The basin was the headwaters of Nanny Creek, and the trail down there apparently well worn from others taking the wrong turn and turning around and coming back up. Or just going down there to enjoy it on a nicer day than ours.
Mt. Patrick Gass was on our left, but unfortunately we didn't get a very good view of it. It was shrouded in clouds and snow. On a nicer day I would have liked to tie the horses and climb to the top. Another goal, for another trip. We were going to have to come back.
| | |
| --- | --- |
| | |
| Mt. Patrick Gass from... | Upper Nanny Cr. Basin |
The horses worked their way over the Nanny Creek / Bruce Creek divide, and we were in an open landscape of short alpine grass and scree slopes. Clouds swirled around Corrugate Ridge and the surrounding mountains. It was beautiful country, in spite of the weather.
Dona was eager to get off and hike after all that riding, so we tied Sky to Scheba's pigtail and I continued riding ahead. We entered some trees which provided better shelter.
Bruce Creek side of Divide
Gary heading down
Photo by Dona
Gary heading down
Photo by Dona
Gary and Horses
Photo by Dona
Dona coming Down
Bruce Creek Country
Bruce Creek Country
Bruce Creek Country
Photo by Dona
We came to a bridge across a small ravine, but the bridge looked pretty caved in and I was reluctant to put the horses across it without checking it out better. We managed to go around it instead.
Deteriorated Bridge
Deteriorated Bridge
Photo by Dona

Photo by Dona
In spite of the weather, we were thoroughly enjoying ourselves. The views, like the land, were big and bold and rugged. I was storing up things I had to come back to see again.
Bruce Cr. Country
Mt. Wright on left;
Bruce Cr. Country
Photo by Dona
Mt. Wright
| | |
| --- | --- |
| | |
| Bruce Creek Country | Dona coming down |
Mt. Wright, Bruce Cr. Country
Gary and horses
Photo by Dona
We worked our way down and around Mt. Wright; the sun broke through and lit up the peaks to the east above the North Fork of the Teton River.
| | |
| --- | --- |
| | |
| Peaks to E, N Fork Teton R. | |
When we got to the mouth of Bruce Creek it was late afternoon. We decided to push on out the last three miles to the truck, as the weather still looked ominous and another night of rain didn't seem like it would have much reward.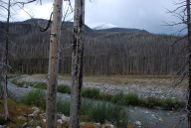 Looking back
In spite of being cut short and having cold, wet weather for a while, we had a great time. We now know a bit more about the country, and I'm already planning another, longer, trip for next summer...
---