Ian, Trudy, Indy, Jasmine, Talula and Willow Visit
July 2007
Click on any image for a bigger view
contact me if you want the really high definition image
Wow! What fun. Ian and Trudy; along with Indy, the intrepid outdoor dog; Jasmine, the high priestess cat; Talulu, the scaredy cat; and Willow, the contented outdoor loving bird, all came to visit for the month of July and a little bit more.
We had talked about this when they were up for a week last year. But I needed to have more of a proper guest room for them to stay in. I had been working on it all spring, but the fireplace is a slow project. I decided that wasn't going to get done in time, and concentrated on the bathroom. It didn't get done in time either, but at least it had an operating toilet. I cleaned out all the tools, vacuumed like crazy, and moved some furniture in. I hope it was comfortable enough; next year it will be further along, thanks in no small part to Trudy's help.
Ian is fortunate in that he has a job he can do from anywhere. Ian is unfortunate in that he has a job he can do from anywhere. So during the day, Ian worked, and Trudy and I worked and played. Fortunately, Trudy likes building things, and I have lots of things to build. In fact, I had a long list of possibilities, but Trudy and I embarked on an outrageous interior design project in the guest bathroom
The Bathroom Project

and didn't get much beyond that.

On Fourth of July weekend we hiked up to Morrell Falls .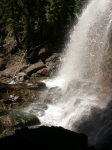 Morrell Falls
After we got back, we went over to a neighboring ranch and watched what one of my friends calls "The most ourtrageous fireworks display this side of St. Louis ." It was outstanding. Many thanks to the folks at the Meyer Ranch for putting on the show, and inviting the local community to enjoy it.
Fireworks
It was hot, really hot for around here, most of the time they were here. The next day was Ian's birthday. Trudy and I picked up a cake for him when we were in town picking out tile for the bathroom.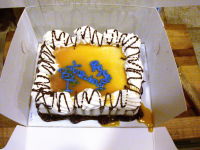 Ian's Birthday Cake
My strawberries went bonkers this year, and Trudy picked a humongous number of them. We had them coming out our ears. We froze some, dried some, and ate them on everything. They were yummy!
My cat, Prince Charming, is a pretty easy going fellow, fortunately. Jasmine and Talula were pretty much confined to the house, as Trudy was concerned they wouldn't stick around. Talula was generally reluctant to go out anyway; Jasmine would occasionally wander out if we left a door open, but she sort of stared around a little bewildered and allowed herself to be collected and returned inside. Prince Charming likes being outside in the summer anyway, and decided the inside wasn't worth fighting over... most of the time. He an Jasmine got into a bit of a tiff once, and then generally just threw insults at each other in passing.
I had a wireless access point hooked up, so Ian could take his laptop out on the front porch and work from there. He took Willow out in her cage, and she chirped away while he worked.
We loaded up Indy and took a couple of canoe trips down the Blackfoot.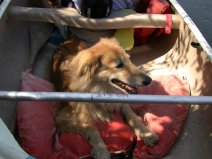 Canoe Trips
Another weekend we hiked up to Windy Pass .
Windy Pass
After our day hikes, we figured we were in shape enough to do a proper backpacking trip. So we filled up the cat food bowls and the bird feeder and then piled into Ian and Trudy's truck and headed for Turquoise Lake . in the Mission Mountains.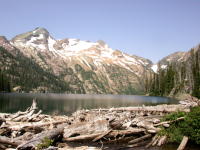 Turquoise Lake
Our last hiking excursion was over to the Dearborn River, where we had a great day in spite of losing my glasses jumping in the river. Dearborn .
Dearborn River
Eventually, it was time for them to head back to Colorado. I thoroughly enjoyed their visit; next time we'll have even more fun!
Gary's home page
---