Flathead Lake, Montana
September, 2001
Click on any image for a full sized view
I had a delightful weekend sailing on Flathed Lake with my friends Bill Cone and Carol Kulish, and their friends, who I now also count as my fiends, Bob and Phyllis Wells from Bozeman. We picked up the boat in a yard in Bigfork, where the winch for the centerboard was being replaced. Then we trailered it down to Yellow Bay on the east side, where we put it in the water. Phyllis fixed a great lunch which we loaded up on before we left. We were having a little trouble with the outboard, so Carol, aka Sakajawea, held us off until it was going well, then hopped in our dinghy for this trip, their canoe. The canoe is apparently a somewhat neglected child, as it has no name, and has suffered a significant amount of abuse. However, on this occasion it was well behaved and seemed happy to help out.
We had nice breezes, and took a scenic tour to Bird Island before heading over to Cedar Island, where we anchored for the night. That's Carol enjoying a ride in the aluminum "dinghy". Would you trust this guy at the tiller? Reminds me of Captain Bob in the movie.
We arrived at Cedar Island just before sunset. The islands remind me of what I think the Lake Superior country looks like, or maybe Maine. Some previous visitors had made some great cairns in a driftwood rootball.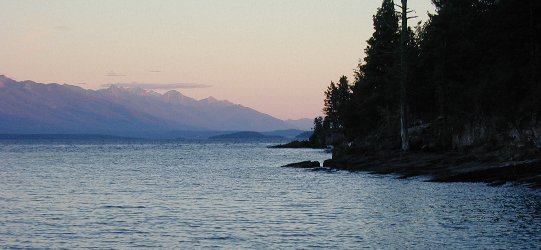 Carol cooked a great dinner, complete with appetizer, wine and dessert. Here's Mike and Phyllis relaxing before dinner.
Mike and Phyllis and I ferried our gear to shore for the night, where we camped out. I woke up at 2:00 am to a mystical moonlight scene, but none of my pictures came out. It probably is better imagining it anyway.
In the morning, Phyllis went for a swim out to the boat, where she got hot coffee for her efforts.
The boat is a Clipper MK26. Bill and Carol have taken her a lot of places. Lots of lakes, along the Texas coast, and over to the Bahamas.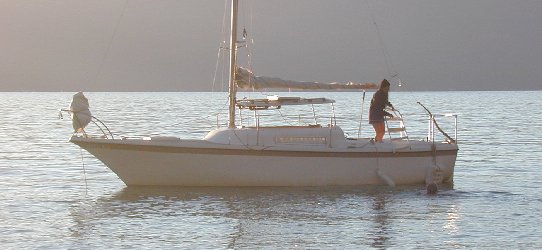 Here are some more shots of Cedar Island.
The lake is very clear, and was warm for this part of the world, probably 70 degrees. I wish I had brought my diving gear. It would have been fun to do a moonlight night dive and also just see what is there during the day. Something for next time.
Where there weren't steep jagged rocks dropping into the lake, there were pebble beaches.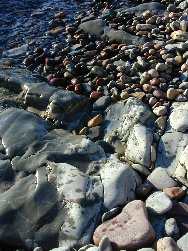 Coaster in the morning, from the cairns in the tree on the beach.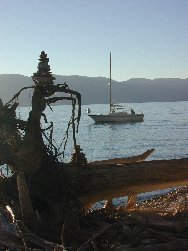 There were a few sailors up Sunday morning besides us. Here's a single hander on a colorful catamaran.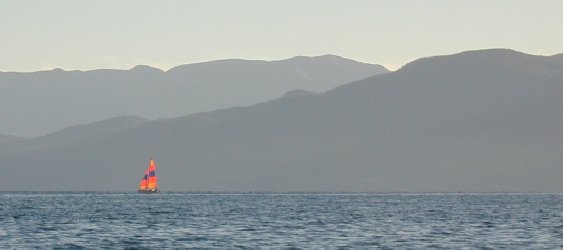 We sailed around Cedar Island, getting a good look at tiny Rock Island on the way.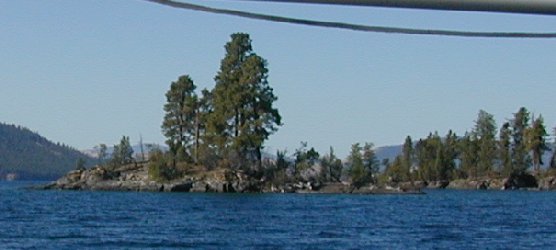 Then we headed west with the idea of going around Wild Horse Island before heading home. However, the wind almost completely died out, so we decided to head back in a liesurely fashion so we wouldn't have to motor. Here we are running wing and wing. Well, sort of. We must have been having too much fun. Looks like we got back winded a bit.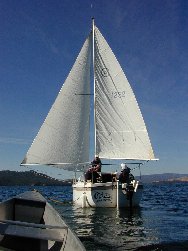 Some more shots of the happy crew.
All in all a great trip. The only thing wrong with it was Amber wasn't along. We need to do it again sometime!