Climbing Drip Buttress
Blodgett Canyon, Bitterroot Valley, Montana
May 2017
Click on any image for a larger view;
Contact garya at this domain if you would like the high quality image for printing
My friend Kurt Krueger and I wanted to get some more climbing in and I suggested we do a "complete" No Sweat Arete up Mill Creek in the Bitterroot. By that I meant do the maybe grungy first pitch most people skip by sneaking around the arete and scrambling up to a big grassy ledge; and then finishing with the Lowe 5.10 variation, which I am not sure I can actually do. He was agreeable to that but suggested an alternative, Drip Buttress in Blodgett Canyon. I have wanted to do that as well so we opted for that.
We arrived at the trailhead at 08:00, then hiked and scrambled for about an hour to the base of the climb. Drip Buttress is just west of The Prow, and the pair of them dominate the skyline right away. We started on a fishermen's trail along the north side of the creek; the trail soon peters out and then we moved onto the lower scree slopes which are really more boulders than scree.
Along the approach we ended up in enough brush that we both kept an eye out for ticks; I picked one off but that was about it. However, after the descent and hike back to the car we had accumulated a few more, and Dona found some escapees when I got home.
We were at the base of the climb about 09:00. We had originally talked about climbing on a double rope so we could descend via a long rappell into the descent gully, but Kurt remembered I use an older Sticht Belay Plate and it isn't designed for the skinnier present day double ropes. So we had my 60m single rope. Kurt brought a rack with a full set of cams and wired stoppers from about #6 on down. I would have liked a few more smaller cams and a few larger stoppers, but we always managed to find what we needed so I guess we were fine. I also brought my small big bro which we didn't use; although I might have used a larger one.
We started from the car with about 3 liters of water. We drank about half a liter on the way in, took 1.5 up with us, and saved another liter for after we got down. That was about right, although we could have easily drunk more during the climb. It was a hot, dry day; the car said 86°F on our way back.
We dropped our packs near a large dead Ponderosa Pine; the climb starts 20 yards or so farther west. We had one small day pack between us; our hiking shoes, water and a few snacks went in that, along with my camera. We swapped the pack so whoever was cleaning carried it.
| | |
| --- | --- |
| | |
| Drip Buttress and the Prow | The Prow (Drip Buttress hidden behind tree) |
Drip Buttress
Our Approximate Route
Kurt led off the first pitch which goes up over two bulges. One of them is supposed to be the crux of the climb; they were both a bit tricky for me. Kurt did a nice job, ending the first pitch about 30m (100') up. This was probably not the "proper" end of the first pitch, as I passed another stance about 10m up the 2nd pitch; but it was a good belay and we were starting to have annoying rope drag.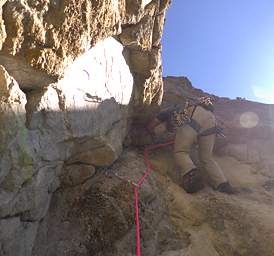 Kurt at Bulge near Bottom of Pitch 1
Kurt at Bulge in Middle of Pitch 1
I led Pitch 2 up another 30m to a nice belay ledge with some old rap slings. I had to work a little to get good protection in but managed to find what I needed. As I recall it was mostly smaller cams and stoppers.
Pitch 3 starts out with an interesting problem which looks like it has three possible solutions. You're under an overhang; it looks like you can go directly up and over, move out to the right and go up and over a smaller bulge, or go left and around. Kurt looked at all three and ended up going left and around; fortunately he could get some protection in before he moved up too much.
Unfortunately I didn't get much in the way of pictures on this climb. Both of Kurt's leads went up past overhangs which cut off my view from the belay stance of the upper parts; and since he was bringing up the camera in the pack when he seconded, I didn't have it to shoot down on him after my leads. I need to get a smaller fixed lens so I can more easily carry the camera while climbing.
Top of Pitch 2 / Start of Pitch 3
Pitch 3 was 35m - 40m long; there was a nice airy belay ledge at the top of pitch 3.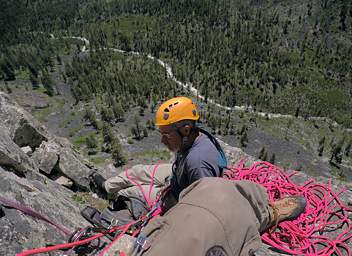 Top of Pitch 3
This was the first non-sport climb on which I had used my new rope where I had marked the center, and I found it useful for a couple of reasons.
First, it made it easy to know when the leader was half way up, so it was easy to let him know how much rope was left. That was a bit problematical on Kurt's leads on this climb, as the overhangs made it difficult to communicate once he was past them.
Second, it made it easy to tell if a given pitch was longer than half a rope length. This was true for pitch 3, which helped us decide to descend via the gulley rather than rapping the route.
You could easily feel where the middle mark was as the rope was a bit stiffer in that section. It didn't impair it's actual use, but it was detectable.
From the top of pitch 3 I moved left around the corner into "the chimney," a 25m or so stretch in which I encountered increasingly bad rope drag despite using long slings in several places. After exiting the chimney onto the right wall and climbing another 10m or so I set up a belay because of the rope drag.
Kurt finished up with a short 10m pitch; obviously I should have gone on up if the rope drag hadn't been so bad. We were sitting on top at 15:00, so overall it took about six hours up.
From the top of the climb we scrambled up a gully and then contoured quite a ways around to the east until we were at the top of the descent gully. We started down but came to a tricky place where there was an old rap sling around a tree. We backed up the sling and Kurt rapped down first with the pack. As he was the heavier of the two of us with the pack and most of the rack, I cleaned our gear and followed.
As you descend the gully you can see the other descent option on your right, a long free rappell over a big overhang. You really don't want to start over that without two long ropes that you know reach the bottom.
There is some careful scrambling to do on the way down the descent gully, but it goes quickly and without much trouble if you're paying attention. We were back at our packs at 16:00, and at the car by 17:00.
All in all a fun and satisfying day.
Descent
Overhanging Rappell Option
Looking Back Up Descent Gully
Bottom Part of Descent Gully
---