A Climb Up "No Sweat Arete"
Mill Creek, Bitterroot Valley, Montana
September 2016
Click on any image for a larger view;
Contact garya at this domain if you would like the high quality image for printing
I was delighted to find a note in my email box from my friend Claudine saying she was back from her summer excursions and suggesting we go do some climbing. The weather was crappy but a few days later it cleared up and she suggested we head down to Mill Creek to do a climb called "No Sweat Arete". Claudine has done the climb numerous times, but I'd never climbed in Mill Creek and wanted to snoop around.
The hike in is short, a mile and a half or so; but the approach from the trail to the base of the climb is a lot of not-fun walking up fairly steep dirt and scree. We met a friend walking her dogs while still on the trail and gossipped a bit, then plodded up the hill in the heat, thankful for a few shady patches here and there on this 75°F September day. We were at the base of the climb in an hour or so.
The first view you get of the wall is impressive, and as I looked at it I said to myself "There's no way that's 5.7." True enough — you have to get a bit farther up the trail and around the corner to see the actual arete.
View of Mill Creek, North Side
No Sweat Arete
(Curved arete in the middle)
No Sweat Arete is a pleasant 3-pitch 5.7 the way we did it, but with enough cracks and blocks to get off course, wander around a bit and make it more "interesting". There are also several variations which continue up another three pitches past where we walked off. The Lowe Extension is 5.10c; there are other possibilities as well. That would put you right up on top, which would be fun. Some other day when I have more time and more water...
Looking Up the Mill Creek Valley
On the Approach
(No Sweat Arete is out of the photo on the left)
Photo by Claudine
We paused to cool off when we got to the base of the arete itself. There's an optional additional pitch below the normal start which we bypassed; next time I think I'd like to start there. We worked our way on 4th class rock around and up to the "normal start".
Approach showing
normal start and
optional first pitch
below normal start
Wrong Approach
Correct approach is at
very bottom right
The north rim of Mill Creek Valley faces due south; it's hot and dry. We planned to carry everything up with us so we didn't have to hike back around and up the scree again to retrieve anything. We had a liter of water each and a few snacks, plus a light windbreaker each. When we consolidated our gear at the car we decided to only bring Claudine's pack, and I left my juicy snacks in mine instead of stuffing them in a pocket. I used to be able to go without lunch but I've found as I've gotten older I need to graze all day or have lunch to keep firing on all cylinders. Claudine gave me one of her two granola bars, then I downed some water to lighten the load.
To get started you have to traverse left about twenty feet; it's not hard but handholds are thin and spaced out and you don't want to slip. Claudine took the first pitch and threw in some pro before doing the traverse.
Claudine starting out
Then she disappeared around the corner and was on her way up.
The climbing is great fun, nice cracks with good rests at regular intervals. It's easy to place gear but as with many alpine-type climbs you have to be careful about rope drag.
In one place Claudine went one way around a corner and placed a cam high up where I couldn't see it from the bottom. When I followed it looked like I could go either way after cleaning the gear at the bottom, but when I got most of the way up the other option it became clear there was another piece of gear over there. I went on up and then worked back around and down-climbed a bit to retrieve it.
I led the second pitch and then Claudine finished off the third.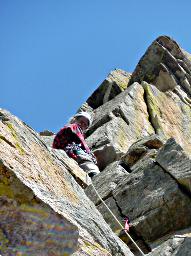 Photo by Claudine
We enjoyed the sunshine, finished up our water at the top, checked out the Lowe extension a bit, then scrambled around the walk-off ledge and started down. The descent is like the ascent, a lot of loose dirt and scree. Claudine got couple of small blisters from grit in her approach shoes. I was thinking maybe I need some lighter approach shoes which would take up less space and weight in a pack and so be easier to climb with, but after thinking about it I like my hiking shoes with scree collars.
On Top
Lowe extension crack on left
Photo by Claudine
All in all, a great fall day and a fun climb.
---