Wow! The View from Sunday Mountain.
An Excellent Day in the Hills with Sid
October, 2013
Click on any image for a larger view;
Contact garya at this domain if you would like the high quality image for printing
Dona's youngest son, Sid, came home on leave from language school with the Army in Monterey, California, in the middle of October. Originally we had planned for a three day hike up around Swan Peak, with the idea of climbing it from the back (east) side. But Dona is laid up recovering from a back operation, and since he was only going to be here for a week it seemed like a good idea to do day trips instead, so the rest of the family could see him more. So he and grandma Fawcett came up and stayed at the house for a few days.
I had been up to Napa Ridge near Swan Peak the week before, and there was about six inches of snow on the Swan divide then. I figured the north and east slopes would still have snow, but the west-facing slopes of the Swan Range should be pleasant if it was a nice day. While going over a map a few weeks before I'd noticed the short hike up Sunday Mountain, and decided it would be a good thing for us to check out. The plan was to get up to the ridge, and then scramble and amble along the ridge for a few miles.
The day dawned clear with fog lying low along the rivers, a good sign. We drove up to the trailhead, but didn't make it as far as my old map indicated we could. So we had an extra mile or so of flattish hiking in the snow and shade on the east side of the foothills of the Swan Range.
Sid is in ridiculously good shape. I was more or less in high gear from the start, and I wondered how far behind I would be once we started up towards the ridgetop. After about a mile we came to where our trail crossed a low divide of sorts, separating the headwaters of the Clearwater River from more southern tributaries like Morrell Creek, and at that point it ceased being a stroll and headed up -- steeply up.
Whenever I was in the lead, Sid was always right behind, and he never seemed to be breathing very hard. But the nice thing about this hike is that after you start up towards the ridge, the view just keeps getting better and better. So I could pause every so often to appreciate the view, and rest up a wee bit.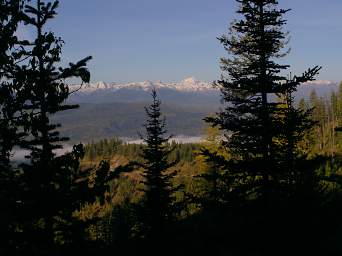 First view of the Mission Mountains across the Valley
The forest thinned out pretty quickly, and whenever we looked up we could glimpse the ridge above us. It didn't look that far, and it wasn't that far, but it was pretty steep.
| | |
| --- | --- |
| | |
| Looking up towards the ridgetop | Frost on the trail |
Picture stops also served as rest stops, so I took lots of pictures.
| | |
| --- | --- |
| | |
| Chipmunk | Much needed rest stop |
| | |
| --- | --- |
| | |
| Better view of the Missions | Sid looking at the Missions |
The image below is a panorama of the Mission Range. Unfortunately, I'm not familiar enough with the view to definitively identify any of the peaks except Gray Wolf, McDonald, and Calowahcan. I should have taken compass sights so I could figure it out on the map, but I didn't. I triangulated from the image and the map to come up with the others, marked by yellow arrows. In the meantime, if anyone reading this can identify some of them definitively, I'd appreciate it if you would shoot me an email at this domain, user garya. The image is kinda large and will take a while to load when you click on it; you'll probably need to click on it yet again after it loads to get it completely expanded in your browser, although that second click won't take any time to expand.

View to the West (Mission Mts) from part way up Sunday Mt.
It's a largish image and will take a while to load...
As we neared the top, the trail angled to the north a bit and we had to go over a couple of false ridgetops. We were so intent on getting to the top that we didn't look behind us until we were mostly up. When we finally did, we were bowled over.
Sid nearing the ridge top
View to the South
Crescent Mt. in background
And then we were up! Wow! What a view, all the way around! (The panoramas below are pretty large files and will take a while to load when you click to expand them. But patience pays off...)

View to the East from Sunday Mt.
It's a big image and will take a while to load...
The day had warmed up some, but I still had my pile vest on. I never did take it off. We had a bite to eat and rested up a bit. Then we headed north along the ridge. Half the time it was easy walking, but the other half was a bit touchy in places. It would have been a lot easier in the summer when there wasn't snow all over things.
As long as we were in the sun, it was warm; but there were a couple of places where we had to work our way up or down a slot with snow in the bottom and they were cold and sometimes slippery. We were hoping to get to Fisher Peak to the north to look down into George Lake.
Down in the bottom of the valley, we could see Rainy Lake and Summit Lake.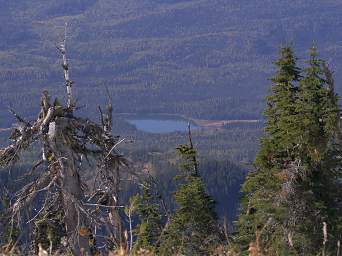 Rainy Lake
We had a great view of Mt. McDonald, the highest peak in the Mission Mountains; and all the others as well.
Mt. McDonald,
Highest Peak in the Mission Mts.
Grey Wolf, Mission Mts.
Mt. Calowahcan (Mt. Harding),
Mission Mts.
Unnamed point overlooking George Lk.
| | |
| --- | --- |
| | |
| Sid heading north on the ridge | Looking down Babcock Cr. |
Fisher Pk.
View from our turn-around point
Looking back South to Sunday Mt.
We had told Dona and Grandma we would be home in time for dinner. After a mile or so we came to a "more difficult problem" on the ridge. At that point it was clear we could not make it to Fisher Peak and back in time for dinner, so we turned around and made our way back.
Sid on the ridge
We stopped at the low point on the ridge, where the trail comes up, and finished out lunch and snacks, then carefully made our way back down. The snow had started to melt and the trail was icy in places and otherwise pretty slippery from the clayey soil. As Sid remarked, "Hiking poles would be a good thing here."
On our drive back we were treated to a small herd of elk by the side of the road, with a few bulls in the crowd.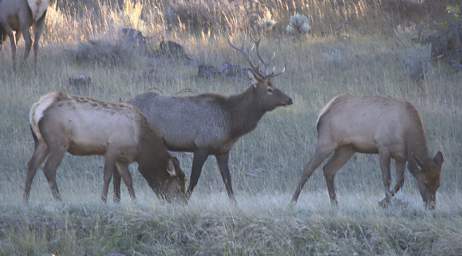 Elk
We felt pretty good after a great day in the hills. Then Dona informed us that our neighbor, who is something like 6 years old, climbed Sunday Mt. this summer. She is going to be hard to keep up with in a few years! You rock, Hattie!
---