Sailing from Key West to Belize
November, 2006
Click on any image for a bigger view
Contact me if you want the really good image
In the middle of November, I got an email from my friend Casey Brooks, saying he was about to sail from Florida to Guatemala, asking if I wanted to come along. It didn't take too long to make that decision.
Casey is a shipwright, and his main boat Retriever, which he built himself, is already in Guatemala. We would be sailing down on another boat, Alani, also an all wooden boat, made in Holland in the 1960s. She's a peach, and it was a fun sail. If you're interested, she's for sale at a good price, and you get a chunk of land in Guatemala where you can keep her on a dock or a mooring in a sheltered bay with nice neighbors to boot.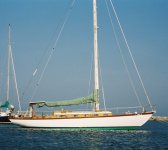 Alani
Casey was bringing all his tools down on this trip, so Alani was a little lower on her lines than in the above picture. She was stuffed. We had a table saw in the vee berth along with, literally, a boatload of other power tools. Plus an extra 350 feet of chain, some for me and some for Casey.
When I got to Key West there was a cold front passing through, with winds blowing 40 knots or so. We waited two days for the weather to ease up, then headed out, more or less due west, staying north of the Gulf Stream. After we were west of Havana we headed south to cross the Gulf Stream as quickly as possible. Then we headed west again.
Alani has an ice box, but we didn't have it full of ice, so we didn't have a whole lot of fresh meat. However, Casey outfitted us with heavy duty fishing gear just before we left. This was fishing for food, not for sport... We were using handlines, not rods -- a large spool with 200# test line, a swivel, and a 50# test steel leader. The lures had lead heads about the size of your thumb, and were about 6" long. We let out about 100 feet of line, then zoomed along at our usual five or six knots. Every so often we would lift the spool to see if there was anything there.
We didn't catch much at first. But the second day we caught a large Mahi-Mahi. We hauled it up to the boat and flipped it into the cockpit. Just before we killed it, I felt the other line, and there was another fish on it. It looked to be smaller, so we decided to reel it in and let the bigger one go. Unfortunately, it threw the hook, so we ended up eating the big one. We ate as much as we could for the next few days, but we still had to throw some out. I hate wasting food. Yum! It sure was good, and we didn't have to worry about our protein allowance. We pretty much had fresh fish for the rest of the trip, as we caught a good sized barracuda and a cero Mackerel.
| | |
| --- | --- |
| | |
| Casey with Mahi-Mahi | Gary with Mahi-Mahi |
It rained most of the way, sometimes pretty heavily. We spent a lot of time down below, poking our heads up every 20 minutes or so to check for other boats. We didn't see many -- a few freighters up north before we headed south, and one down by Cuba.
We did have occasional excitement. The compass for the autopilot is mounted on the forward side of a bulkhead in the saloon. One time I went to look at the chart on the chart table, which is on the aft side of the bulkhead, but I was standing on the forward side. I still had my makeshift safety harness on and one of the steel carabiners ended up right next to the compass. The compass apparently liked it, and Auto steared us off in a strange direction. We could feel the boat change direction and scrambled for the cockpit, but that moved me away from the compass and everything went back to normal.
One night a gust of wind hit us and ripped out a seam in the main. About all we could do was lower it and sail on with only the jib. The next day we had a bit of a clear spell so we put on our harnesses, parked ourselves amidships, and glued the seam back together. We only had one sewing palm with us, so I took a film cap and put a quarter in it and tucked it in my glove. Then we passed the needle back and forth and got it stitched up.
| | |
| --- | --- |
| | |
| Alani from Bow | Alani Cockpit |
The sailing gods and Alani were good to us. We didn't have seas much over six feet, and we didn't miss a meal. Pancakes and bacon and eggs for breakfast, fresh fish for lunch and dinner. No need to buy gas. Life could be a lot worse.
When we got to Guatemala, we holed up for a day and waited for high tide to get over the bar at the mouth of Rio Dulce. We went over on a rising tide, but the water was still coming out of the river. We learned later that because of all the rain everything was pretty flooded.
Then we motored up the river to where I keep Malakii and Casey dropped me off, then went around the corner to his place. I spent most of the month working on Malakii, replacing some running lights with L.E.D.s, redoing the anchor locker, and a host of other minor jobs. I think she's mostly ready to go for when I head down in February.
One evening Jennifer, the woman who takes care of my boat when I'm not there, and I met some friends at the hot springs. The springs are on the side of the river, and last year the locals built a rock wall around them. Now it's nice and settled there, undisturbed by waves from passing motor boats. So we brought a three course meal, chips and salsa, a pasta main course, and watermelon for dessert. Life could be a lot worse...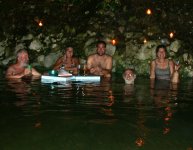 Bob, Chrissi, Kevin, Gary, Jennifer in Rio Dulce Hot Spring
At the end of the month, I flew to Denver, where I was reintroduced to snow... bigtime.
---